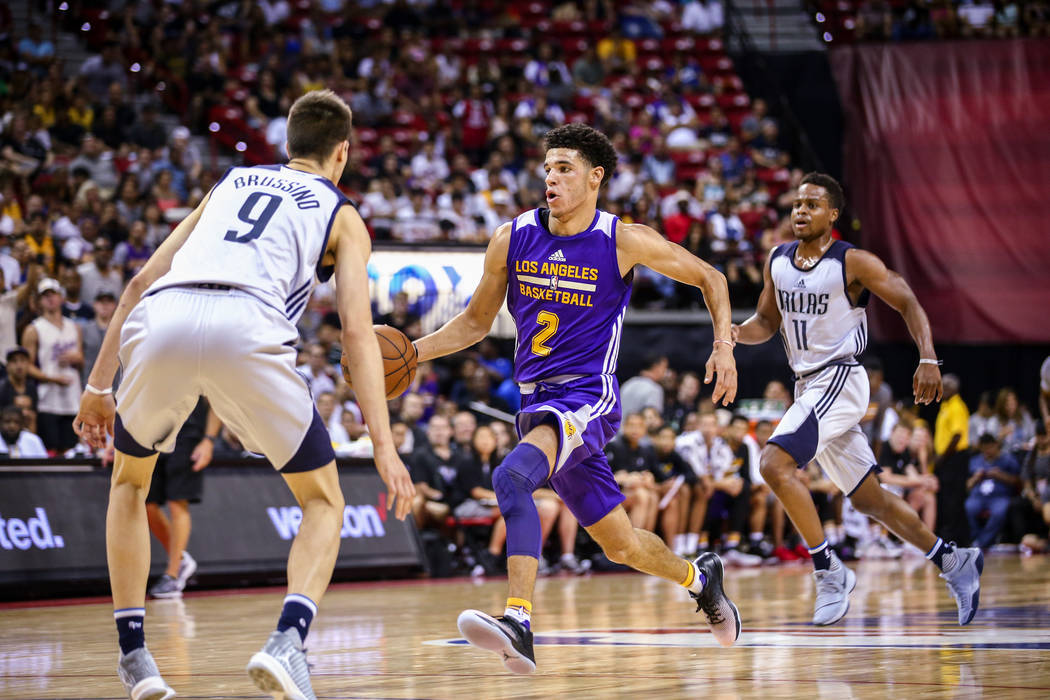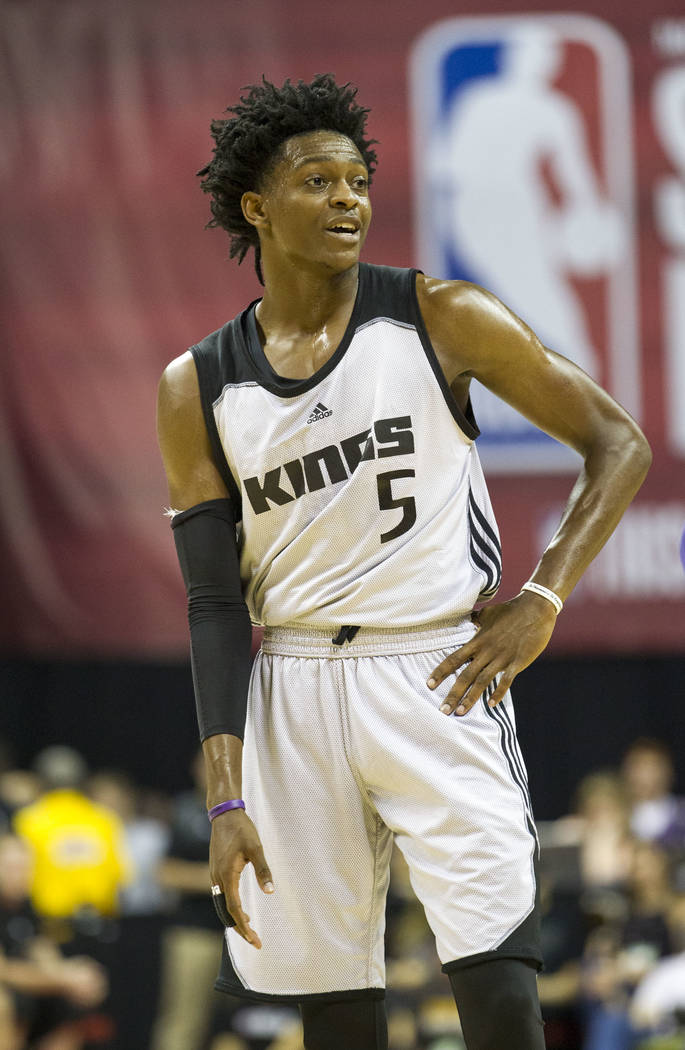 As more than 10,000 fans took their seats at the Thomas & Mack Center on Monday, Warren LeGarie went around the floor level shaking hands and making sure everyone felt welcomed.
The championship game was minutes away as the conclusion to the most anticipated and talked-about NBA Summer League since it launched in Las Vegas 13 years earlier.
Attendance for the 11-day event was announced at 127,843, almost 19,000 more than last year's record.
"It always surprises me, because no matter what, we're not presumptuous enough to believe people are going to come just because we're here," said LeGarie, the founder and executive director. "We have to work on it, and we always want to make something a little bit fresher, a little bit more exciting. Fortunately, it seems like it's worked again."
Lonzo Ball, the Los Angeles Lakers' No. 2 overall draft pick, drove most of the coverage this year, and he lived up to the enormous expectations by averaging 16.3 points, 9.3 assists and 7.7 rebounds to win the Most Valuable Player award.
His drawing power and the run of the fan favorite Lakers to the championship with a 110-98 victory over the Portland Trail Blazers on Monday night in the title game helped drive interest. Fans in purple and gold shirts and jerseys regularly packed the lower bowl, and on the national sports shows, it seemingly was all Lonzo all the time.
LeGarie, however, downplayed the impact of Ball and the Lakers bringing out more crowds.
"We love Lonzo being here; he's terrific," LeGarie said. "But every year, we've had the same percentage of growth.
"We always have stars of tomorrow today, and that's the value. That's the beauty of our league."
This summer league did have a buzz that went beyond Ball.
Jayson Tatum of the Boston Celtics, Dennis Smith Jr. of the Dallas Mavericks, De'Aaron Fox of the Sacramento Kings and Josh Jackson of the Phoenix Suns were among the players confirming — for now, at least — that this is one of the deeper and more special draft classes in recent memory.
Almost everything fell into place for organizers, and replicating this kind of success next year won't be easy.
So expect future tweaks to continue to draw attention, such as this year when the choice was made not to bring back the D-League Select Team and go with 24 NBA clubs. That decision helped bring the Los Angeles Clippers back after a two-year absence.
"A lot of teams sometimes struggled playing against the D-League because they don't feel it's up to their calibration," LeGarie said. "I think for the fans, it adds another layer for the people who are true fans of that particular team. The Clippers needed to be back here, and I think they're glad they were."
So when does LeGarie begin to think about next year's summer league?
"We already have," he said. "It's a sickness. I don't know if there's a cure for it. I hope not, but we're already looking at what we're going to be doing for next year. We'll start in earnest in probably a couple of weeks. We'll get feedback from teams, from the league, from the television people in how we can modify or how we can grow different aspects, but we want Vegas to be proud of us. We always want to make sure they know we're working for them 24/7."
Contact Mark Anderson at manderson@reviewjournal.com. Follow @markanderson65 on Twitter.
NBA Summer League
Year by year
2004 — Six teams compete, and Phoenix goes 3-0. Denver's Nikoloz Tskitishvili leads the summer league with 25.7 points per game.
2005 — The field increases to 16 teams, and Cleveland goes 6-0. New Orleans' J.R. Smith leads the summer league in scoring at 20.6.
2006 — Houston goes 5-0. Minnesota's Randy Foye is named MVP after averaging 24.8 points.
2007 — Six teams are added to bring the field to 22, including one from China. New York and Dallas each go 5-0. New York's Nate Robinson is named MVP after averaging 19.6 points and 6.0 assists.
2008 — Only NBA clubs make up the 21-team field, and Denver, Golden State and Milwaukee each go 4-1. Portland's Jerryd Bayless is named MVP after averaging 29.9 points.
2009 — The D-League Select Team is added, bring the number back to 22. Houston and Memphis each go 5-0. The Los Angeles Clippers' Blake Griffin is named MVP after averaging 19.2 points and 10.8 rebounds.
2010 — The field increases to 23 teams. San Antonio and Toronto each go 5-0. Washington's John Wall is named MVP after averaging 23.5 points and 7.8 assists.
2011 — There is no summer league because of the NBA lockout.
2012 — Twenty-four teams compete for the first time. Golden State goes 5-0. Portland's Damian Lillard (26.5 points) and Memphis' Josh Selby (24.2 points) are named co-MVPs.
2013 — A tournament is added to the format, and Golden State wins the championship. Toronto's Jonas Valanciunas is named MVP after averaging 18.8 points and 10.0 rebounds.
2014 — Sacramento wins the championship. Washington's Glen Rice Jr. is named MVP after averaging 25.0 points and 7.8 rebounds.
2015 — San Antonio wins the championship with Becky Hammon as its coach. The Spurs' Kyle Anderson was named MVP after averaging 21.0 points and 6.0 rebounds.
2016 — Chicago wins the championship. Minnesota's Tyus Jones is named MVP after averaging 20.4 points and 6.8 assists.
2017 — The Los Angeles Lakers win the championship. The Lakers' Lonzo Ball is named MVP after averaging 16.3 points, 9.3 assists and 7.7 rebounds.