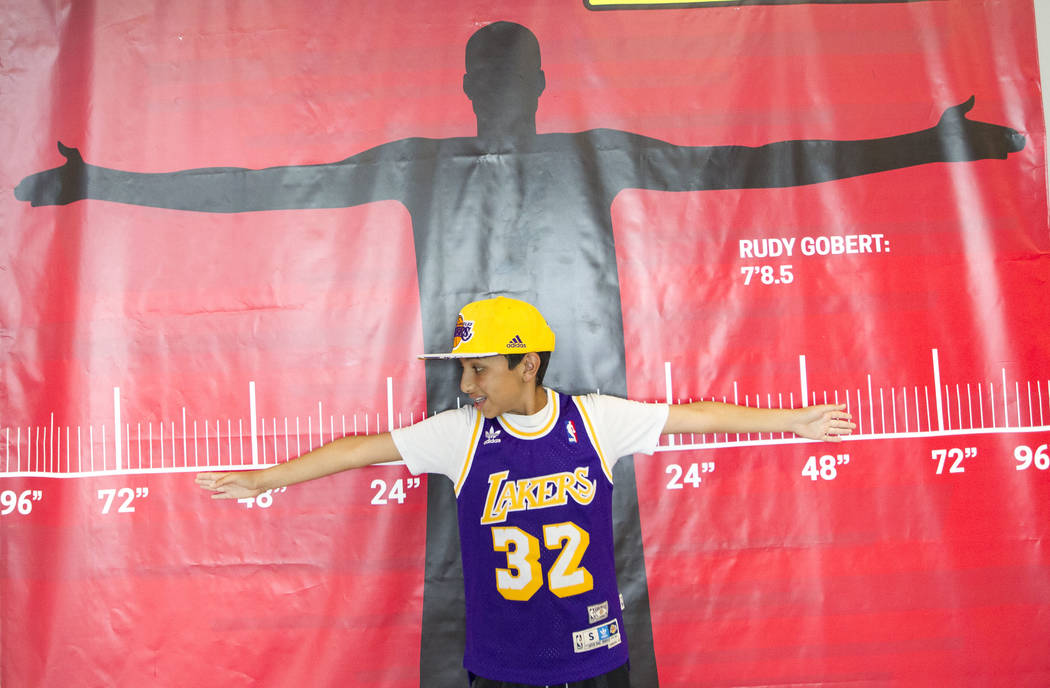 A wrapup of Day 4 of the NBA Summer League on Monday at the Thomas & Mack Center and Cox Pavilion:
Monday's results
Atlanta Hawks 75, Chicago Bulls 55 — DeAndre' Bembry led four double-figure Atlanta scorers with 17 points. Cameron Payne led Chicago with 12 points. Lauri Markkanen, the No. 7 overall pick, went 1 for 13 from the field, including 0 of 10 from the 3-point line, and had eight points in the loss.
Miami Heat 91, Washington Wizards 87 — The Heat shot 55.6 percent from beyond the 3-point line to overcome a 38-24 deficit in rebounding. Matt Williams led Miami with 17 points. Sheldon McClellan led the Wizards with 18 points.
Brooklyn Nets 95, New Orleans Pelicans 66 — Archie Goodwin had 18 points and eight assists as the Nets led by as many as 36 points. Caris LeVert had 17 points, and Jeremy Senglin added 14 points for Brooklyn. Quinn Cook led all scorers with 20 points for New Orleans.
Houston Rockets 99, Phoenix Suns 94 — Chinanu Onuaku blocked a potential tying 3-point attempt by the Suns' Mike James as the Rockets held on. Troy Williams led Houston with 27 points. For Phoenix, Marquese Chriss scored 26 points and Josh Jackson, the No. 4 overall pick in the draft, added 20.
Cleveland Cavaliers 91, Golden State Warriors 74 — The Cavaliers dominated throughout for the easy victory. Brandon Paul led the Cavaliers with 21 points, making 8 of 12 shots, including 4 of 7 from 3-point range. Alex Hamilton led the Warriors with 11 points, and former UNLV star Patrick McCaw added nine.
Toronto Raptors 82, Denver Nuggets 81 — Jakob Poeltl had 17 points and 10 rebounds, and the Raptors secured their third consecutive Summer League win after the Nuggets turned the ball over twice on late possessions. Fred VanVleet had 17 points and Alfonzo McKinnie added 11 points and 11 rebounds for Toronto, which also got 14 points from Pascal Siakam. Malik Beasley led Denver with 19 points.
Los Angeles Clippers 100, Milwaukee Bucks 93 — Montrez Harrell had 21 points and three blocks to help the Clippers top the Bucks. Sindarius Thornwell and Jamil Wilson each added 18 points for Los Angeles. Rashad Vaughn led Milwaukee with 21 points, and teammate D.J. Wilson had 17 points and eight rebounds.
Los Angeles Lakers 95, Sacramento Kings 92 — The Lakers lost a 20-point lead but made the key plays down the stretch. Los Angeles led 68-48 early in the third quarter, but the Kings' Buddy Hield tied it at 77 on a 3-pointer with 5:39 left in the game and gave Sacramento the lead 36 seconds later with two free throws. Hield had a chance to tie the game but missed a 3 with 2 seconds left. Vander Blue led the Lakers with 21 points. Sacramento's Frank Mason III scored 24 points, Hield finished with 22.
Monday's attendance
15,243 (both venues). Total through four days: 59,126.
Star of the day
The Rockets' Williams not only scored 27 points but did much of his work at the line to help Houston prevail, making 10 of 11 foul shots. He also grabbed six rebounds.
Local spotlight
Stephen Zimmerman Jr., who went to UNLV and Bishop Gorman High School, finally saw some quality minutes for the Milwaukee Bucks. He had five points and three rebounds in 14 minutes.
Quotable
"Once I knock down my outside shot, I feel like the defender has to respect me even more. It opens it up for me to do what I'm really great at, which is getting to the basket. So, hopefully, I can keep knocking it down. If not, I'm going to keep shooting it anyway."
— Phoenix Suns rookie Josh Jackson, on his success in shooting off the dribble
Tuesday's schedule
At Cox Pavilion
■ San Antonio vs. Portland, 1 p.m.
■ Chicago vs. Washington, 3 p.m.
■ Miami vs. Dallas, 5 p.m.
At Thomas & Mack Center
■ Utah vs. Memphis, 1:30 p.m.
■ Philadelphia vs. Boston, 3:30 p.m.
■ Golden State vs. Minnesota, 5:30 p.m.