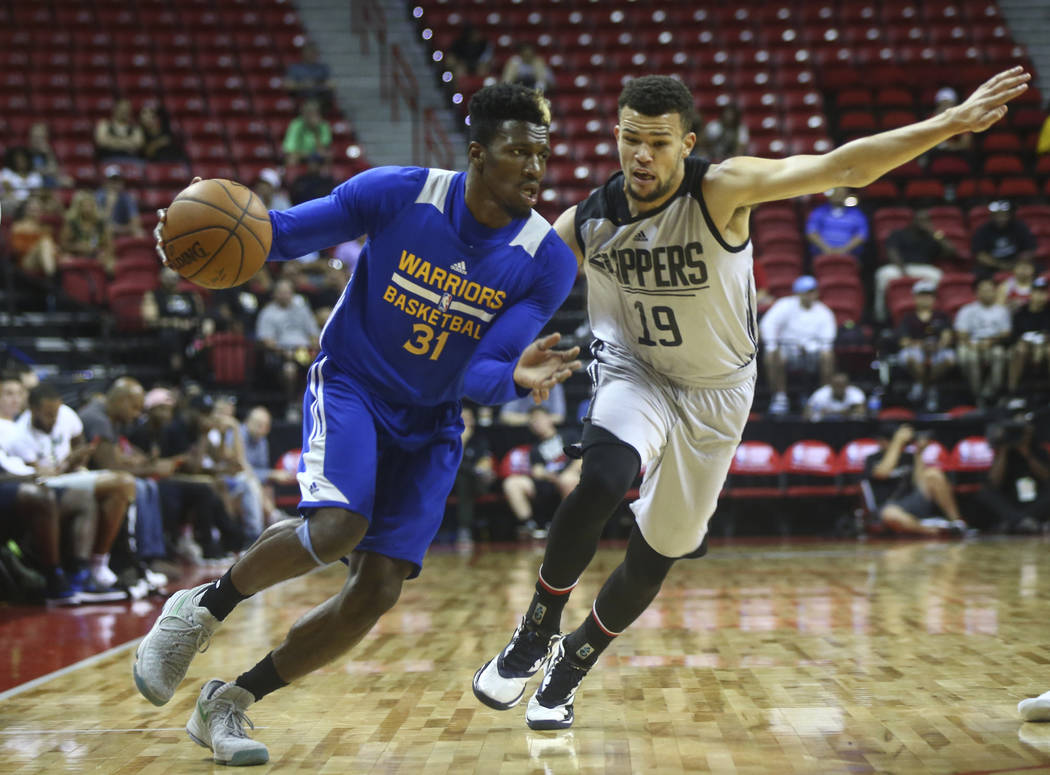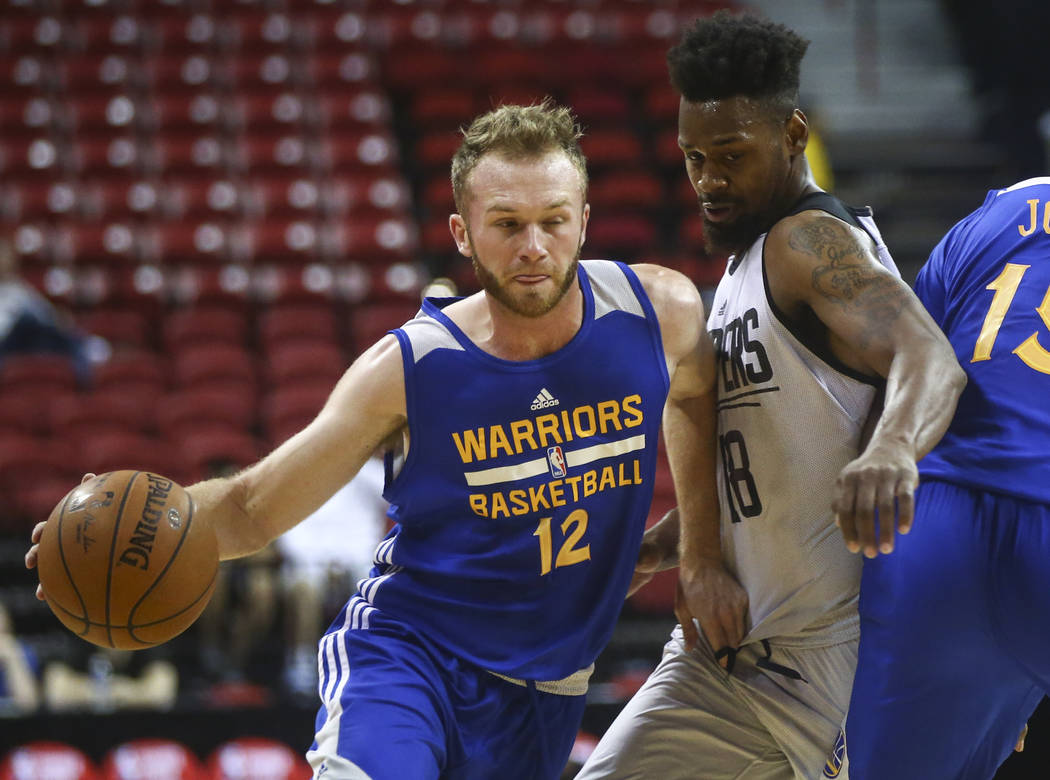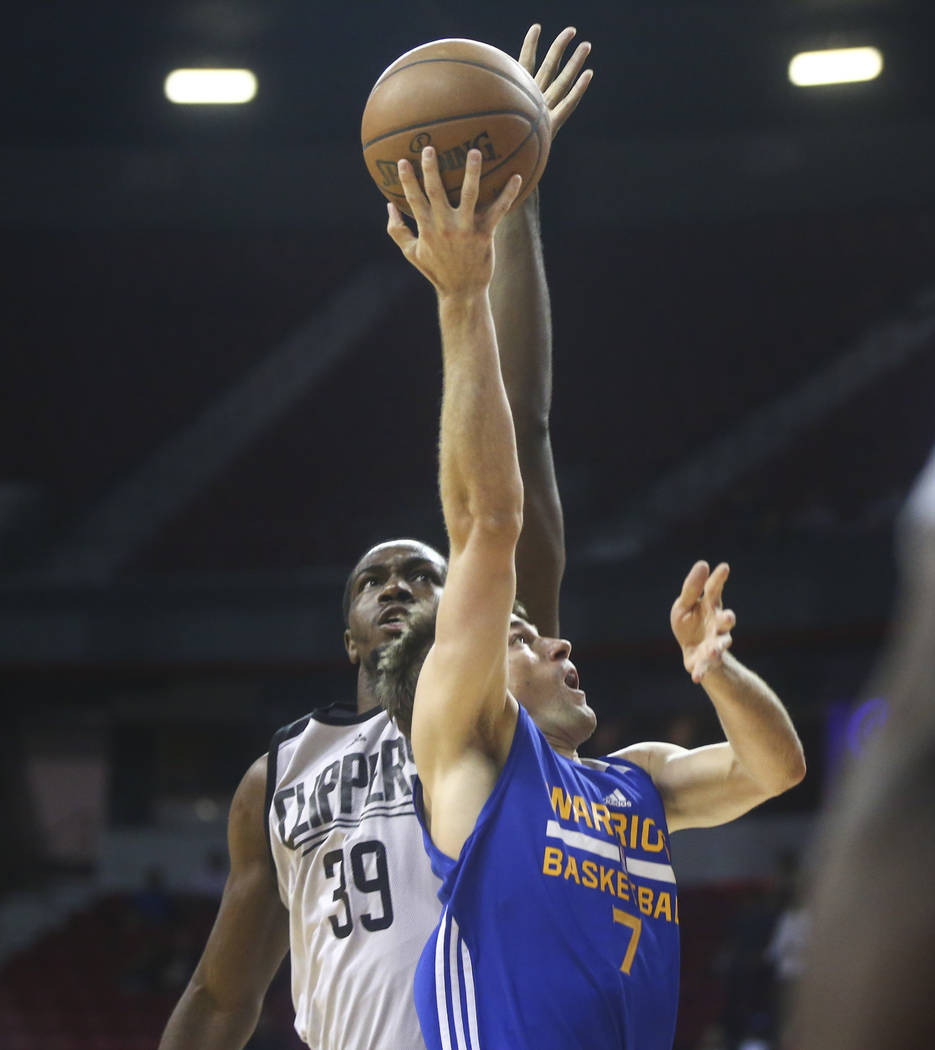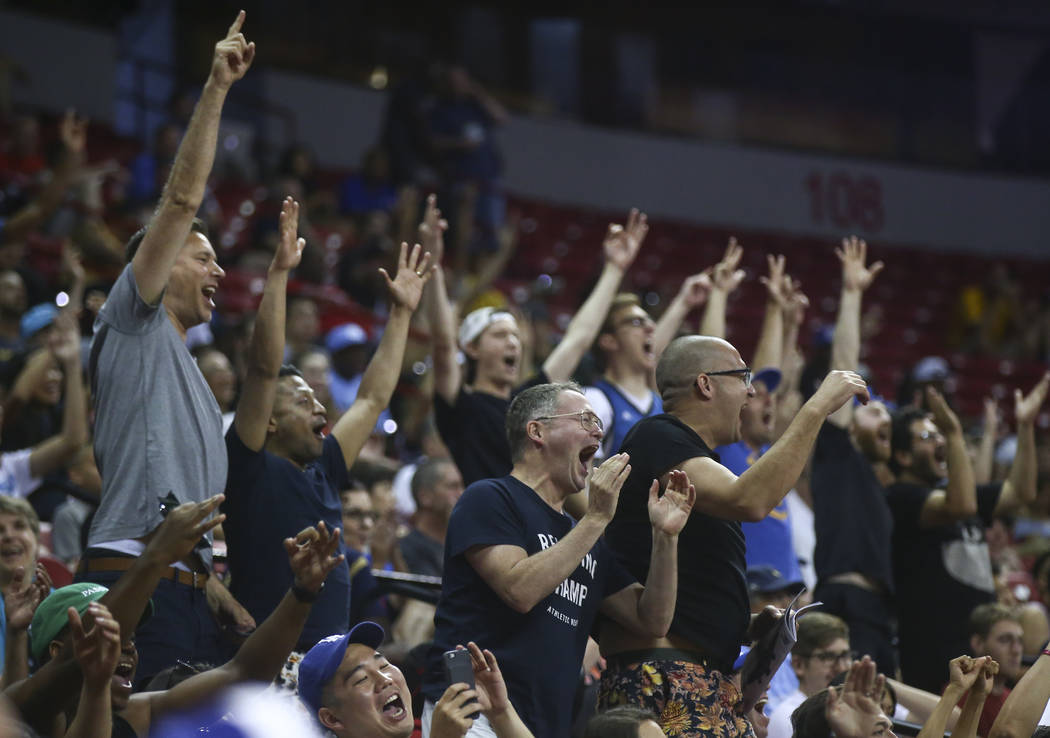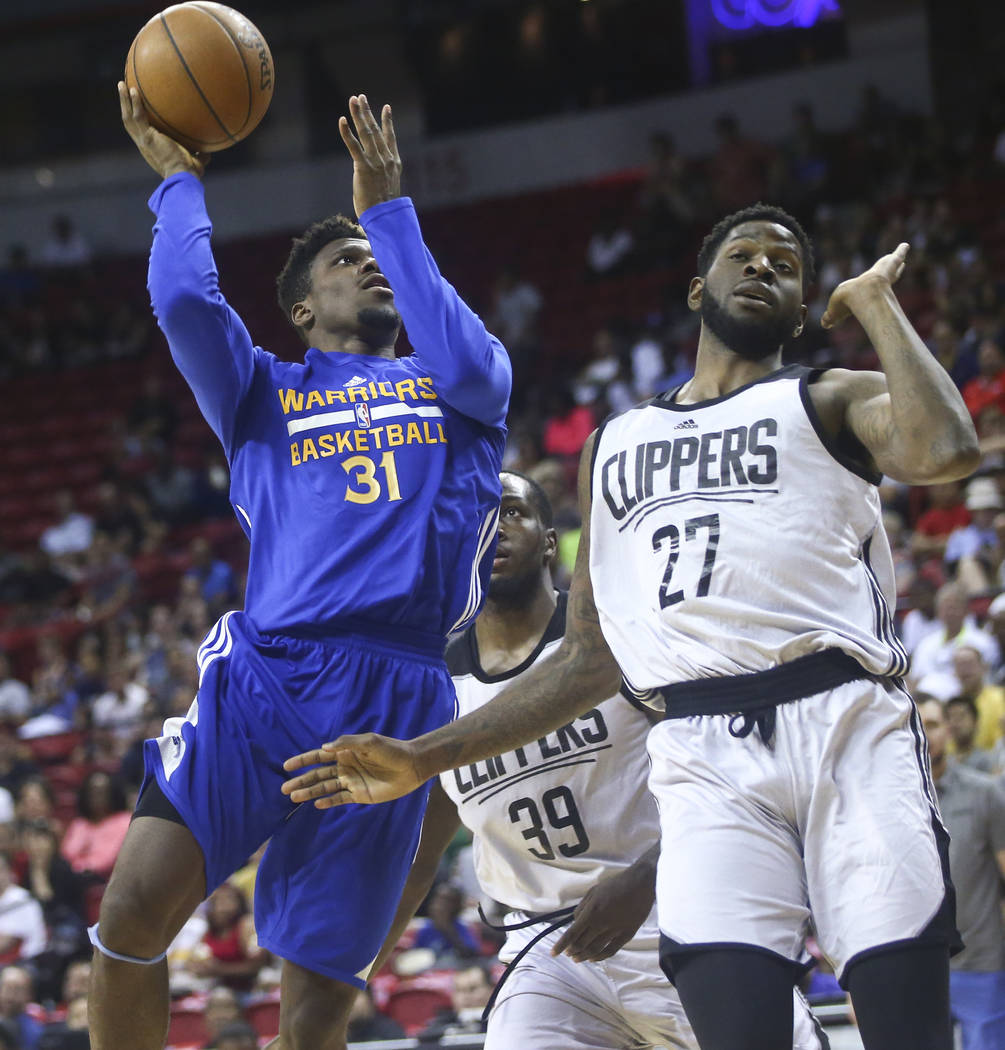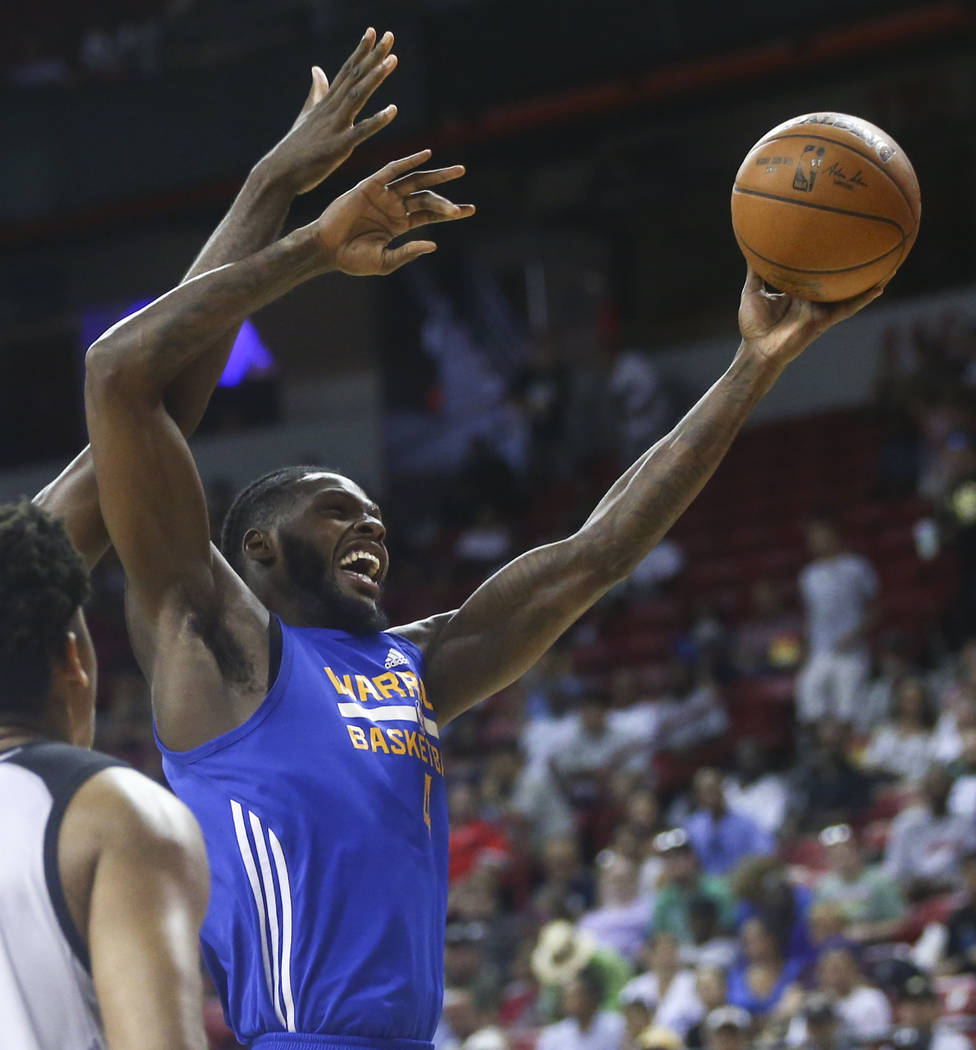 A wrap-up of Day 8 of the NBA Summer League on Friday at the Thomas & Mack Center and Cox Pavilion:
Friday's results
Atlanta Hawks 92, Houston Rockets 86 — Former Marquette wing Trent Lockett scored 17 points to lead Atlanta at the Cox Pavilion. Diamond Stone and Bryce Cotton scored 12 apiece for the Hawks. L.J. Peak came off the bench to lead Houston with a game-high 19 points.
Minnesota Timberwolves 80, Washington Wizards 73 — Matt Costello had 14 points and 11 rebounds to guide Minnesota at the Thomas & Mack Center. Marcus Keene scored 12 points for the Wizards, who were winless at NBA Summer league.
Utah Jazz 97, Milwaukee Bucks 76 — Utah big man Tony Bradley posted 19 points and eight rebounds to lift the Jazz at the Cox Pavilion. James Southerland added 16 and Tyrone Wallace came off the bench to score 12. Utah first-round pick Donovan Mitchell did not dress.
Golden State Warriors 109, Los Angeles Clippers 100 —Former Oregon guard Dylan Ennis scored 35 points to lead Golden State at the Thomas & Mack Center. Ennis made eight 3-pointers and added seven rebounds. Jaron Johnson led the Clippers with 18 points.
Denver Nuggets 96, New Orleans Pelicans 91 — Monte Morris scored 17 points and Dallas Moore added 16 to propel Denver at the Cox Pavilion. Peter Jok scored 22 points to lead the Pelicans, who rested summer-league standouts Cheick Diallo and Quinn Cook.
Chicago Bulls 99, Philadelphia 76ers 82 —Former Baylor sharpshooter Brady Heslip made 8 of 15 3-pointers to finish with a game-high 28 points for Chicago at the Thomas & Mack Center. Denzel Valentine, whose heroics helped Chicago win the summer league title in 2016, finished with 21 points. Furkman Korkmaz led the 76ers with 22 points.
Sacramento Kings 93, Phoenix Suns 87: Rookie wing Justin Jackson scored a game-high 29 points to lead the Kings at the Cox Pavilion. Guard Naz Mitrou-Long had 21 points, six rebounds and five assists for the Kings. Phoenix guard Mike James concluded an impressive summer league with a team-high 25 points.
Cleveland Cavaliers 78, Toronto Raptors 75:Guard T.J. Williams scored 21 points for Cleveland in an overtime victory. Andrew White added 18 points and six rebounds for Cleveland. Kennedy Meeks had 18 points and nine rebounds for Toronto.
Friday's attendance
8,145 (both venues). Total through four days: 96,259.
Star of the day
The Warriors' Ennis made 12 of 20 shots and 8 of 11 3-pointers en route to 35 points — the third-highest single-game scoring total at NBA Summer League.
Local spotlight
Stephen Zimmerman made the most out of his first extended minutes of the summer. The former Bishop Gorman and UNLV center started for the Milwaukee Bucks and posted 12 points and six rebounds in a loss to the Utah Jazz.
On the scene
Veteran guard Jason Terry was back at the Cox Pavilion watching the Milwaukee Bucks. So was teammate Greg Monroe. Second-year guard Jamal Murray, who was named to the All-Rookie second team, was also at Cox Pavilion watching the Denver Nuggets.
Quotable
"Once you get in that zone, you just keep shooting it and the basket looks like the ocean. My teammates were finding me in the right spots, and it was just going in for me"
— Golden State Warriors guard Dylan Ennis after dropping 35 points on the Los Angeles Clippers.
Saturday's games
Quarterfinals
At Cox Pavilion
Portland vs. San Antonio 1 p.m.
Miami vs. Memphis 3 p.m.
Boston vs. Dallas 5 p.m.
Los Angeles Lakers vs. Brooklyn 7 p.m.