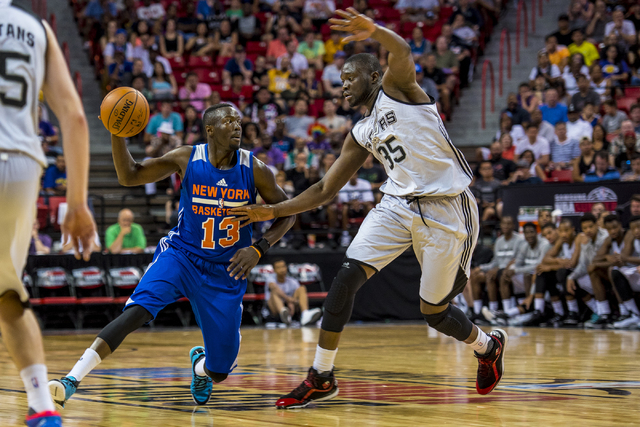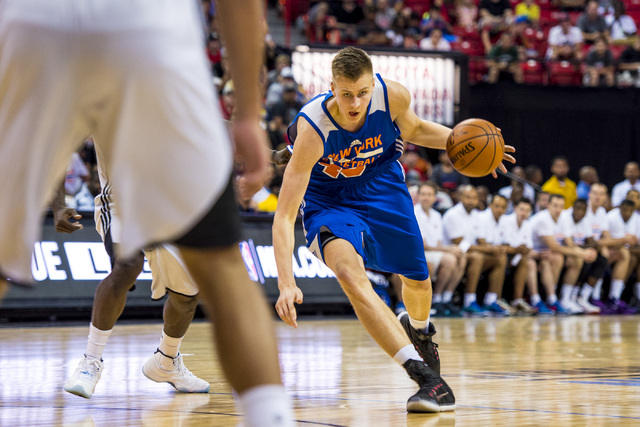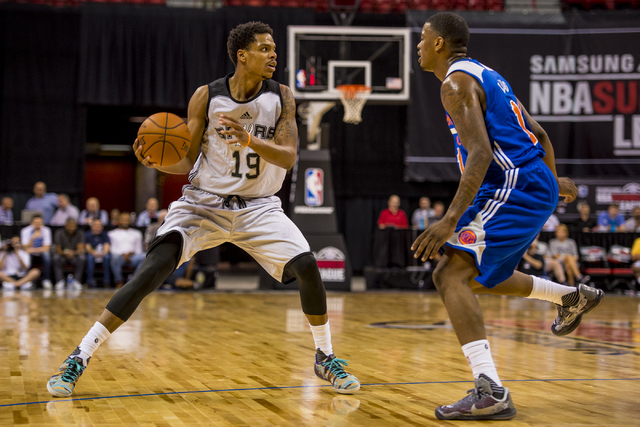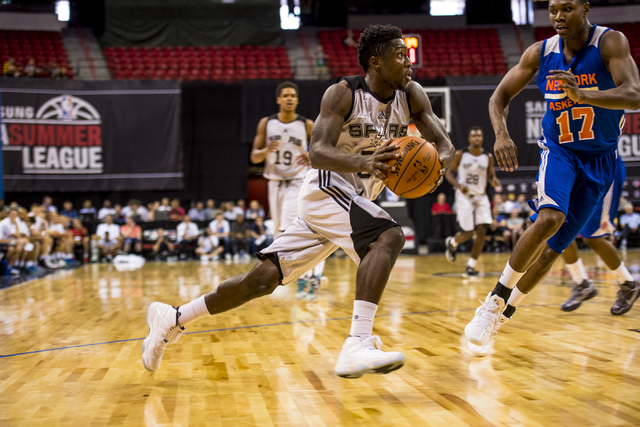 SATURDAY'S GAMES
Pelicans 90, Mavericks 86 — Seth Curry's two free throws with 14.8 seconds left put New Orleans (2-0) ahead 89-86, and the Mavericks' Justin Anderson's 3-point attempt to tie with four seconds remaining rimmed out. Anderson led Dallas (0-1) with 23 points.
Knicks 78, Spurs 73 — New York (1-0) held on despite committing 19 turnovers and survived Jarell Eddie's 3-point try to tie with 5.4 seconds left. Knicks rookie forward Kristaps Porzingis, taken with the No. 4 overall selection in last month's NBA Draft, had 12 points in 18 minutes in his debut. Kyle Anderson scored 23 points to lead San Antonio (0-1).
Suns 86, Wizards 77 — Archie Goodwin scored 22 points and T.J. Warren 20 as Phoenix (1-0) held the Wizards' perimeter attack in check. Washington (0-1) was 3 of 22 on 3-point attempts and had 20 turnovers. Former Findlay Prep standout Kelly Oubre led the Wizards with 20 points.
Bulls 84, Timberwolves 71 — Fred Hoiberg's NBA coaching debut was a successful one for Chicago (1-0), which got 23 points from Bobby Portis and 20 from Doug McDermott. Zach LaVine scored 20 and Adreian Payne 16 for Minnesota (1-1).
Celtics 85, Trail Blazers 76 — Marcus Smart scored 19 points, and Jordan Mickey had 15 points and 10 rebounds for Boston (1-0). The Celtics led 53-33 early in the third quarter. Allen Crabb led the Blazers (0-1), who committed 20 turnovers, with 15 points, and Malcolm Thomas had 13 points and 10 rebounds.
Lakers 68, 76ers 60 — Both teams struggled offensively but Los Angeles (1-1) did a better job at the foul line than Philadelphia, going 77 percent compared with the Sixers' 60 percent. Jordan Clarkson had 19 points to lead the Lakers, who outrebounded Philadelphia 41-38. Lakers rookie guard D'Angelo Russell scored 14 points and had eight rebounds, but he also committed seven turnovers. Center Jahlil Okafor, the No. 3 overall pick in the draft, had 19 points and 11 rebounds in 32 minutes for the 76ers. Former Desert Pines High School star Pierre Jackson started for Philadelphia and scored 15 points.
Nets 76, Cavaliers 75 — Brooklyn (1-0) rallied from a 10-point fourth-quarter deficit, then held on when Joe Harris' last-second shot to win missed. Harris appeared to have been fouled on the play, but no call was made as Cleveland fell to 0-2. Ryan Boatright led the Nets with 16 points, and Rondae Hollis-Jefferson scored 15. D.J. Seeley and Jerrelle Benimon scored 11 apiece for the Cavaliers.
Heat 82, Jazz 79 — Josh Richardson scored 16 points and Gabriel Olaseni 14 as Miami (1-0) held off Utah. The Heat made only 3 of 16 3-point attempts but outrebounded Utah 45-37 and forced 14 turnovers. Bryce Cotton led the Jazz (0-1) with 28 points, going 8 of 15 from the field and 10 of 11 from the free-throw line.
THREE STARS
1. Seth Curry, Pelicans. Curry had a big day offensively for the second straight game. The guard scored 25 points in New Orleans' victory over Dallas after pouring in 30 in Friday's win over Milwaukee.
2. Cleanthony Early, Knicks. The second-year forward had 18 points and five rebounds in leading New York over San Antonio.
3. Jordan Clarkson, Lakers. He was Los Angeles' leading scorer for the second straight day, this time with 19 points on 8-of-16 shooting in 34 minutes. Clarkson scored 23 Friday against Minnesota.
QUOTABLE
"I practice that all the time. But really, it was a lucky shot." — New York Knicks rookie Kristaps Porzingis, on the off-balance basket he made late in a win over San Antonio.
LOCAL SPOTLIGHT
Bryce Dejean-Jones, Pelicans. The former UNLV swingman had a productive game off the bench, finishing with 10 points, three rebounds, three steals and two assists in 26 minutes in New Orleans' win over Dallas. Jones was 4 of 6 from the field and active on defense.
ON THE SCENE
Dallas Mavericks owner Mark Cuban was at Cox Pavilion to watch his team play New Orleans. Cuban was upset last week after free-agent center DeAndre Jordan gave an oral commitment to the Mavs, then reneged at the last minute and re-signed with the Los Angeles Clippers. Cuban sat with Dallas coach Rick Carlisle.
TODAY'S SCHEDULE
At Cox Pavilion
Washington vs. D-League Select, 1 p.m.
Chicago vs. Toronto, 3 p.m.
Sacramento vs. Denver, 5 p.m.
Portland vs. Dallas, 7 p.m.
At Thomas &Mack Center
Phoenix vs. Houston, 1:30 p.m.
Milwaukee vs. San Antonio, 3:30 p.m.
Golden State vs. Atlanta, 5:30 p.m.
Philadelphia vs. Boston, 7:30 p.m.
COMPILED BY STEVE CARP LAS VEGAS REVIEW-JOURNAL