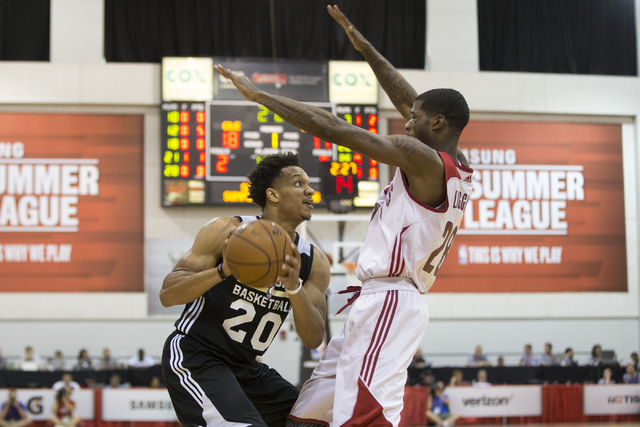 Play has started on the third day of the NBA Summer League in Las Vegas and we're live-blogging from the Thomas & Mack and Cox Pavilion each day.
Follow along with our live blog, which will be updated throughout the day, below.
6:43 p.m.
— 76ers forward Jerami Grant,who had a monster dunk over Ivica Zubac in Saturday's loss to the Los Angeles Lakers, is going head-to-head with his brother, Bulls guard Jerian Grant, at the Thomas & Mack Center. Jerami is outscoring his brother, 8-5, but Chicago leads Philadelphia, 53-47, late in the third quarter.
Top overall draft pick Ben Simmons has eight points for the Sixers.
6:24 p.m.
— Rashad Vaughn had a historically poor rookie year for the Bucks. Things didn't get much better for the former UNLV and Findlay Prep star in Milwaukee's Summer League opener in Las Vegas on Friday as he made only 4 of 16 shots from the floor and 1 of 8 from 3-point range.
Vaughn finally found his groove on Sunday afternoon, pouring in a game-high 24 points while making 10 of 18 shots and 3 of 6 3s in the Bucks' 91-86 loss to the NBA D-League Select team at the Thomas & Mack Center.
"It felt good just to see it go in after (Friday)," Vaughn said. "I had to keep my confidence. I talked to some of my teammates and they helped me out."
Bucks guard Michael Carter-Williams, the 2014 NBA Rookie of the Year, was at the game and said Vaughn just needs to stay confident.
"Especially when he misses a few, he's a good enough shooter that he can make the next one," he said. "He did a great job with that (Sunday). He really led the team. He's really offensively talented. He just needs to keep putting his mind to it."
The 17th pick in the 2015 NBA draft and the second-youngest player chosen, the 19-year-old Vaughn shot 30.5 percent from the field and 29.3 percent from 3-point range, averaging 3.1 points and 14.3 minutes in 70 games.
According to Bucks fan blog Brew Hoop, no rookie in NBA history has played at least 1,000 minutes while compiling a lower player efficiency rating than Vaughn's mark of 4.2.
"I learned so much my rookie year, just getting stronger and understanding it's a process. You've got to trust the process, stay patient and keep working hard," Vaughn said. "I've been working real hard this summer. I'm very confident and will stay focused on getting better.
" I'm just working on every aspect, shooting more consistent, finishing around the rim and getting stronger."
Bucks 7-foot-1-inch rookie forward Thon Maker, the 10th overall pick in the 2016 NBA Draft, had 17 points and 17 rebounds in the losing effort.
5:47 p.m.
— The New Orleans Pelicans are wearing black and white 'BDJ' patches on their summer league jerseys to honor former player Bryce Dejean-Jones, who died on May 28 after a gunshot wound to the abdomen.
Dejean-Jones, who played at UNLV from 2012-14, had signed a three-year contract with the Pelicans on February 19. He was 23 years old.
5:30 p.m.
— Bulls point guard Rajon Rondo and 76ers center Joel Embiid are on hand at the Thomas & Mack Center for the Chicago-Philadelphia game featuring top overall draft pick Ben Simmons (76ers).
Hall of Famer Spencer Haywood and former NBA player Brendan Haywood also spotted in stands.
4:40 p.m.
— Hall of Famer Gary Payton and iconic ex-NBA referee Joey Crawford share a big hug and a few laughs when they run into each other courtside during the Kings-Rockets game at the Thomas & Mack Center.
Malachi Richardson, a 2016 first-round draft pick from Syracuse, has a game-high 17 points for Sacramento late in the third quarter.
4:00 p.m.
— Basketball Hall of Famer Gary Payton watching his son, Gary Payton II, play for the Rockets against the Kings at the Thomas & Mack Center. David Stockton, Hall of Famer John Stockton's son, started for Sacramento.
Michael Beasley didn't dress for the Rockets, who also feature Sam Dekker and Kyle Wiltjer.
3:15 p.m.
Bucks guard and former NBA Rookie of the Year Michael Carter-Williams taking in end of Milwaukee's game against D-League Select team at Thomas & Mack Center. Ex-Rebel Rashad Vaughn has 22 points to lead all scorers.
Former Kings star Peja Stojakovic and ex-Rockets star John Lucas also on hand in advance of 3:30 p.m. game between Sacramento and Houston.
3:12 p.m.
— The last two No. 1 overall NBA draft picks just walked into the Cox Pavilion to catch the Minnesota Timberwolves-Toronto Raptors game. Andrew Wiggins, the No. 1 pick in 2014 to Cleveland, and reigning Rookie of the Year Karl-Anthony Towns — now teammates — are sitting courtside together.
2:30 p.m.
— Washington guard John Wall, a three-time NBA all-star, sat courtside in the Cox Pavilion to take in the Wizards-Atlanta Hawks game. There was no flexing, but he did do an interview for NBA TV and signed autographs for a few lucky fans.
HE DID WHAT? One summer league fan got Wall to sign … wait for it, a Nike KYRIE IRVING shoe. Wall was a good sport and signed away.
2:20 p.m.
— Ex-UNLV star Rashad Vaughn hit 3-pointer at first-half buzzer to give Milwaukee Bucks 49-45 lead over D-League Select. Vaughn scored 13 points in first half on 5-for-8 shooting (2-for-4 3s) after making only 4 of 16 shots and 1 of 8 from 3-point range in Milwaukee's Summer League opener here.
Bucks coach Jason Kidd and Houston Rockets coach Mike D'Antoni taking in game at Thomas & Mack Center.
1:45 p.m.
— Play has started in both the Cox Pavilion (Atlanta Hawks-Washington Wizards) and Thomas & Mack Center (Milwaukee Bucks-D-League Select).
In the Cox Pavilion, Hawks coach and player Mike Budenholzer and Dennis Schroeder are on hand.
Former Findlay Prep alums, Brandon Ashley (class of 2012, Arizona) and Kelly Oubre Jr. (class of 2014, Kansas), are facing off.