NBA's top two picks to meet on first day of summer league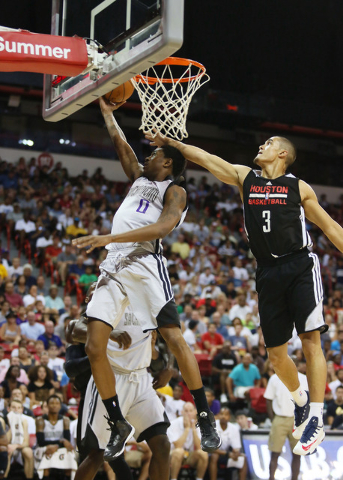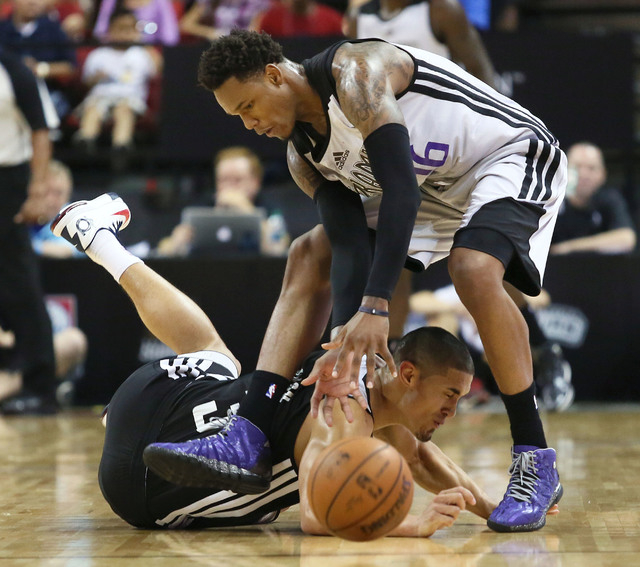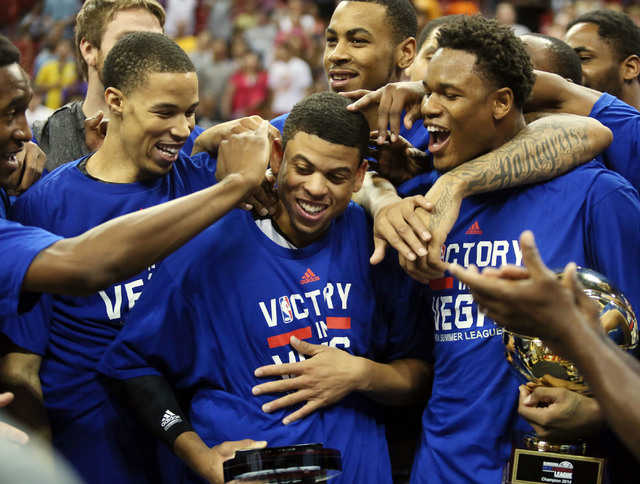 As the NBA Summer League prepares to begin its second decade in Las Vegas, it does so with interest at an all-time high and no signs of slowing down.
Twenty-four teams are represented and, as always, there are numerous storylines to follow, beginning Friday at the Thomas &Mack Center when the two top picks in last month's NBA Draft — Minnesota's Karl-Anthony Towns and the Los Angeles Lakers' D'Angelo Russell — meet on the opening day of the league's 11-day run.
The 5:30 p.m. matchup figures to draw a large crowd. So large that summer league officials made sure to put the Timberwolves-Lakers game in the bigger venue after a similar situation on opening day at Cox Pavilion in 2014 prevented hundreds from seeing Cleveland's Andrew Wiggins and Milwaukee's Jabari Parker, the two top picks from the 2014 draft, square off.
"We're always learning and trying to make it better," said summer league founder and longtime sports agent Warren LeGarie, who continues to oversee the running of the event in conjunction with the NBA. "We've added a few things this year that we think the fans will like."
With 10 years in the books — the league launched in 2004 with six teams but didn't play in 2011 because of a lockout — it will pay homage to those who helped build it with a Wall of Fame. There also will be a tribute to the late Jerry Tarkanian the evening of July 16 at the Thomas &Mack. A limited number of commemorative Tark towels will be distributed.
The Hall of Fame coach, who took UNLV to four Final Fours and won the 1990 national championship, died Feb. 11 at age 84.
"Jerry was a big supporter of what we were doing from the beginning, and it's only right that we honor him," LeGarie said.
The return of the Boston Celtics and the Brooklyn Nets should heighten interest among fans, and the Golden State Warriors, who won their first NBA title in 40 years last month, will try to recapture the summer league title they won two years ago when the playoff format was adopted.
The Warriors will play at 7:30 p.m. Friday against the Cleveland Cavaliers, the franchise they defeated in the NBA Finals.
The Sacramento Kings are the defending league champions, but there's a new coaching staff in place after Mike Malone was fired in mid-December and replaced by longtime NBA coach George Karl. Former UNLV player and Rancho High School star John Welch, who had coached with Karl in Denver and spent last season as an assistant coach with the Nets, has reunited with Karl and will coach the Kings' summer league team.
Welch is part of a long list of participants with local ties. Former UNLV players Rashad Vaughn, who was taken No. 17 overall by Milwaukee in this year's draft, and Christian Wood, who signed with Houston after going undrafted, are back in Las Vegas. So are former Rebels Khem Birch and Bryce Dejean-Jones (New Orleans), Roscoe Smith (Denver) and Mike Moser (Atlanta).
Former Desert Pines High School star Pierre Jackson is with Philadelphia, and former Findlay Prep stars Nick Johnson (Houston) and Brandon Ashley (Atlanta) also will play in the event.
There also are several interesting coaching storylines. Fred Hoiberg, hired by Chicago last month, is expected to be on the Bulls bench. San Antonio will be coached by Becky Hammon, a former Colorado State and WNBA star who will be the first female head coach in the league.
"The overall quality and the talent is the best we've seen," LeGarie said. "A lot of the teams are coming here to win, which hasn't always been the case. But the new format is such a hit. It's so competitive, and with a championship to play for, the rosters are deeper and stronger.
"The other thing I've noticed is you're seeing less resistance to participating. A lot of these players have grown up watching the summer league, and they see it as an opportunity."
Contact reporter Steve Carp at scarp@reviewjournal.com or 702-387-2913. Follow him on Twitter: @stevecarprj.
NBA SUMMER LEAGUE
WHEN: Friday-July 20
WHERE: Thomas & Mack Center, Cox Pavilion
TICKETS: $25 adults, $15 children/seniors (good for all games that day)
TV: NBA TV (Cable 318)
TEAMS: Atlanta, Boston, Brooklyn, Chicago, Cleveland, Dallas, Denver, D-League Select, Golden State, Houston, LA Lakers, Miami, Milwaukee, Minnesota, New Orleans, New York, Philadelphia, Phoenix, Portland, Sacramento, San Antonio, Toronto, Utah, Washington
WEBSITE: NBA.com