Saturday's NBA Summer League update
Updated July 14, 2018 - 9:28 pm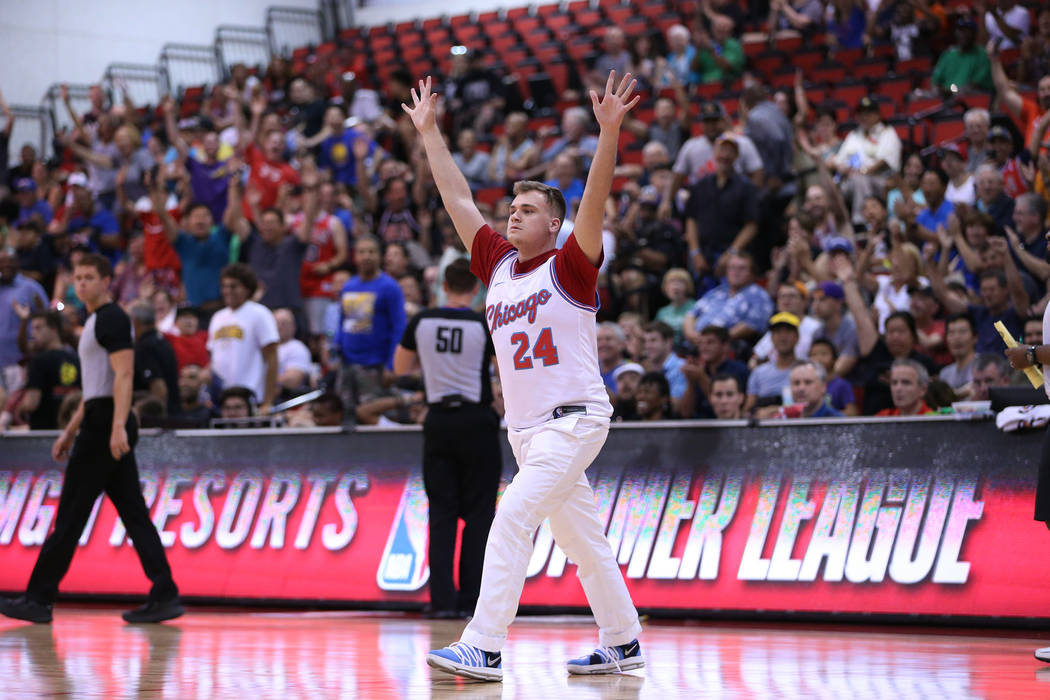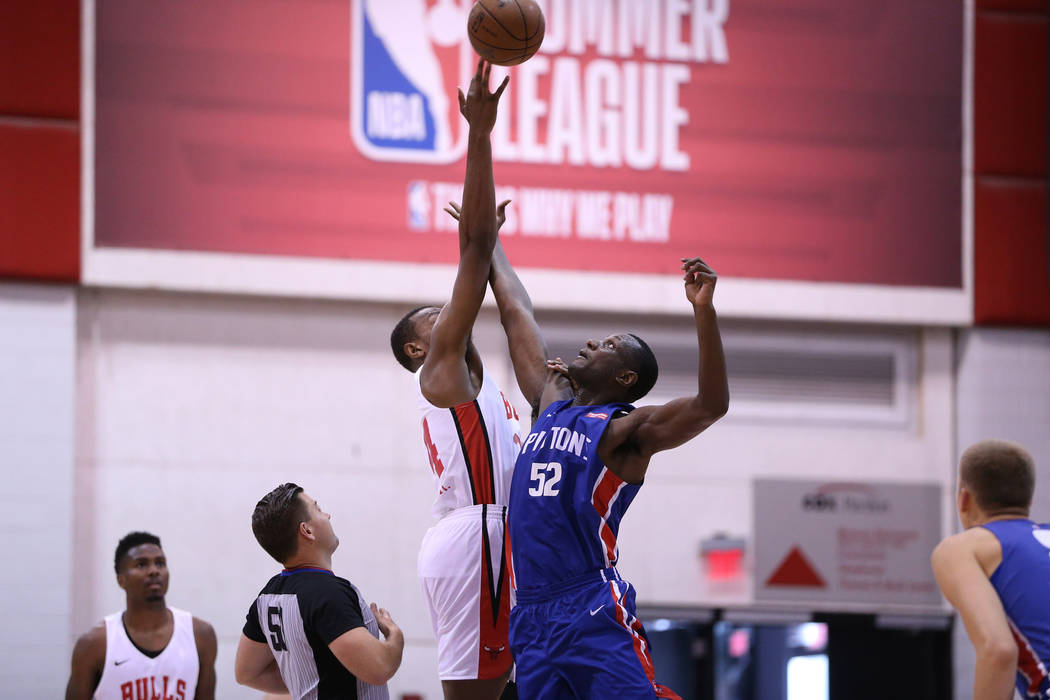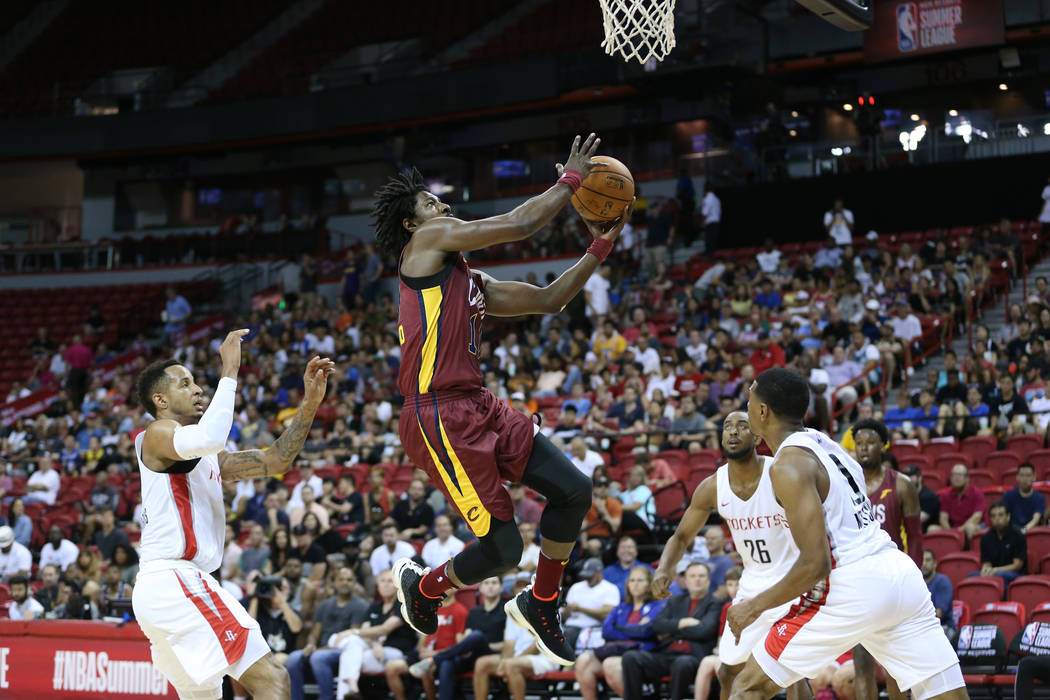 Wrapping up Day 9 of the NBA Summer League at the Thomas & Mack Center and Cox Pavilion:
Saturday's results
■ Pistons 72, Bulls 66 — Henry Ellenson had a team-high 21 points for Detroit on 7-of-15 shooting from the floor. Chicago 2018 lottery pick Wendell Carter Jr. grabbed 16 rebounds and scored six points. Bulls guard Antonio Blakeney recorded a game-high 24 points with five rebounds.
■ Cavaliers 92, Rockets 87 — No. 8 overall pick from this year's draft Collin Sexton scored 15 of his 17 points in the first half, and Cleveland held off a late Rockets surge. Scoochie Smith also scored 17 points for the Cavaliers. Danuel House led Houston with 30 points, making 5 of 11 3-pointers.
■ Raptors 87, Hornets 84 OT — Rawle Alkins drained a clutch 3-pointer in overtime to help Toronto advance in the tournament. Alkins scored a team-high 25 points and grabbed 11 rebounds. Hornets 2018 first-round pick Miles Bridges had a double-double of 18 points and 11 rebounds.
■ Celtics 74, Heat 72 — Miami's Derrick Walton Jr. missed a 3-pointer at the buzzer, and the Celtics escaped with the victory. Pierria Henry topped all Boston scorers with 15 points. The Celtics led by as many 14 points before the Heat rallied in the fourth quarter. Walton scored 15 points for the Heat. Former UNLV players Ike Nwamu and Rashad Vaughn each scored 10 points for Miami. Nwamu also banked-in 35-footer at the third-quarter buzzer.
■ 76ers 91, Bucks 89 — Furkan Korkmaz's layup for a three-point play with 3.6 seconds left put Philadelphia ahead for good at 90-89. He led the Sixers with 19 points. Korkmaz's play near the end helped Philadelphia overcome a strong effort by former UNLV player Christian Wood, who finished with 27 points and 12 rebounds. Former Rebel Brandon McCoy, now with the Bucks, didn't play.
■ Grizzlies 92, Jazz 86 — Jevon Carter scored 26 points for the Grizzlies, and teammate Markel Crawford made 5 of 8 3-pointers and totaled 19 points. Jaren Jackson Jr., Memphis' No. 4 overall pick from this year's draft, scored nine points. Georges Niang scored 18 points and Trey Lewis 16 to lead Utah. Grayson Allen, the Jazz's No. 21 selection last month, didn't play.
Saturday's attendance
11,212 (both venues); total: 115,525
Star of the day
Alkins' 3-pointer in overtime helped the Raptors advance. He also put together a double-double.
Local spotlight
Wood, the ex-Rebel, had another strong performance for the Bucks. He made 10 of 15 shots en route to the double-double. Wood completed his Summer League play by averaging 20.4 points and 10.8 rebounds.
On the scene
The Cavaliers's Tristan Thompson, who went to Findlay Prep, watched Cleveland play the Houston Rockets at the Thomas & Mack. Los Angeles Rams defensive tackle Ndamukong Suh also was at the Mack. Former Dallas Maverick Sam Perkins was honored with the Anheuser-Busch Freedom Award as part of Military Appreciation Night for his work with the USO. Tayshaun Prince, who played 14 seasons including the first 10½ with the Detroit Pistons, was in attendance. New York Knicks rookie Kevin Knox stuck around after his team finished playing Friday and watched action Saturday at Cox.
Sam Perkins receives the Anheuser-Busch Freedom Award during Military Appreciate Night at #NBASummer. pic.twitter.com/ucbUaB0XAx

— NBA Summer League (@NBASummerLeague) July 15, 2018
Sunday's games
At Thomas & Mack Center
■ L.A Lakers vs. Detroit, 1 p.m.
■ Toronto vs. Cleveland, 3 p.m.
■ Portland vs. Boston, 5 p.m.
■ Philadelphia vs. Memphis, 7 p.m.
Monday's games
At Thomas & Mack Center
■ L.A. Lakers-Detroit winner vs. Toronto-Cleveland winner, 5:30 p.m.
■ Portland-Boston winner vs. Philadelphia-Memphis winner, 7:30 p.m.
At Thomas & Mack Center
Tuesday's game
■ Championship game, 7 p.m.