Second-year guard Wayne Selden ready for more NBA minutes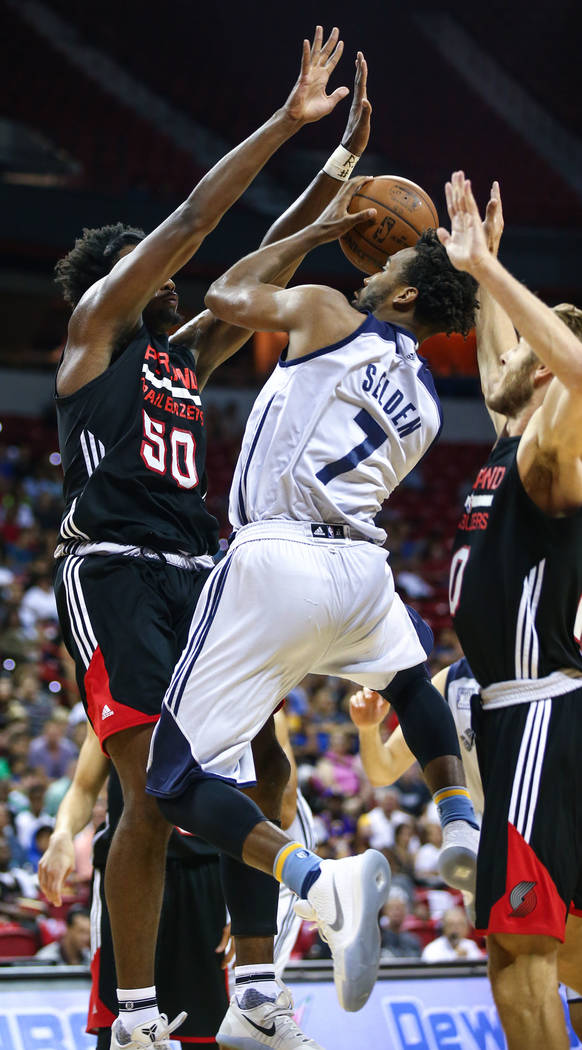 Memphis Grizzlies guard Wayne Selden Jr. drove from the left wing, attacked 6-foot-10-inch big man Norvel Pelle and finished an acrobatic left-handed shot over the Miami rookie on Saturday at the Thomas & Mack Center.
"Too strong," he screamed before converting the old-fashioned three-point play.
And way too good.
Selden showcased his affinity for contact all week in the NBA Summer League, and proved he's ready for more minutes this upcoming NBA season.
"I thought he played like he had something to prove," Memphis summer league coach Glynn Cyprien said. "He initiated the offense for me, and I thought he was just fabulous the last week and a half."
Selden, a Kansas product, went undrafted in 2016 and had to prove himself with the NBA D-League's Iowa Energy to begin his professional career.
He appeared in 14 NBA games as a rookie — averaging 5.1 points and 1.1 rebounds in 16.9 minutes with the New Orleans Pelicans and Grizzlies — and brought that professional experience with him to Las Vegas, where he visibly showed a physical style of play most rookies lack.
Selden led the Grizzlies to a 5-1 record, averaging 22.7 points on 45.4 percent shooting. He also posted 3.8 rebounds, 3.0 assists and 1.7 steals per game while mentoring first-year players Dillon Brooks and Kobi Simmons.
"A lot of the guys are a little younger — maybe not that much — but they haven't seen the game," said Selden, 22. "I've seen the professional game. I know the game. There's obviously a lot more I can learn, but just my IQ of the game helped (during the summer)."
On July 1, Memphis rewarded the 6-5 Selden with a multiyear contract but wanted to see more. The Grizzlies liked what they saw at the summer league. Cyprien appreciated Selden's assertiveness on both ends of the floor, and loved the way he's developing within Memphis' offense.
"He just put in the work. Everything he's gotten, he's deserved," Cyprien said. "He's a more confident player, and offensively, you can see he knows he can score. He attacks the rim with physicality. And defensively, he can be as good as any."
Selden was the tone-setter for the Grizzlies at summer league. In their opener July 8, he scored a game-high 28 points and drained an off-balance jumper with 2.3 seconds left in a victory over the Washington Wizards. He also scored 24 points and made several key plays in a double-overtime victory over Miami in the quarterfinals.
"It's such a blessing to be able to be in this position because last year I was crawling for any type of opportunity," Selden said.
Now that he has the opportunity, he doesn't want to let it go.
And he's playing every game with the 2016 NBA Draft in the back of his mind.
"I'm thankful it happened," Selden said. "At the time, it was really, really, really frustrating. But I remember it every time I go on that court. And I try to incorporate that into every game."
Contact reporter Ashton Ferguson at aferguson@reviewjournal.com or 702-383-0430. Follow @af_ferguson on Twitter.