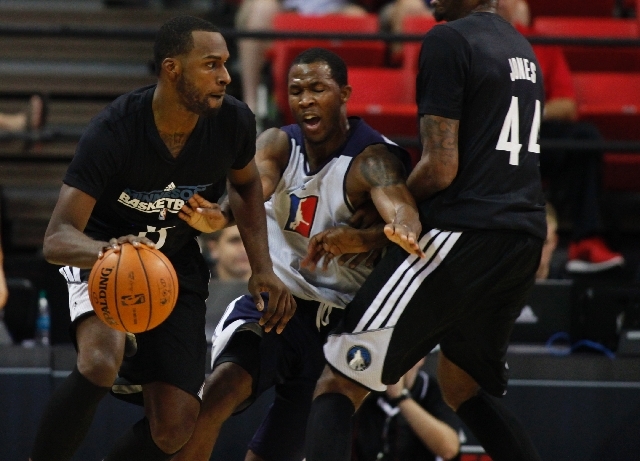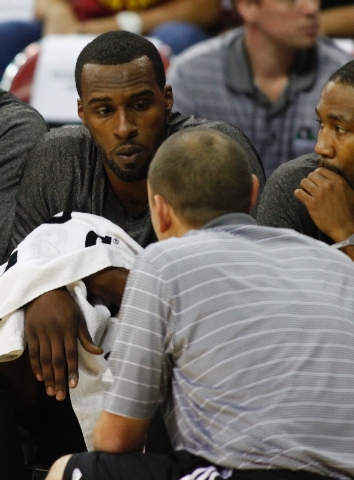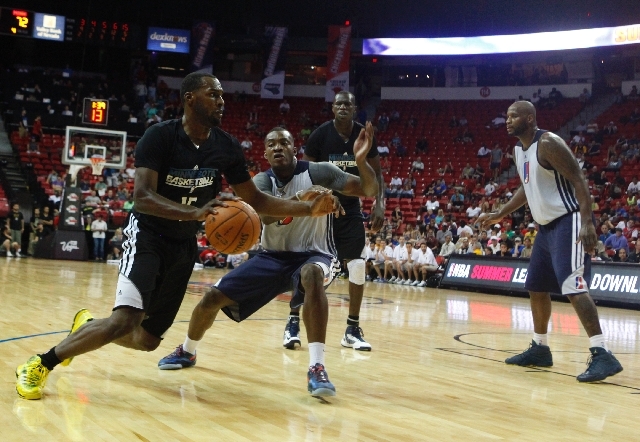 It's not the NBA that he'll see come fall, but Shabazz Muhammad got a taste of life as a professional athlete Saturday.
The former Bishop Gorman High School star, a rookie swingman for the Minnesota Timberwolves, went against grown men in the NBA Summer League, and it didn't take long for him to realize this is a much different game than what he saw at UCLA.
"It was an up-tempo, fast game, definitely different than what I'm used to," Muhammad said after the Timberwolves lost to the D-League Select squad 83-81 at the Thomas & Mack Center. "But I thought I played well. I didn't try to rush things. I was looking to pass the ball and make plays.
"I know that's what I have to work on. I know I can score the ball. I'm just looking to learn to pass the ball and play good defense. That's what I was putting an emphasis on."
In 25 minutes, Muhammad scored seven points on 3-for-7 shooting, had one rebound, one assist, three turnovers and committed four fouls. But this is a learning process, and Muhammad and the Wolves viewed his debut that way.
"I thought he did great," Timberwolves summer league coach David Adelman said. "It was really physical out there, and he was going up against men. I thought it was good for all our rookies. You learn about situations and how to react to physicality.
"It's easier to play against other young guys. It's more of a challenge when you're going against seasoned vets who've played professionally all over the world."
Muhammad, who played one year at UCLA, said he isn't bothered that he fell out of the top 10 in last month's NBA Draft, even though he once was projected as the No. 1 overall pick. He also said his father's pending legal issues won't be a distraction.
"It is a fresh start," he said. "Being here in the NBA, playing in the summer league. I'm in a good situation (in Minnesota), and I'm happy to be out here with the team and working with everybody."
Muhammad's father, Ron Holmes, watched from the stands Saturday and said his son is focused on his new job.
"We talked about him doing what he has to do to be successful," said Holmes, who is dealing with federal bank fraud charges. "He's been playing basketball his whole life. If he works hard and does the things he has to do, he'll be fine.
"He's in a good situation in Minnesota. He's playing for a good coach, and they have some good players. I'm not worried at all."
Muhammad said it was nice to finally play in the Thomas & Mack. He was heavily recruited by UNLV before choosing UCLA.
"It was great to be back home," he said. "To have family and friends there rooting for me, I loved it. I wish it could have been a better result."
Adelman said the goal is for Muhammad to get used to this level of basketball, learn from his mistakes and see the big picture.
"I want to see more of what I saw (Saturday), him getting out of his comfort zone, guys holding him and how he reacts to those kind of things," Adelman said. "We know what his positives are. But you need to find out what his negatives are, and games like this help you identify the things you want him to work on."
Muhammad said patience is the key.
"There's a lot of misconceptions about me," he said. "I know I've got my weaknesses, but I'm just trying to work on (them) and get better every day. This team wants me to pass the ball and play defense, so that's what I'm concentrating on.
"I'm the kind of guy who likes to play hard, and I know I have to learn to handle the pace of the game. But I got this first game under my belt, and I'm looking forward to Monday's game and just get better.
"All the negativity, it comes with the territory. But I'm just worried about doing a good job here (in Minnesota)."
Contact reporter Steve Carp at scarp@reviewjournal.com or 702-387-2913. Follow him on Twitter: @stevecarprj.