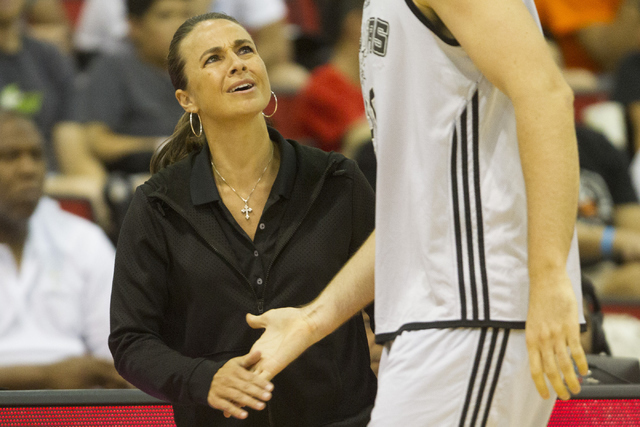 There won't be a second "Victory in Vegas" championship T-shirt for Becky Hammon to wear Monday.
But the San Antonio Spurs' coach in the NBA Summer League said that's OK because she never wears the one she won last year when she was the first woman to be a head coach in the summer league.
In fact, her gender rarely, if ever, comes up in conversation these days. She has long been accepted as a member of Gregg Popovich's staff, and she is very comfortable with her role as an assistant. That the Spurs trust Hammon with their young players is a testament to her ability as a teacher. It's only when a member of the media brings it up that she addresses it.
"I'm much more comfortable than I was a year ago," she said. "Running a game. Managing timeouts. Handling substitutions. Keeping track of fouls. All of that was easier this year.
"The guys we had were great. They wanted to be coached and they did a great job. I think we've moved on from that (being a woman)."
The Spurs, who were 4-1 in the summer league, finished their Las Vegas run on an up note, defeating Sacramento 90-86 in overtime. Dejounte Murray led San Antonio with 20 points.
Hammon was proud of the way her team battled back after being down 10 points heading into the fourth quarter.
"I think it shows the pride they have," she said. "We talked about playing for the name on the front of the jersey and playing for each other, and they did a great job doing that in the fourth quarter and in overtime."
Spurs general manager R.C. Buford said he continues to be impressed by Hammon's willingness to learn and her ability to take that knowledge and teach San Antonio's young players.
"There's a continuing evolution as to how she sets the game up, what plays she runs," Buford said. "She's a terrific leader as a coach, and she continues to build on what she did last summer.
"We set her back with the adjustments we made to our team over the week. If we hadn't screwed her up, she'd probably still be playing."
The Spurs rested Kyle Anderson and Jonathon Simmons after a couple of games, depriving Hammon of her top weapons. Still, her team played hard for her, and she appreciated the effort.
"We made it through five games and nobody got hurt," she said. "We got a lot of guys who were wearing a Spurs uniform a lot of minutes, and they were able to show us what they could do. To me, it was a success."
As Hammon heads back for what will be her third season, she does so knowing a familiar face will be missing. Tim Duncan has retired after 19 years, all in San Antonio, and Hammon admits it will take some time to get used to not having the legendary power forward around.
"He's got some eyes that if he looks at you, his sarcasm," she said. "He always has something sly to say. I'm going to miss that. It's hard to pinpoint one thing. We'll miss his presence is the locker room and on the floor and his leadership."
As she left Las Vegas on Friday, Hammon kept summer in its proper perspective, and she was feeling good about herself and her team.
"It's all about getting our guys better and seeing the big picture," she said. "It's about getting ready for the regular season, developing our players, and that's a big part of the role I have. I'm pleased with what we did here this week."
Contact Steve Carp at scarp@reviewjournal.com or 702-387-2913. Follow on Twitter: @stevecarprj