Trail Blazers rookie big man Swanigan honors friend at summer league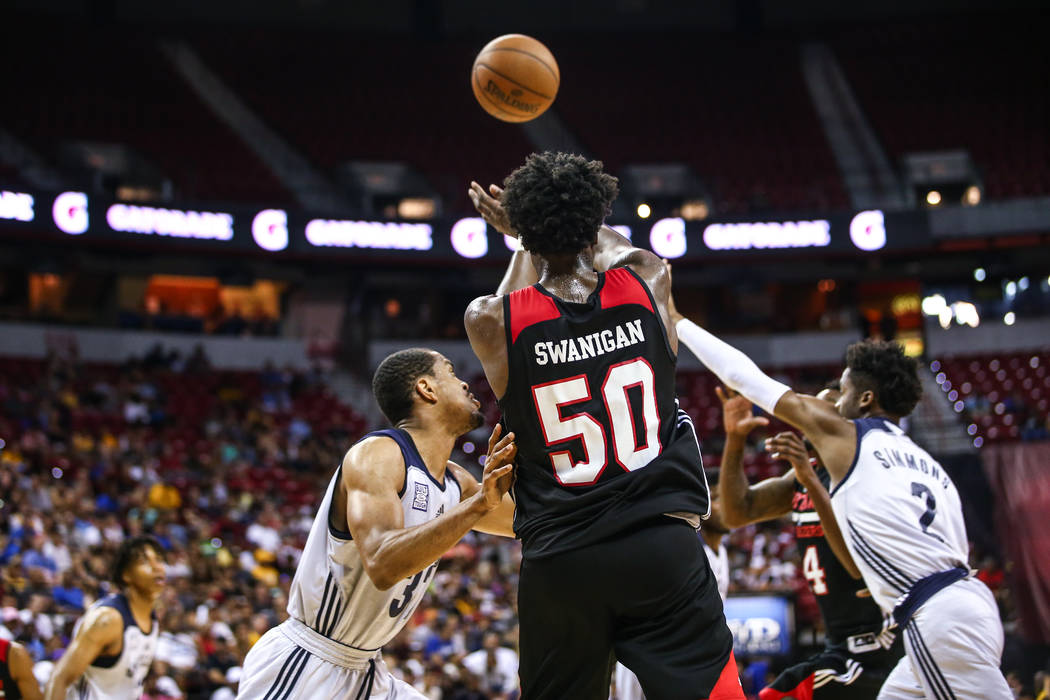 Portland Trail Blazers rookie Caleb Swanigan is going to take the floor in the NBA Summer League championship game against the Los Angeles Lakers on Monday night at the Thomas & Mack Center.
But first, the 6-foot-9 big man will wrap his left wrist with athletic tape and inscribe "RIP #5" with a black permanent marker.
"I'm not really one that's interested in tattoos," Swanigan said. "This is probably something I'll do for a while."
Maybe the rest of his basketball career.
Swanigan's wristband memorializes Steve McElvene, a fellow big man and basketball player who died last May from complications of an enlarged heart at the age of 20.
The two centers spent their formative years together in Fort Wayne, Indiana, and developed a friendship through competition on the basketball court.
"It still don't feel real to this day," said Swanigan, who is averaging 14.9 points and 10.3 rebounds in seven summer league games. "You keep moving on, but it's like you never really do move on."
For most of his childhood, Swanigan was the only dominant post player in the Fort Wayne area. But McElvene moved from Alabama to Indiana in high school to give "Biggie" a new, formidable adversary.
The two played against and alongside each other, and McElvene's presence was pivotal in Swanigan's development.
Jared Quarles coached both Swanigan and McElvene during the AAU season and said both were "heading in the same direction" and brought out the best in each other.
"They always kind of had this brotherhood because they made each other better," the coach said in his first public comments since McElvene's death. "(Swanigan) knew Steve was very gifted, and Steve never took plays off when he went against Biggie. It was back and forth."
Swanigan developed into a five-star recruit and opted to stay close to home and play his college basketball in the Big Ten at Purdue.
McElvene was more of a late bloomer and was pursued by several mid-major Division I colleges before deciding on Dayton, where he set the single-season school record for blocks before his death.
Swanigan started wearing the wrist tape at the beginning of his sophomore season, and averaged 18.3 points and 12.5 rebounds en route to Big Ten Player of the Year and consensus first-team All-American honors.
He's been one of the best players in the summer league, too, where he has brutalized opponents under the basket and gobbled up rebounds like Frosted Flakes.
"It doesn't matter where on the court he is. He thinks he can get that rebound," Portland summer league coach Jim Moran said. "I've never seen a guy like that … He'll go up against three guys. You just stand there in amazement."
Swanigan hasn't been fazed by the physicality of the professional level. Not one bit. He embraces the contact, and he dishes out quite a bit, too.
He might owe that to his battles with McElvene.
"I feel like he was going to be here (in the NBA) one day eventually," Swanigan said. "I think about him every day."
Contact Sam Gordon at sgordon@reviewjournal.com. Follow @BySamGordon on Twitter.