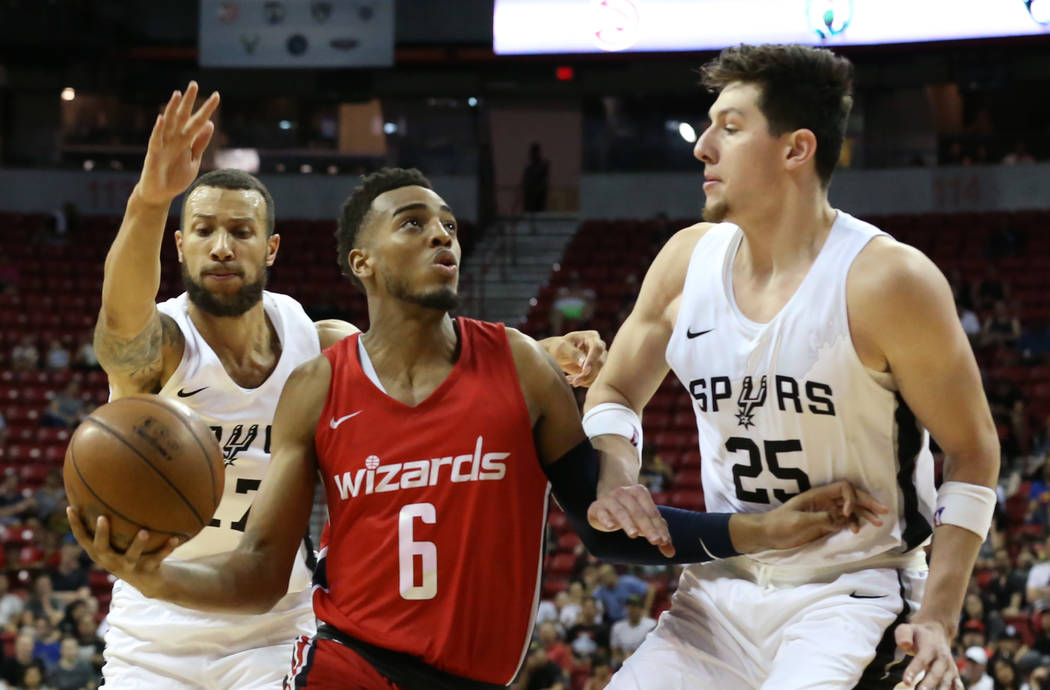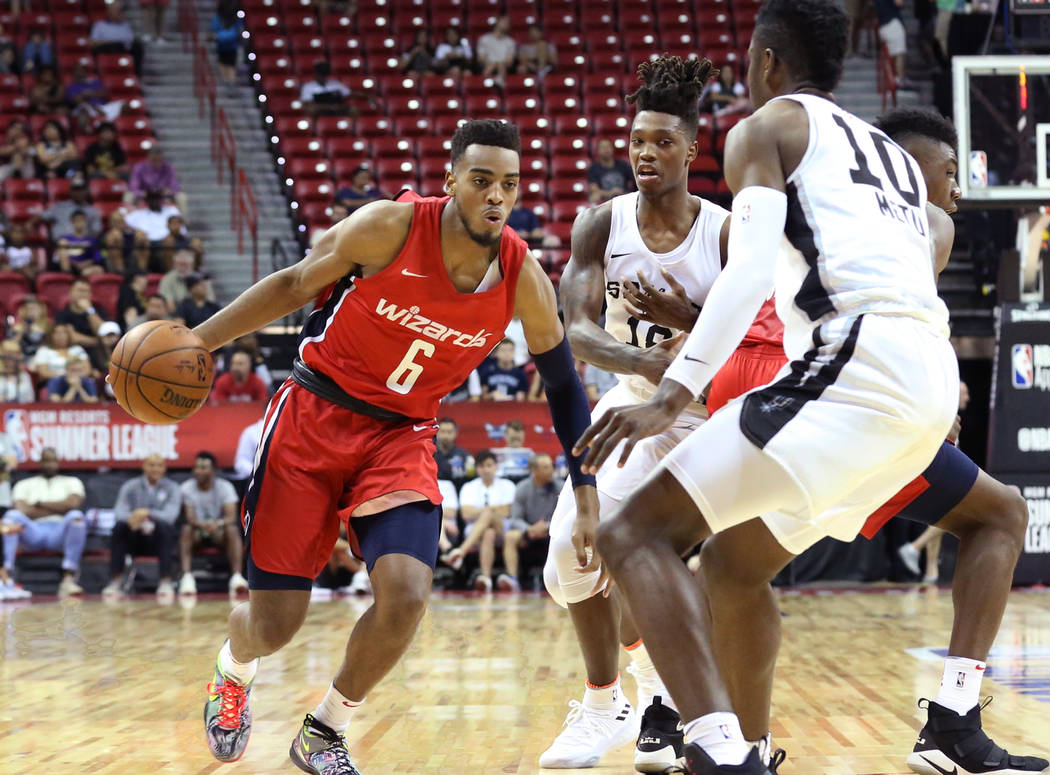 Troy Brown Jr. had future teammate Otto Porter Jr. and Washington Wizards coach Scott Brooks watching him at the Summer League on Monday, but someone else made him stop in his tracks.
The Las Vegas native spotted Centennial coach Noah Hartsock in the Thomas & Mack crowd, and wasn't too proud to get a high-five and hug from one of his high school mentors. It's one of the things Hartsock appreciates about Brown: No matter how high Brown's basketball career soars he never forgets a face.
"He just takes the time to remember everybody and everything," Hartsock said. "He just cares about people."
Brown, who was chosen 15th overall by the Wizards in June, didn't go star-chasing during his Summer League homecoming, preferring to mingle with friends and family instead of the NBA's elite. Even a courtside encounter with Wizards star John Wall, whose dance the 18-year-old ex-Bulldog admits to having performed, resulted in a less-than thrilling tale.
"He was on the sideline and I walked past him and said 'What's up,' " Brown said. "Other than that ,I try not to bother the guys. They're in their offseason still."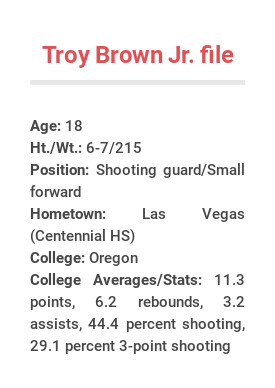 Brown played as he's been working since the end of his lone season at Oregon to transition to the NBA. The key for the 6-foot-7 swingman was getting used to the longer 3-point line; he knows he's going to need to knock down shots in drive-and-kick situations with Wall and Wizards guard Bradley Beal.
If Brown can nail down his jumper, then the sky's the limit because he already can pass, rebound and defend at a high level. He should fit in well in the increasingly positionless NBA because he can guard multiple positions and help his team win in a variety of ways.
"He makes everyone around him better," said Ryan Richman, the Wizards' Summer League coach. "There's no better compliment you can give a basketball player in my mind."
As a sign of their faith in him, the Wizards had Brown bring the ball up the court and function as their primary playmaker through most of the Summer League. He's rewarded their belief, averaging 18.4 points, 6.8 rebounds and two assists.
"(It's) gone well," Brown said of his Summer League. "There's definitely things I could've done better, but I feel like things could've gone a lot worse."
Brown knows the Wizards have high expectations for him, but Hartsock believes in the person they drafted just as much. The coach remembers a high schooler with surprising drawing skills, a willingness to spend time with Centennial's special education students and a relentless work ethic.
Brown always knew he was good, and a five-star rating in high school certainly cemented that belief. But he never grew a big enough head to stop working or deny a former coach a hug.
"He realized he had to get better. He just never was satisfied with what was going on," Hartsock said. "He was really a model citizen for our school."
More NBA Summer League: Follow all of our NBA Summer League coverage online at reviewjournal.com/summerleague and @RJ_Sports on Twitter.
Contact Ben Gotz at bgotz@reviewjournal.com. Follow @BenSGotz on Twitter.