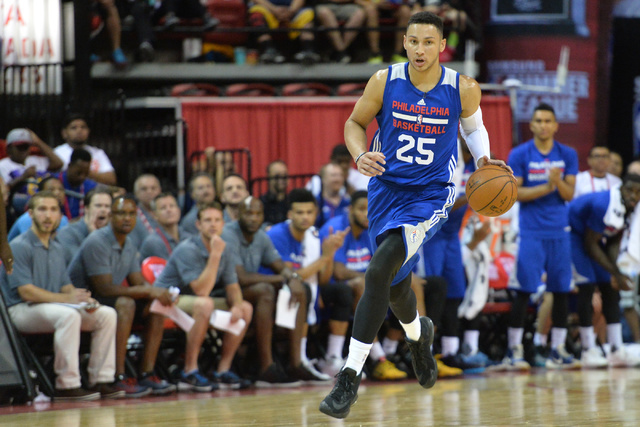 The fifth day of the 2016 NBA Summer League will be the last one before teams are eliminated in the playoffs. Six games will take place — three in the Thomas & Mack Center and three in the Cox Pavilion.
GAME OF THE DAY
Philadelphia vs. Golden State — The Ben Simmons show will come to the Thomas & Mack Center at 5:30 p.m., as the 76ers and Warriors both look for their first victory of the tournament. Simmons is averaging 13 points per game after two appearances, along with 6.5 rebounds and five assists. The No. 1 overall pick has only taken 21 shots in the tournament so far, keeping his other teammates involved on offense.
WHAT TO LOOK FOR
*Devin Booker averaged 26 points in his first two games for Phoenix, the second-highest scoring average in the tournament. But will he get to play in a third or have the Suns decided they've seen enough?
*Jaylen Brown was the No. 3 overall pick in the draft, but the Boston center has shown little on offense so far. Can he show his game Sunday against Phoenix, where he went 0-6 from the field, was a fluke?
*Can Denzel Valentine find his shooting stroke? The former Michigan State star is shooting 33 percent from the field after two games and averaging 10.5 points for Chicago.
SCHEDULE/LATEST LINES*
Today
At Cox Pavilion
1 p.m. – Washington vs. Brooklyn (Nets -6, 159½)
3 p.m. – Boston vs. Dallas (Mavericks -2½, 154½)
5 p.m. – San Antonio vs. Chicago (Spurs -4½, 150)
At Thomas & Mack
1:30 p.m. – Portland vs. Utah (Blazers -2½, 153½)
3:30 p.m. – Miami vs. Phoenix (Suns -4, 166)
5:30 p.m. – Philadelphia vs. Golden State (76ers -5, 146)
*Lines courtesy of Westgate Sportsbook
TICKETS
Per session: $30 adults, $20 kids 12 and under
TV
ESPN, ESPN2, ESPNU, ESPN3 streaming, NBA TV
ROSTERS FOR TEAMS PLAYING TODAY
Washington Wizards
(#, Player, POS, Height)
54 Biruta, Gilvydas F 6-8
55 Cooper, DJ G 5-11
15 Dawson, Shawn G 6-6
8 Eddie, Jarell G 6-7
50 Eric, Micheal C 6-11
44 Gibbs, Sterling G 6-2
40 House, Danuel G 6-7
9 McClellan, Sheldon G 6-6
4 McKee, Tywain G 6-2
21 Nunnally, James G 6-7
32 Ochefu, Daniel C 6-11
12 Oubre Jr, Kelly F 6-7
81 Roberts, Jaleel C 7-0
14 Simmons, Rayshawn G 6-4
31 Southerland, James F 6-8
34 Tarczewski, Kaleb C 7-0
30 White, Aaron F 6-9
Brooklyn Nets
(#, Player, POS, Height)
2 Beech, Beau G-F 6-9
10 Ferrell, Yogi G 6-0
33 Georges Hunt, Marcus G 6-5
24 Hollis Jefferson, Rondae G-F 6-7
20 Benimon, Jerrelle F 6-8
6 Kilpatrick, Sean G 6-4
9 Magette, Josh G 6-1
1 McCullough, Chris F 6-9
55 Mockevicius, Egidijus C 6-10
30 OBrien, JJ F 6-7
14 Sims, Henry C 6-10
26 Thomas, Aaron G 6-5
15 Whitehead, Isaiah G 6-4
Portland Trail Blazers
(#, Player, POS, Height)
34 Alexander, Cliff F 6-8
19 Bachynski, Jordan C 7-2
5 Connaughton, Pat G 6-5
31 Davis, Stacy F 6-6
16 Fair, CJ F 6-8
26 Green, Erick G 6-3
37 Hines, Shaquille F 6-7
55 Jackson, Pierre G 5-11
27 Johnson, Chris C 6-11
1 Johnson, Omari F 6-9
10 Layman, Jake F 6-9
42 Mickelson, Hunter F 6-10
44 Montero, Luis G 6-7
18 Hopson, Scotty G 6-7
28 Smith, Russ G 6-0
21 Vonleh, Noah F 6-10
52 Williams, Darrell F 6-8
Utah Jazz
(#, Player, POS, Height)
5 Berry, Davion G 6-4
20 Caboclo, Bruno F 6-9
11 Crawford, Drew G 6-5
22 Daniels, DeAndre F 6-9
12 Jones, Jalen F 6-7
53 Kirk, Alex C 6-11
13 Moreira, Yanick C 6-11
42 Poeltl, Jakob C 7-0
24 Powell, Norman G 6-4
43 Siakam, Pascal F 6-9
25 Singler, EJ F 6-6
32 Smotrycz, Evan F 6-9
2 Upshur, Quinton G 6-5
23 VanVleet, Fred G 6-0
55 Wright, Delon G 6-5
Boston Celtics
(#, Player, POS, Height)
50 Bentil, Ben F 6-9
9 Brown, Jaylen F 6-7
28 Hunter, RJ G 6-6
26 Jackson, Demetrius G 6-1
55 Mickey, Jordan F 6-8
48 Miller, Malcolm F 6-7
51 Nader, Abdel F 6-6
52 Pinkston, Jayvaughn F 6-7
12 Rozier, Terry G 6-1
27 Thornton, Marcus G 6-4
46 Walden, Corey G 6-2
30 Yabusele, Guerschon F 6-7
63 Yarou, Mouphtaou C 6-9
13 Young, James G-F 6-6
Dallas Mavericks
(#, Player, POS, Height)
1 Anderson, Justin G/F 6-6
24 Behanan, Chane F 6-6
13 Blue, Vander G 6-4
30 Collinsworth, Kyle G 6-6
33 Ellis, Perry F 6-8
10 Finney-Smith, Dorian F 6-8
14 Gibson, Jonathan G 6-2
20 Hammons, A.J. C 7-0
17 Miles, Isaiah F 6-7
16 Moore, McKenzie G 6-6
19 Oniangue, Giovan F 6-6
35 Plomb, Tanner F 6-7
52 Singh, Satnam C 7-2
32 Warney, Jameel F 6-8
Miami Heat
(#, Player, POS, Height)
61 Boothe, Nathan* F-C 6-9
60 Carrera, Michael* F 6-5
63 Horton, Chris* F 6-8
56 Howard Jr, Juwan* G 6-6
64 Jankovic, Stefan* F 6-11
50 McGruder, Rodney* G 6-5
59 Moore, Nic* G 5-9
62 Obekpa, Chris* C 6-9
65 Pelle, Norvel* C 6-11
0 Richardson, Josh* G 6-6
52 Rudd, Victor* F 6-9
51 Tumba, Kevin* C 6-9
57 Walker, David* G 6-6
12 Weber, Briante* G 6-2
20 Winslow, Justise* F 6-7
Phoenix Suns
(#, Player, POS, Height)
3 Bender, Dragan F 7-1
29 Booker, Askia G 6-1
1 Booker, Devin G 6-6
10 Brown, Alec F-C 7-1
25 Bryson, Michael G 6-4
0 Chriss, Marquese F 6-10
22 Cooke, Derek F 6-9
18 Kuric, Kyle G 6-4
19 Scott, Shannon G 6-1
32 Solomon, Richard F-C 6-11
8 Ulis, Tyler G 5-10
15 Williams, Alan F-C 6-8
16 Williams, Troy F 6-7
San Antonio Spurs
(#, Player, POS, Height)
1 Anderson, Kyle G/F 6-9
16 Arcidiacono, Ryan G 6-3
45 Bertans, Davis F 6-10
3 Cummings, Will G 6-2
11 Forbes, Bryn G 6-3
27 Gromovs, Ilja F/C 6-10
28 Jean-Charles, Livio F 6-9
25 Lalanne, Cady C 6-9
26 Lorbek, Erazem F/C 6-11
5 Murray, Dejounte G 6-5
37 Ndoye, Youssou C 7-0
36 Nnoko, Landry C 6-10
13 Rodriguez, Angel G 5-11
17 Simmons, Jonathon G/F 6-6
19 Stokes, Jarnell F 6-7
4 Washburn, Julian F 6-8
22 Williams CJ F 6-5
Chicago Bulls
(#, Player, POS, Height)
54 Cooley, Jack F 6-9
14 Demps, Tre G 6-3
6 Felicio, Cristiano F/C 6-9
2 Grant, Jerian G 6-4
55 Marcius, Aleksandar C 6-10
7 Miller, Patrick G 6-1
15 Morgan, Raymar F/C 6-8
5 Portis, Bobby F 6-11
0 Sulaimon, Rasheed G 6-4
45 Valentine, Denzel G 6-6
32 Wells, Dez G/F 6-5
Philadelphia 76ers
(#, Player, POS, Height)
1 Allen, Bryon G 6-3
16 Caruso, Alex G 6-5
50 Gielo, Tomasz F 6-9
22 Holmes, Richuan F 6-10
18 Lo, Maodo G 6-3
41 Long, Shawn F 6-9
20 Luwawu Cabarrot, Timothe G 6-6
12 McConnell, TJ G 6-2
14 McCrea, Javon F 6-7
17 Nunnally, James F 6-7
40 Randolph, Levi G 6-5
25 Simmons, Ben F 6-10
30 Vaughn, Kwame G 6-3
23 Webb, James F 6-9
35 Wood, Christian F 6-11
Golden State Warriors
(#, Player, POS, Height)
25 Allen, Rosco F 6-9
50 Atkins, Darion F 6-8
44 Carter, Robert F 6-9
55 English, AJ G 6-4
2 Fields, Landry G-F 6-7
3 Hawkins, Corey G 6-3
7 Henry, Xavier G-F 6-6
15 Jones, Damian C 7-0
1 Kuzmic, Ognjen C 7-0
43 Laury, David F 6-9
0 McCaw, Patrick G 6-7
33 Ndiaye, Mamadou C 7-6
45 Oneale, Royce F 6-6
32 Shepard, Winston F 6-8
22 Sykes, Keifer G 6-0
10 Walkup, Thomas G-F 6-4