What's happening at NBA Summer League Day 5 — BLOG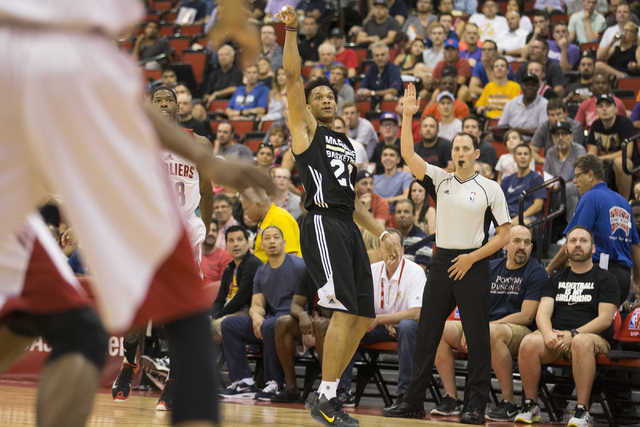 Play is underway at the Cox Pavilion and Thomas & Mack Center for Day 5 at the NBA Summer League.
We are providing updates all day from the summer league games.
7:45 p.m.
Ben Simmons stayed relatively quiet in the last game of the night at Thomas & Mack.
Simmons finished with eight points, six assists, and eight rebounds, but also seven fouls in Philadelphia's 85-77 loss to Golden State.
Patrick McCaw scored 11 points for the Warriors in the team's first win of the tournament.
6:51 p.m.
Pat Connaughton's eyes aren't the only Irish ones smiling at the NBA Summer League in Las Vegas.
Connaughton, who drained a game-winning 3-pointer Tuesday to lift the Portland Trail Blazers to a sudden death, double-overtime win over the Utah Jazz, is one of five former Notre Dame players competing here.
In fact, Connaughton, a 2015 second-round draft pick, is one of four starters playing in Las Vegas from the Fighting Irish team that took then-unbeaten Kentucky to the limit in a 68-66 loss in the 2015 NCAA Elite Eight. The others are Chicago Bulls guard Jerian Grant (2015 first-round pick), Boston Celtics guard Demetrius Jackson (2016 second-rounder) and Los Angeles Lakers center Zach Auguste (undrafted).
After Connaughton's heroics at the Thomas & Mack Center, where he scored 19 points and made 4 of 10 3s, he headed over to Cox Pavilion to watch Grant and ex-Irish center Jack Cooley play for the Bulls against the San Antonio Spurs. Auguste sat next to him in courtside seats.
"I stay in touch with them all the time. They're some of my closest friends," said Connaughton, entering his second season with the Blazers. "It's really cool. Often times, you've got teammates but for your teammates to be some of your best friends, it makes it that much more special for the (2015 NCAA Tournament) run and to make it to this level."
Kentucky alumni could comprise almost two teams here of first-round picks alone with the likes of Jamal Murray (Denver Nuggets), Devin Booker, Tyler Ulis and Skal Labissiere (Phoenix Suns), Willie Cauley-Stein (Sacramento Kings), James Young (Boston Celtics) and Trey Lyles, who scored 30 points for the Jazz and forced overtime with a tip-in at the buzzer.
But that's Kentucky.
"It's just cool for Notre Dame not to be known as a basketball powerhouse until the last few years," Connaughton said. "We were able to change the culture of it and then make it to the next level to show guys that considered Notre Dame coming out of high school that you can play with the best of them."
Connaughton is an elite all-around athlete who was drafted in the fourth round of the 2014 Major League Baseball draft by the Baltimore Orioles as a pitcher. But he was part of something Tuesday that he'd never before encountered.
"I've never been a part of a sudden-death basketball game," he said. "But I wanted to make sure the first one I was a part of that we came out on top."
Grant has 10 points for Chicago, which leads San Antonio 72-71 with 4:23 left.
6:40 p.m.
Ben Simmons has provided a few highlights in the 76ers game against the Warriors, but for the most part the forward has been relatively quiet.
Simmons had three points, four rebounds, two assists and three fouls in the first half, and Philadelphia trails 39-38 at the break.
Simmons did throw down a one-handed dunk and a behind-the-back pass for an assist early in the game. He is shooting 1-5 from the field.
Former UNLV player Patrick McCaw had five points on 2-3 shooting in the first half.
5:46 p.m.
The end of the Heat's 80-71 victory over the Suns came with a scary moment.
Miami's Kevin Tumba dove for a loose ball near the bench and ended up tripping over the seats. He was down for a second before sitting on the bench afterwards holding his elbow.
Sixers players Joel Embiid and Jahlil Okafor are near the court to support their teammates, who will be playing the Warriors soon in the last game of the night at Thomas & Mack.
5:33 p.m.
As the Blazers and Jazz kept playing, Utah Summer League coach Mike Wells needed help with the rules.
The two teams were the first to take a game to overtime at the tournament this year, and then became the first ones to take a game into double overtime since Atlanta and the D-League Select team on July 13, 2014.
"There was some back-and-forth where I had to know the rules on the advance, and how many timeouts, then all of a sudden we're in sudden death," Wells said. "It was fun, that's for sure."
After a scoreless two-minute overtime period the teams were forced into sudden death — first team to make a basket wins. Utah got the ball first but turned it over, leading to Pat Connaughton's winning three for Portland that made the final score 92-89.
The Jazz only got the game to double overtime on a special play by Spencer Butterfield and Trey Lyles. Trailing by four with 1.2 seconds left, Butterfield got to the line for three shots.
He made the first two, and missed the third intentionally so Lyles could leap up and make a game-tying tip-in as time expired.
"I just asked how he was going to miss it so I knew where the ball was going to be at, and he missed it perfectly and I was able to tip it in," Lyles said. "Never been involved in something like that before, but there's a first time for everything."
Despite his team ending up on the losing end, Wells found the final minutes instructive for his players.
"Fun stuff," Wells said. "I thought there was a lot of end-game situations that everyone can learn from."
5:11 p.m.
With Celtics president Danny Ainge, coach Brad Stevens and teammate Marcus Smart looking on, Boston forward Jaylen Brown turned in his best performance of the Summer League in a 88-82 win over the Dallas Mavericks at Cox Pavilion.
The No. 3 overall pick of the 2016 NBA Draft, Brown had 20 points, 10 rebounds and four steals and made 12 of 17 free throws.
Celtics point guard Terry Rozier, a 2015 first-round pick, led Boston with 26 points and made 14 of 18 free throws as the refs here suddenly decided to start calling fouls.
Justin Anderson, the Mavericks' 2015 first-round pick, had 29 points and 11 rebounds and Jonathan Gibson had 26 points for Dallas.
The Bulls and Spurs are warming up.
4:14 p.m.
A very small smattering of boos were heard at Thomas & Mack when a commercial played on the scoreboard featuring Kevin Durant — still in a Thunder jersey.
Durant recently left Oklahoma City to join Golden State, and apparently a select few watching the summer league still have hurt feelings.
The commerical was for Panini America, Inc., the licensed manufacturer of NBA cards. It featured Durant encouraging a young boy in a gym.
3:55 p.m.
Phoenix's game against Miami started with what was likely a scary sight for Suns fans.
Forward Marquese Chriss, the eighth overall pick in this year's draft, launched himself onto the scorer's table trying to keep a ball inbounds.
Chriss had no problems getting up and got right back in the game. The two teams are tied 5-5 four and a half minutes into the game.
Heat head coach Eric Spoelstra is sitting under the basket near Miami's bench.
3:30 p.m.
It's all over.
Pat Connaughton sunk a three for Portland on its first possession of sudden death, after Utah turned it over to start the period.
The Blazers won 92-89 for their first summer league victory. The Jazz go to 1-2.
3:27 p.m.
These teams don't want to stop playing.
Trey Lyles soared over the hoop to tap in an intentional free throw miss and Utah tied the game 89-89 after two minutes of overtime.
The tip-in was a redeeming moment for Lyles, who made a three early in the OT period but then had two turnovers in the last 36 seconds.
The two teams will now play a sudden death period. The first team to score wins.
3:15 p.m.
We have overtime.
Portland and Utah are tied at 82 after four quarters so there will be a two-minute OT period.
Trey Lyles missed a buzzer-beater in the closing seconds for Utah after Pat Connaughton turned the ball over with 9.5 seconds left.
3:06 p.m.
Celtics president Danny Ainge watching Boston's game against the Bulls at courtside.
2:59 p.m.
With time running out in a tie game, Wizards guard Jarell Eddie stole the ball from Nets forward Rondae Hollis Jefferson and drove the length of the court for a layup with less than a second left to lift Washington to a 87-85 win over Brooklyn at Cox Pavilion.
The Chicago Bulls and Boston Celtics are up next.
2:32 p.m.
Wizards forward Kelly Oubre Jr., a Findlay Prep product, didn't agree with a foul call on him after he blocked a shot by Nets center Egidijus Mockevicius at Cox Pavilion.
Oubre then added insult to injury to Mockevicius. As the Lithuanian center from the University of Evansville was sprawled on the floor in the lane, Oubre offered his hand to help him up only to take it away at the last second.
Oubre, a second-year pro from Kansas, has a team-leading 16 points for Washington, which trails Brooklyn 78-77 with 4:05 left.
1:57 p.m.
Wizards guards John Wall and Bradley Beal signed autographs for fans from their courtside seats at halftime of Washington's game against the Brooklyn Nets at the Cox Pavilion. Wizards coach Scott Brooks is watching the game from the stands.
Brooklyn led Washington 44-39 at halftime as it tries to improve to 3-0 heading into the Summer League tournament, which starts Wednesday.
1:50 p.m.
At Thomas & Mack, North Carolina coach Roy Williams and assistant coach C.B. McGrath are sitting courtside, and chatted with former Tarheels player Marcus Paige before the game.
Paige is playing for Utah, who trails Portland 19-11 after the first quarter.
Jazz players Alex Burks and Rodney Hood were around before the game, as was NBA Hall of Famer Isiah Thomas.
Follow Review-Journal Sports on Twitter: @RJ_Sports