Bishop Gorman's Will McClendon thrives as 'energy guy' for UCLA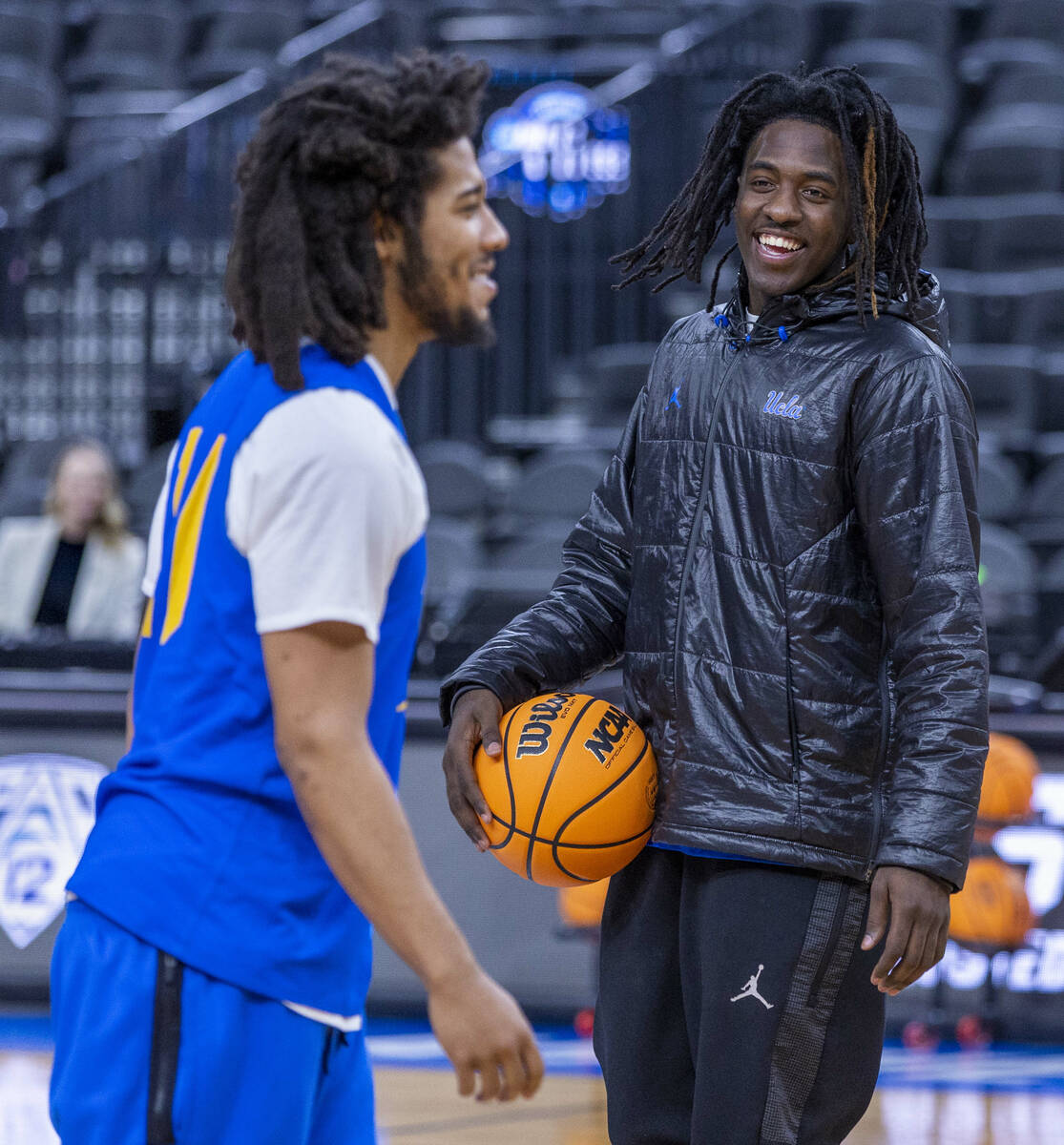 Among the coaches Mick Cronin telephoned upon his 2019 hiring to lead UCLA's basketball team: Bishop Gorman's Grant Rice, then coaching a guard he believed should represent the Bruins.
"Will McClendon. He's good enough — and he's a UCLA kid," Rice told Cronin, speaking then about a steely junior with a sweet shooting stroke.
"And he was right on all accounts," Cronin said Wednesday at T-Mobile Arena. "He's just a winner. And I believe in winners."
McClendon is winning some more at UCLA — this time as a reserve guard deployed to defend for the second-seeded Bruins, who play third-seeded Gonzaga in the second semifinal of the West Regional on Thursday at T-Mobile Arena.
Known as "Big Shot Will" for his clutch buckets at Gorman, the Gaels graduate missed the 2021-22 season with a torn right ACL, rehabilitating around the clock to return this season as a redshirt freshman.
He's averaging 9.5 minutes per game, knowing Cronin could call on him during any one of these precious March moments.
"I just wanted to be an energy guy. Wanted to make the right plays, take care of the ball," McClendon said. "I just wanted to do whatever it takes to win the game. That's the type of player I am."
That he is, hence the three state titles that preceded his move from Las Vegas to Westwood. The Bruins were diligent in their recruitment of McClendon, who committed as a four-star prospect well before his junior season concluded.
But his first season at UCLA was over before it began, lost in practice Sept. 17, 2021. Cronin called the injury "traumatic," but McClendon maintained a sense of optimism — knowing UCLA's hospitals rank among the nation's best.
"It's a blessing in disguise because you get to look, you get to travel, you get to see how hard it is to win on the road," McClendon said."I just took a step back and looked at perspective. I was a student of the game at that time."
McClendon eagerly returned to practice in the fall, having never missed basketball so much. His minutes might be sporadic on a team filled with upperclassmen, but his enthusiasm is anything but.
"Going through (an injury) like that, I try to talk to him and help him try to get more comfortable with his body and just tell him how much we need him and how there's no rush." said senior guard Tyger Campbell, a veteran of the Final Four. "We're just trying to keep up his confidence because we see him do great things every day in practice, defensively and offensively."
McClendon's shots aren't falling the way they did for the Gaels, as his 21.3 field-goal percentage would suggest. But Cronin insists his impact transcends the confines of a basic box score.
He's helped fill in for injured junior Jaylen Clark, the reigning Pac-12 Defensive Player of the Year.
Somewhere, Cronin said, Big Shot Will awaits.
"Obviously, his numbers show — you'd think he's not a shooter. But if you watched high school basketball in Las Vegas, you know that's what he was," Cronin said. "Guys help you win in a lot of ways. Right now in his career, he's helping us win with intangibles and toughness and defense.
"But I know the day is coming, he's going to help us win with shots, too."
Contact Sam Gordon at sgordon@reviewjournal.com. Follow @BySamGordon on Twitter.