Controversial call sparks Connecticut blowout in West final
Updated March 25, 2023 - 11:12 pm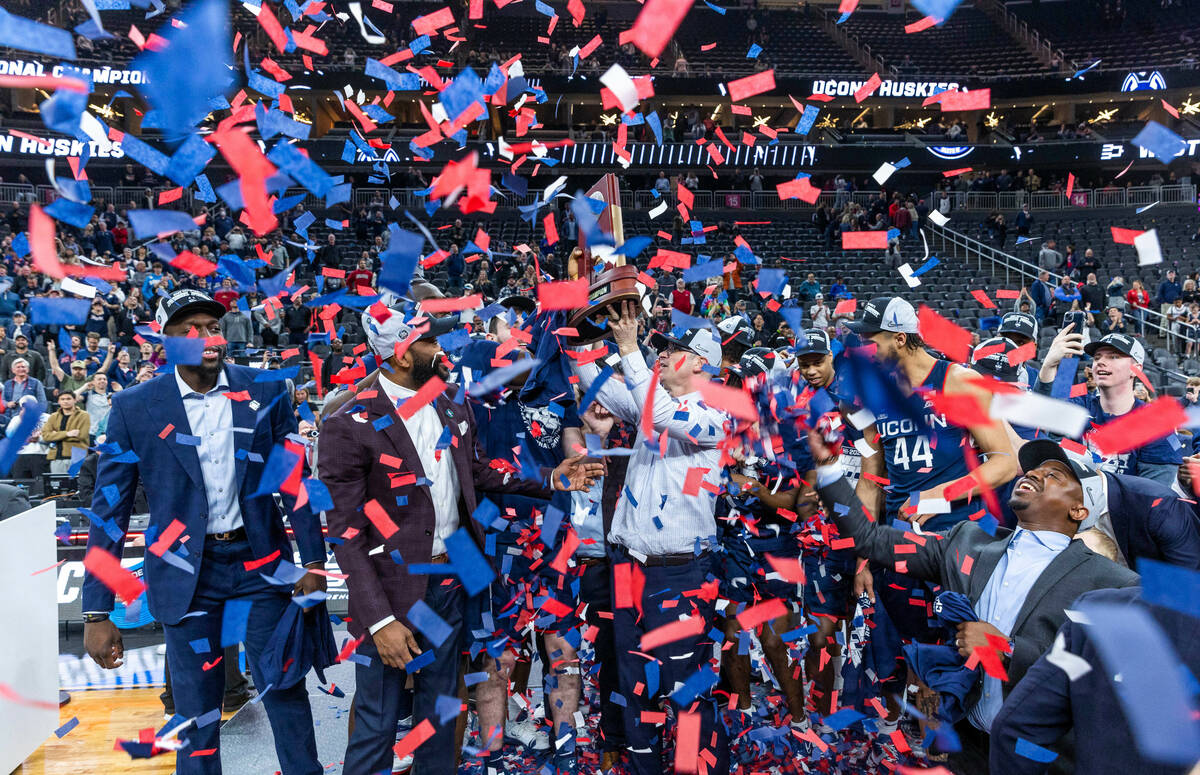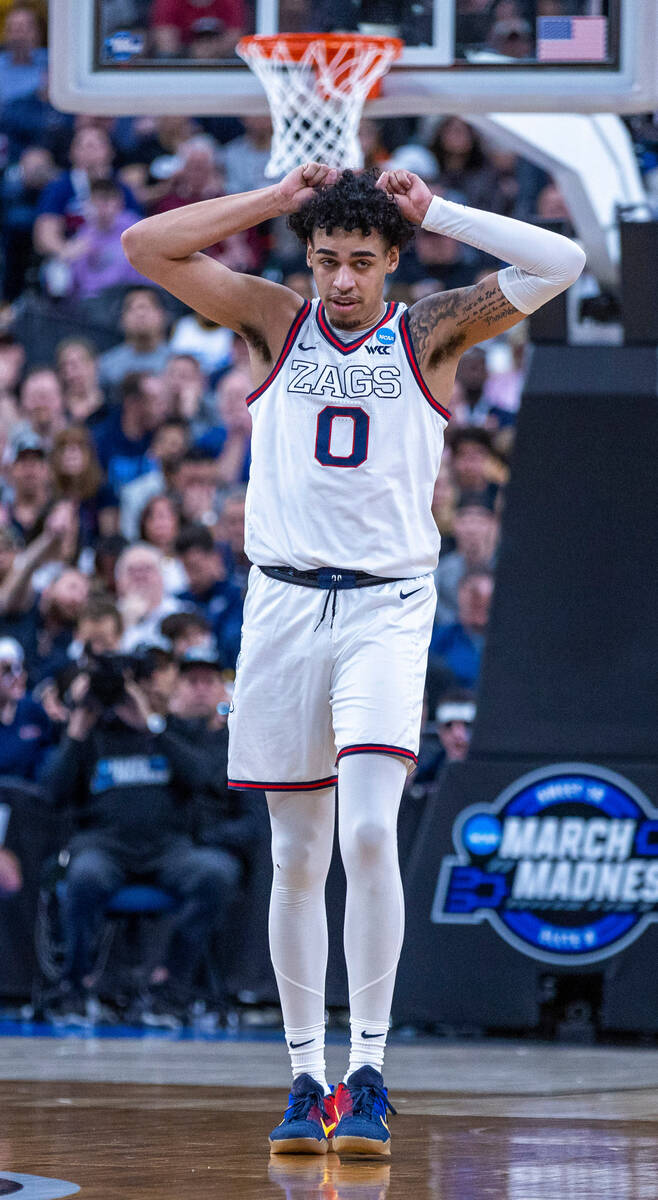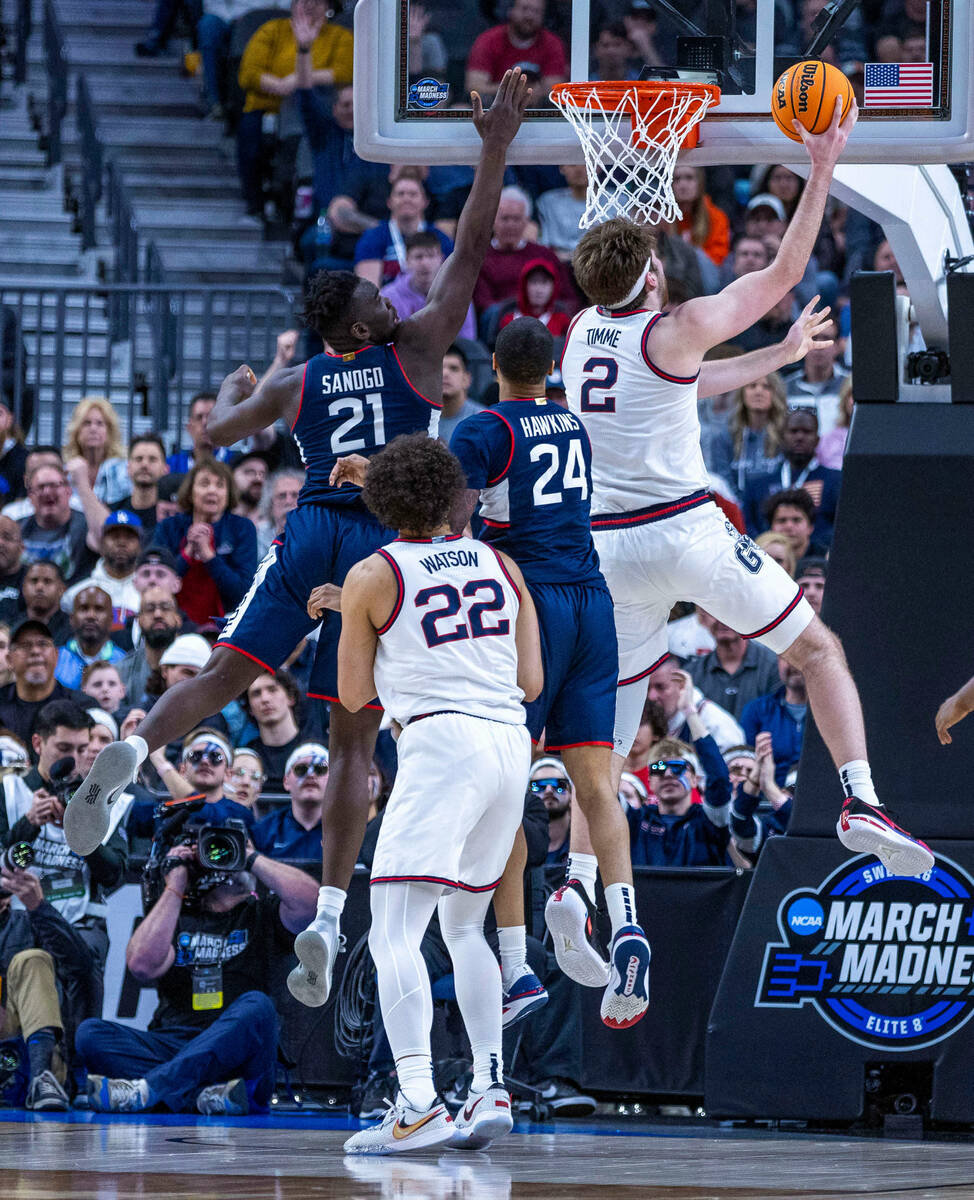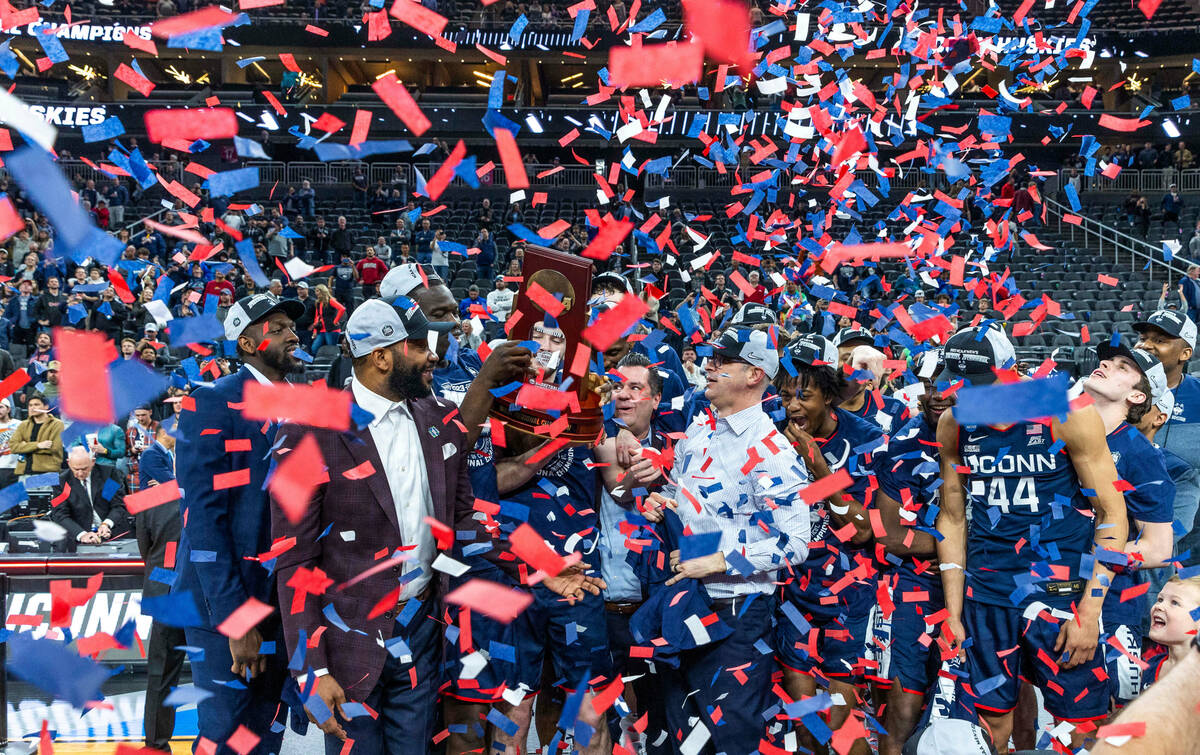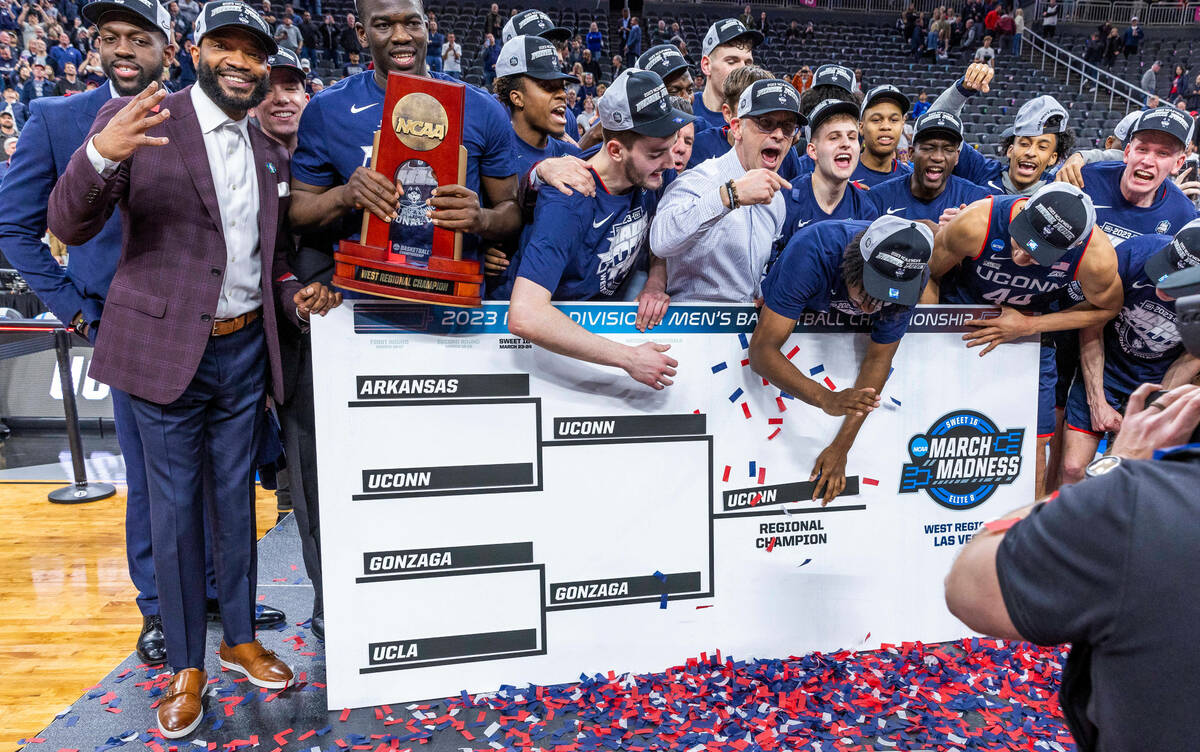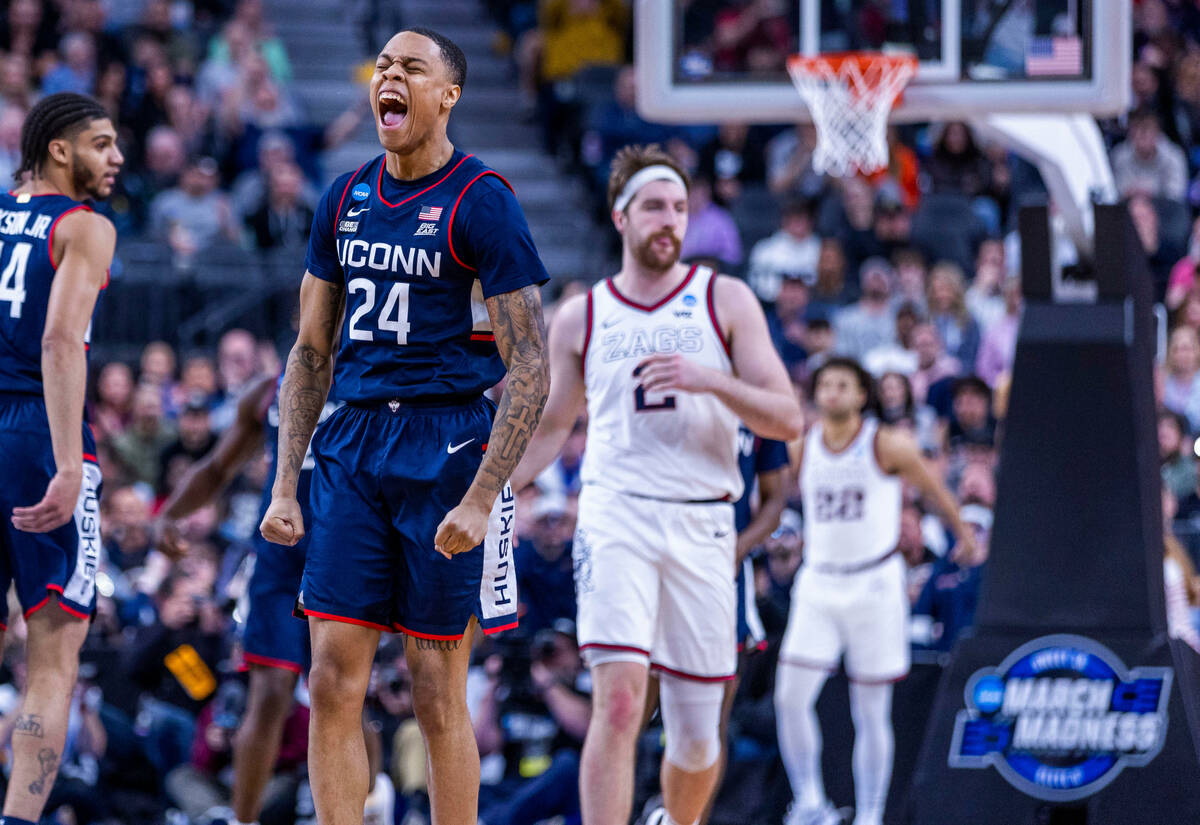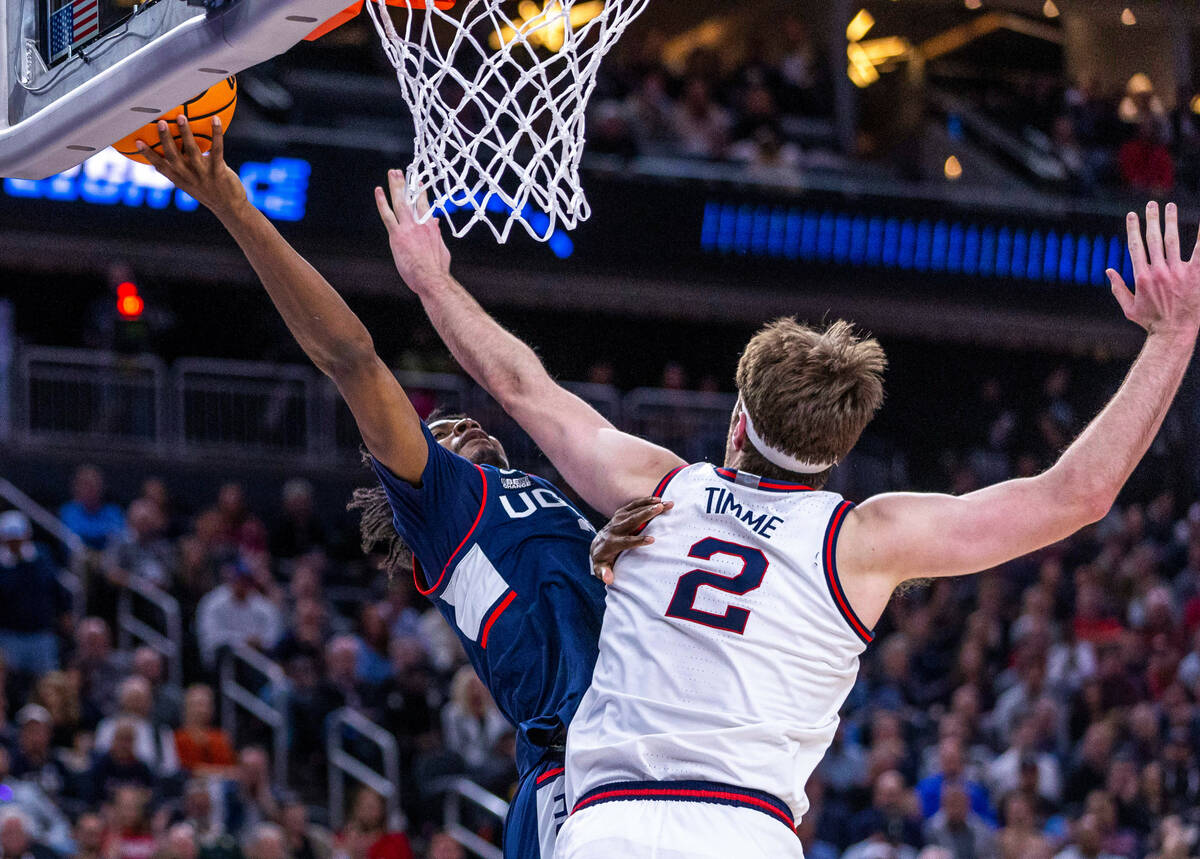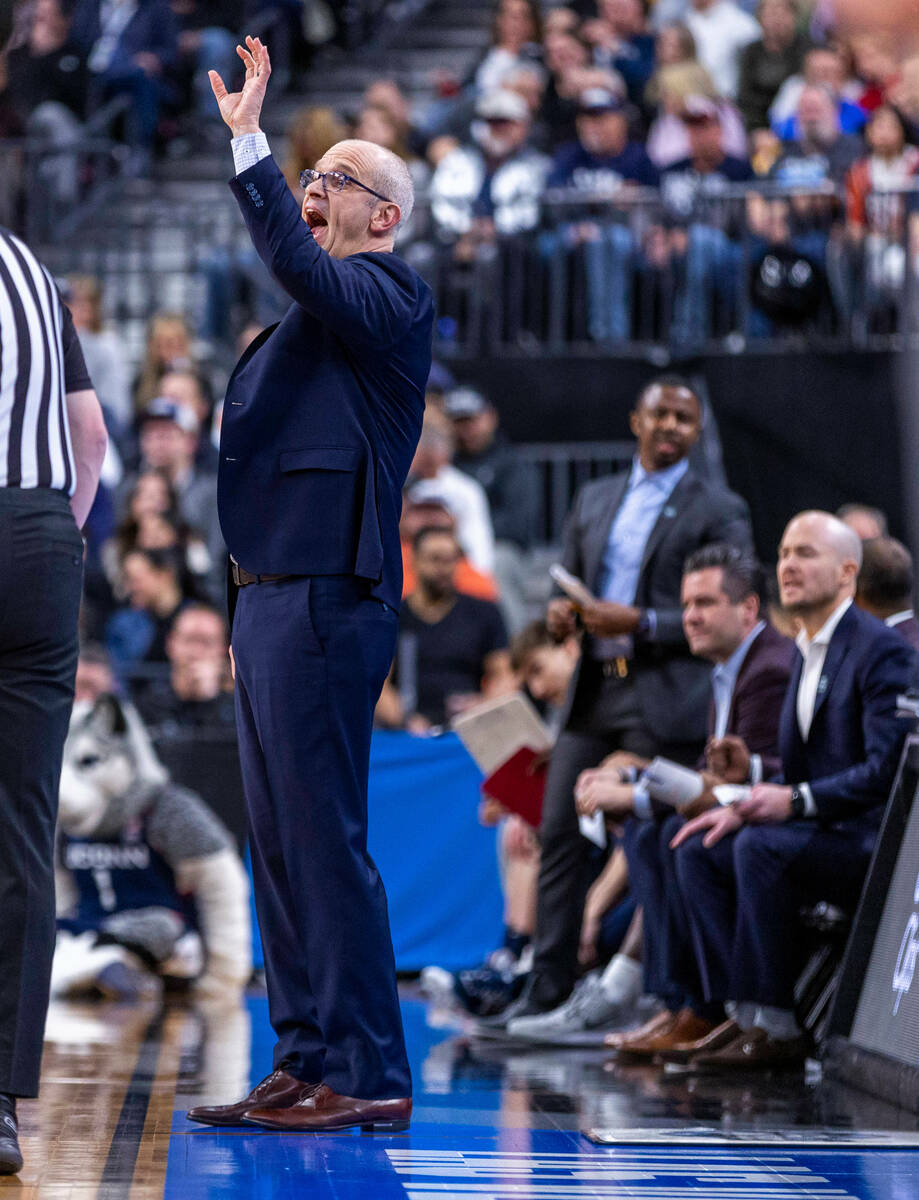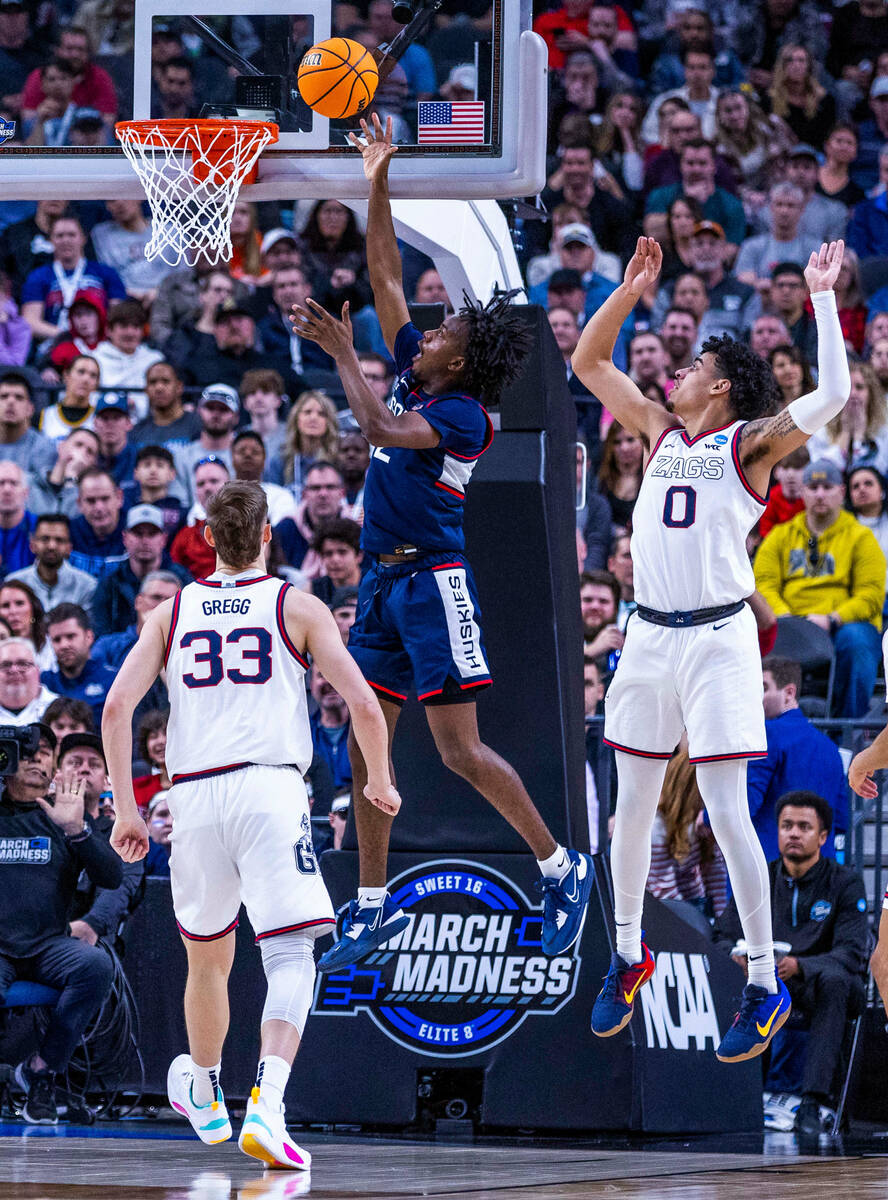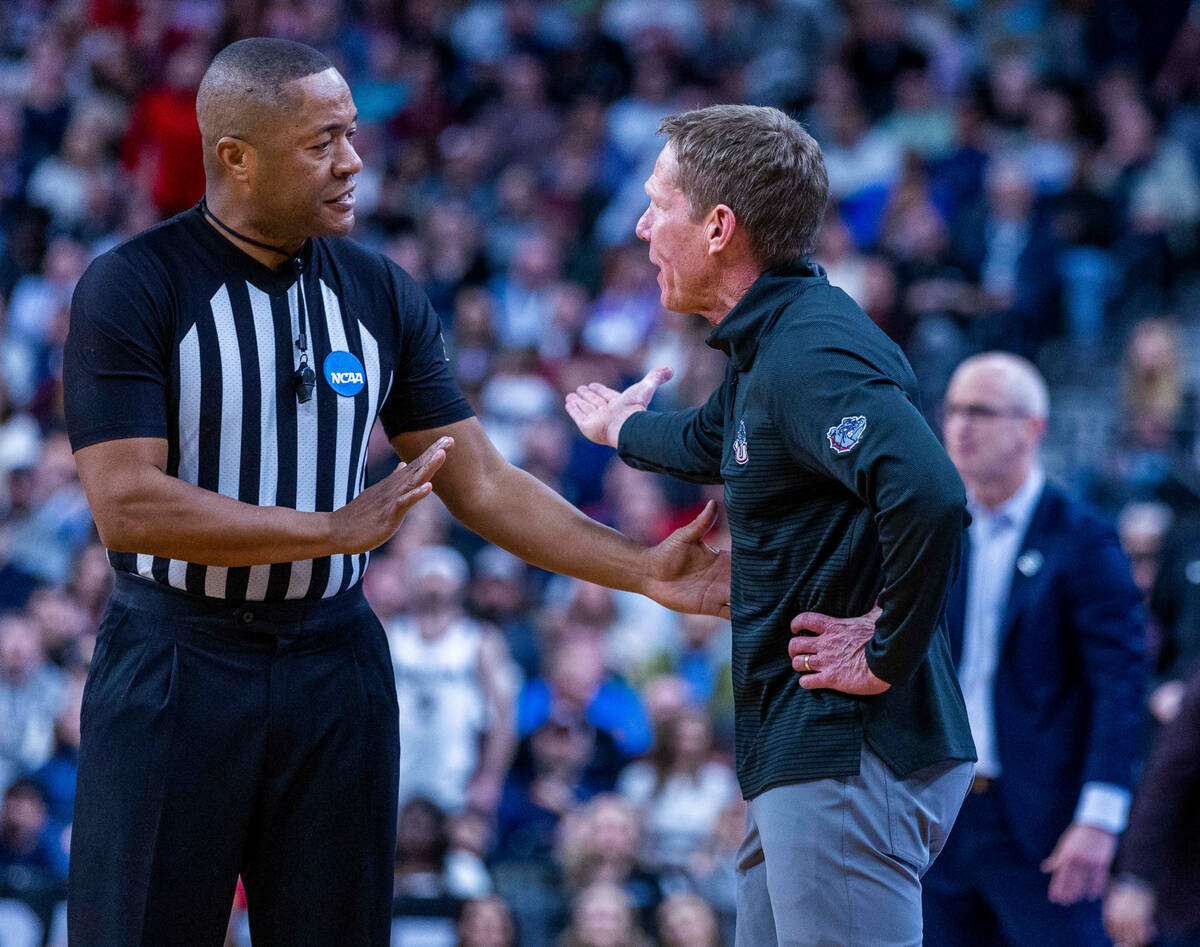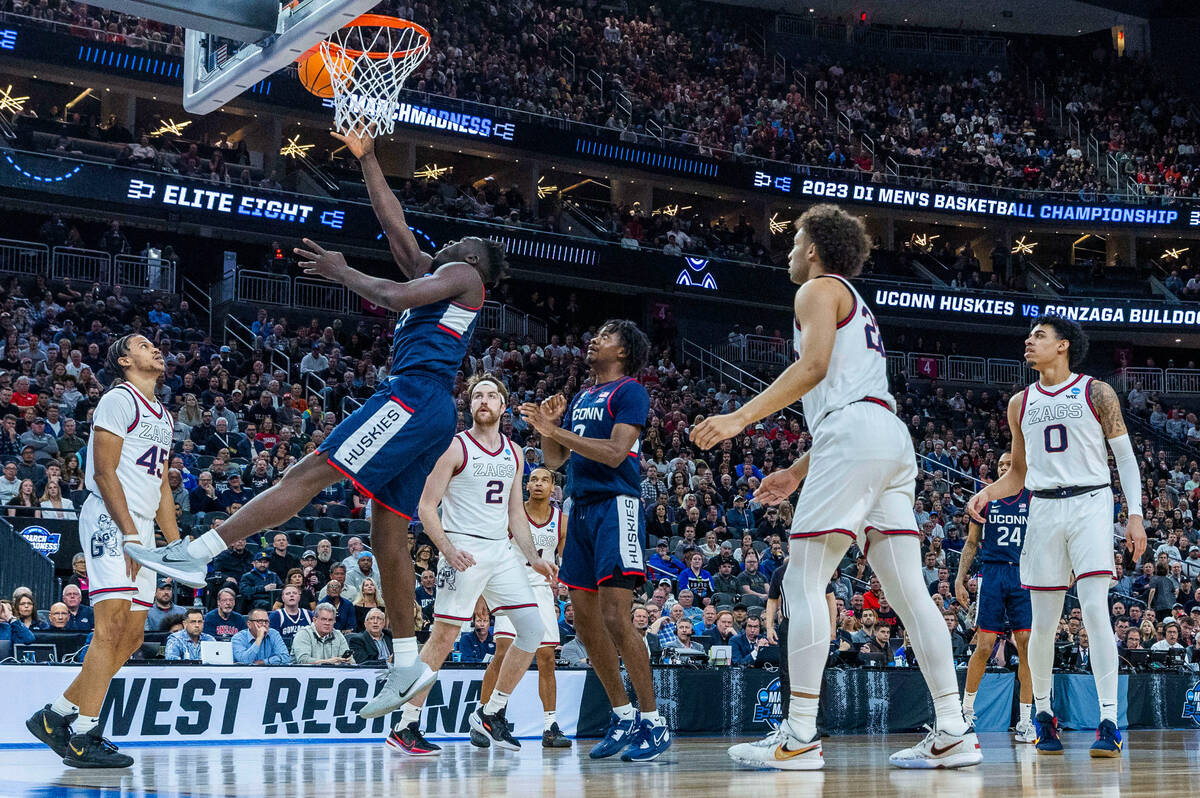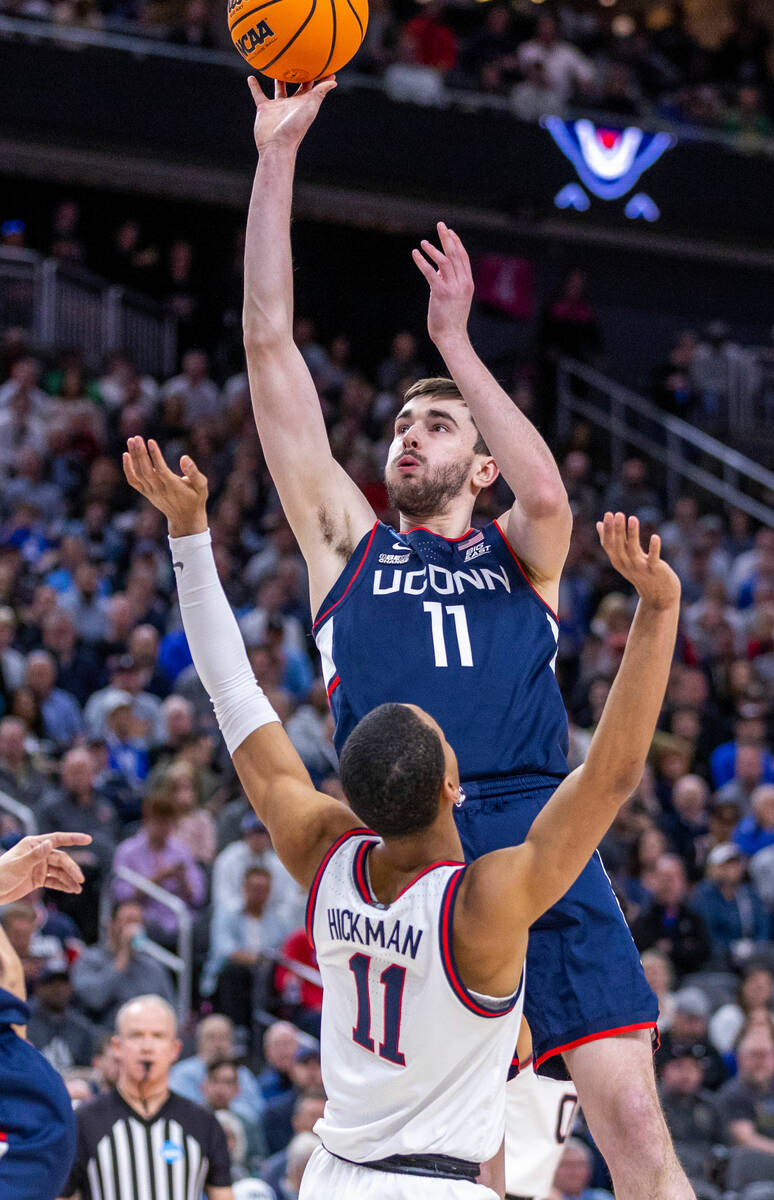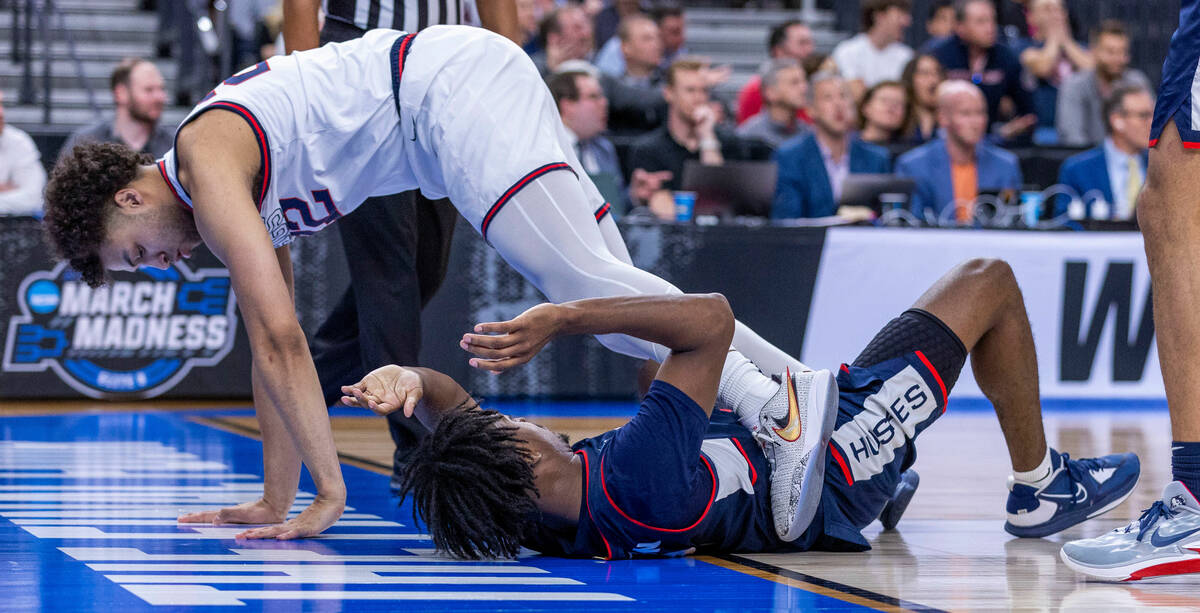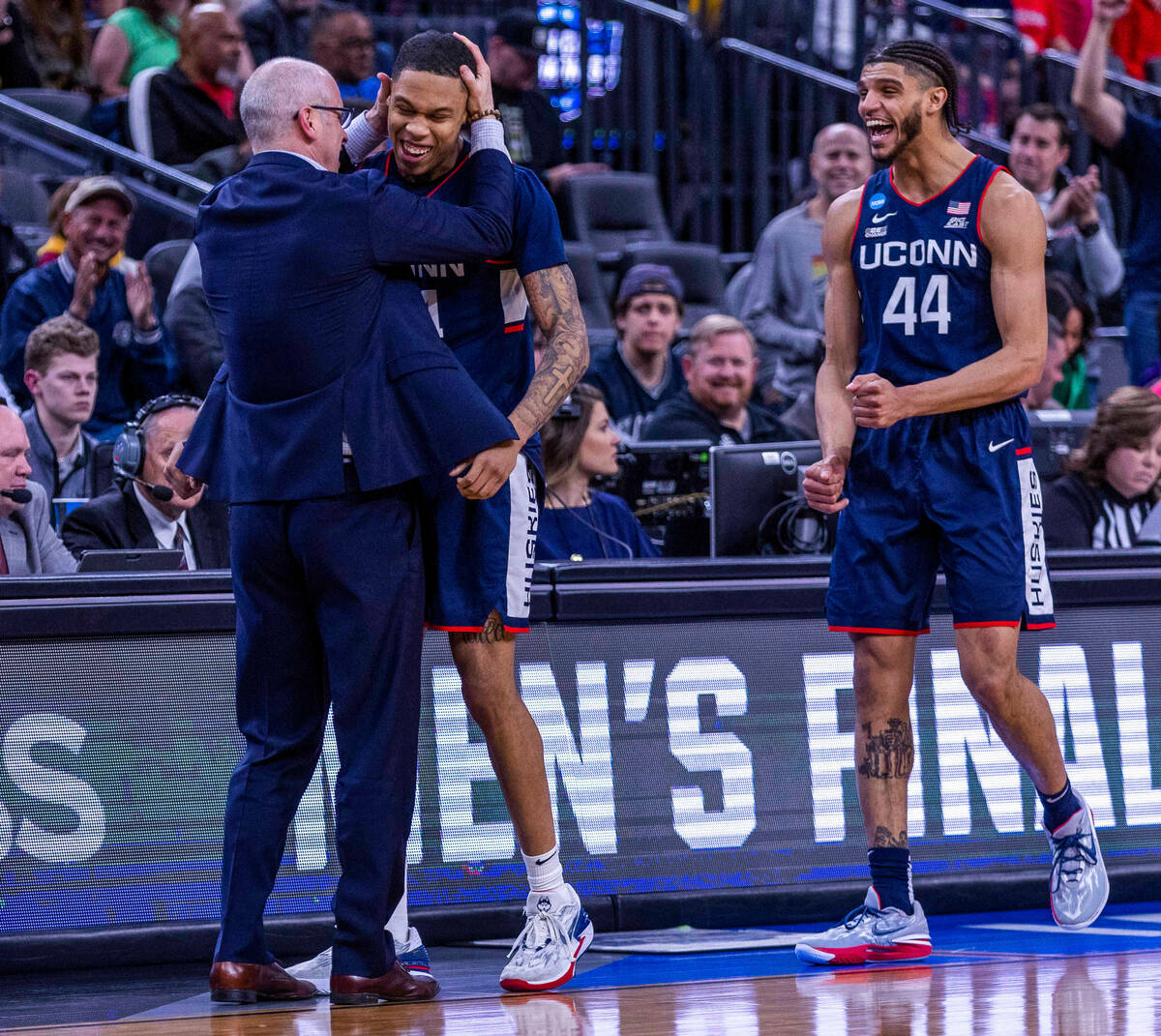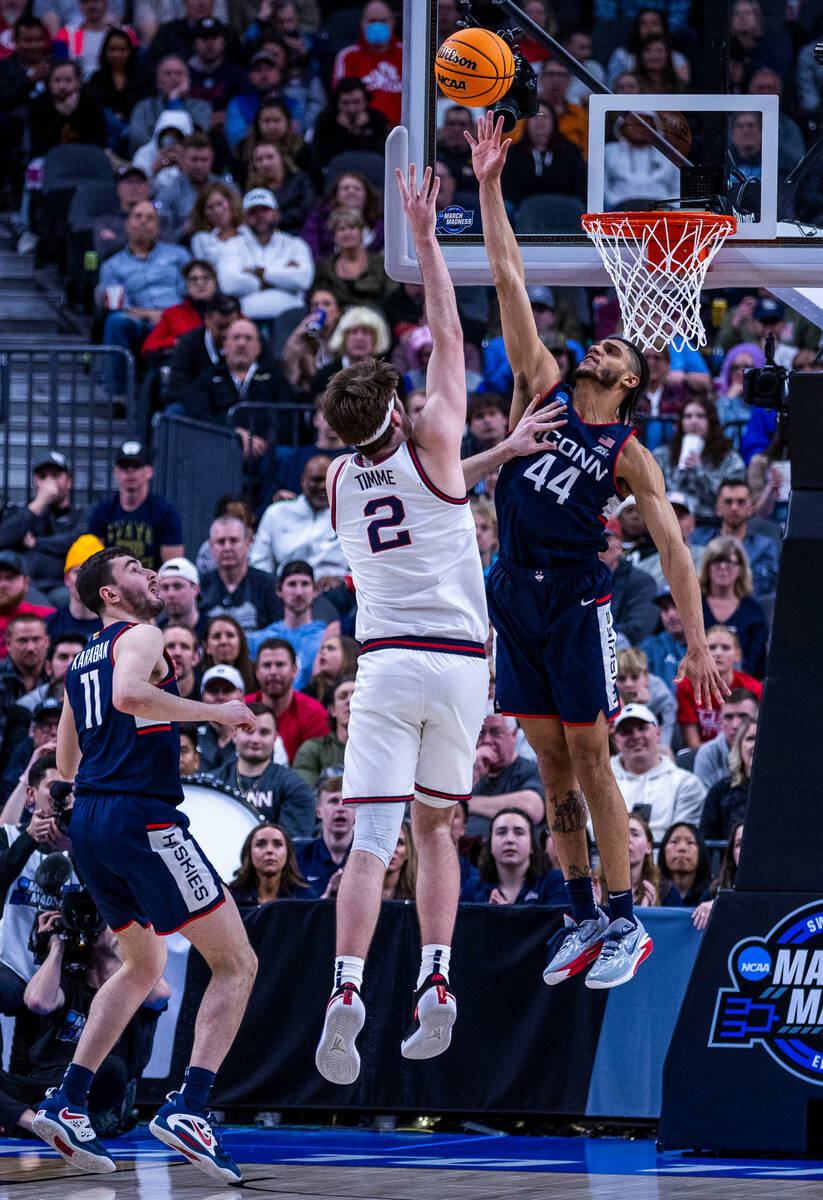 Gonzaga already faced an uphill battle to mount a second-half comeback against a red-hot Connecticut team that has rolled through the NCAA Tournament.
Then an official decided to place a giant roadblock in its path.
The Bulldogs never recovered from a questionable call on superstar center Drew Timme, and the Huskies are on their way to the Final Four after an 82-54 victory in the West Regional final Saturday night at T-Mobile Arena.
It was the largest margin of victory in a regional final since Cincinnati's 88-57 win over Memphis in 1992.
"What a performance by the boys," Connecticut coach Dan Hurley said. "To do what we did to a team of that caliber, a program of that caliber, obviously we were just playing at a super-high level. I think we were obviously surprised by the margin of victory, but not surprised about where we're going next, because this is who we've been for a large part of the season."
The lopsided nature of the final score was certainly assisted by the call. Gonzaga coach Mark Few said he didn't see the play and didn't want to watch it.
"It was what it was, and we just had to deal with the aftermath," he said. "Which wasn't pretty. But UConn was just terrific tonight, and we didn't have any answers, especially when kind of everything really didn't bounce our way. And we can't absorb a game like that when our offense is as bad as it was tonight. UConn deserves credit."
Fourth-seeded Connecticut (29-8) led 44-34 with 17:38 left when Julian Strawther grabbed a defensive rebound for No. 3 Gonzaga (31-6) and started to charge upcourt. An official whistled a foul away from the play where Timme was boxing out Andre Jackson Jr.
Replays showed the call to be dubious at best, but Timme was forced to the bench with his fourth foul just moments after he picked up his third on a charge.
The Huskies took immediate advantage. Adama Sanogo took the inbounds pass and drove right to the middle for a layup with Timme helplessly watching from the bench.
That keyed a quick 8-0 burst that became a 31-10 run even when Timme did return. At that point, the game was well out of reach.
"It sucks," Bulldogs forward Anton Watson said of the call. "You don't want to see that that early in the second half. But we tried to stay positive. We brought the team together and tried to keep positive thoughts and try to keep chipping away at that lead. But, yeah, it's hard when Drew goes out."
While the call proved a pivotal moment, the end result was similar to each of Connecticut's games in the tournament.
The Huskies won their first three games by 24, 15 and 23 points. Gonzaga didn't fare any better as Connecticut once again excelled on the defensive end, holding the Bulldogs to 33.3 percent shooting. Connecticut's plus-90 scoring margin through four games is the ninth-best for any team at this point in the tournament since 1985.
"UConn's back," said sophomore guard Jordan Hawkins, who went 6-for-10 on 3-pointers and finished with 20 points.
"I saw the first one go in and I felt good after that," he said after being named the Most Outstanding Player of the West Regional. "I was getting a lot of open looks, so I was letting it fly. My teammates was going to do a great job getting me the ball. So all credit to them."
Sanogo went just 3-for-11 from the field, but added 10 rebounds and six assists while anchoring the defensive masterpiece. Jackson had nine rebounds and 10 assists in 31 minutes.
Gonzaga went just 2-for-20 from beyond the arc as the Huskies bothered shooters and didn't allow the Bulldogs to get into their sets.
Timme finished with 12 points and 10 rebounds. He became just the 10th player in history to record at least 300 points in NCAA Tournament games in his career, but failed to extend his record of 10 such games with at least 20 points.
He has indicated he will not return to school, though he does have a season of eligibility remaining. If his career is over at Gonzaga, it was a frustrating conclusion.
Timme and Strawther, a Liberty High School alum, combined to hit just nine of their 29 attempts from the field.
Connecticut went to halftime with the lead after closing the opening 20 minutes on a 9-5 run over the final 3:14 when Timme had gone to the bench with his second foul.
Alex Karaban, who finished with 12 points, hit a 3-pointer in the closing seconds to give the Huskies a 39-32 lead at intermission. Karaban opened the second half with a short jumper, and Hawkins added a 3-pointer to extend the lead to 12 before Timme threw down a dunk.
His fourth foul came on the next defensive possession.
The Huskies tried to take control early in the game, forcing Gonzaga to miss eight of its first nine shots, including all four 3-pointers. But each time Connecticut started to pull away, Gonzaga answered.
The Bulldogs took the lead on two occasions in the first half, only to allow baskets on the other end each time. Gonzaga led for a total of just 47 seconds.
Connecticut will play the winner of Sunday's Midwest Regional final between No. 2 seed Texas and No. 5 Miami in the national semifinals Saturday in Houston.
Contact Adam Hill at ahill@reviewjournal.com. Follow @AdamHillLVRJ on Twitter.