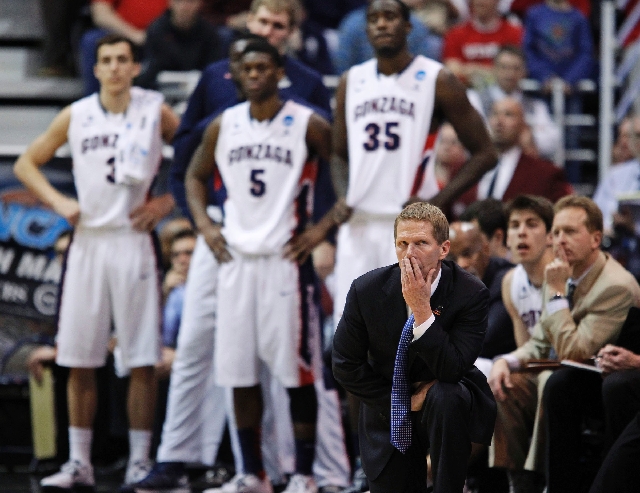 As I scanned the college basketball Twitterverse on Saturday night after No. 1-seeded Gonzaga's early NCAA Tournament exit at the hands of hot-shooting No. 9 Wichita State, I was perplexed.
The schadenfreude from fans of blueblood hoops schools was predictable. "I've been saying all year that the Zags were overrated," was a common refrain. Never mind that some of these critics weren't aware before Thursday of four-year starter Elias Harris, the Bulldogs' preseason Wooden Award candidate. The Zags could be discounted, they argued, due to their soft conference schedule.
But Las Vegans and other westerners whose schools had met similar fates seemed gleeful over the Zags' most recent March flameout. Why?
Arizona, the West's only reliable basketball program these days, and under-seeded Oregon saved the West from another Sweet 16 shutout. Should fans in Las Vegas or Albuquerque, N.M., or Los Angeles care about the fate of a tiny Jesuit school from Spokane, Wash., that made a 14-year climb from obscurity to the top of the college basketball heap?
Yes.
Of course, rooting interests don't affect game outcomes. But as another March's focus turns to schools from Bloomington, Ind., Durham, N.C., Louisville, Ky., and East Lansing, Mich., the West's comparatively history- and tradition-lacking programs need to band together.
A couple of transplanted midwesterners watching first-round games in a Las Vegas casino last week grasped this. When their beloved Spartans weren't running through overmatched opponents on the way to coach Tom Izzo's seemingly 117th Sweet 16 appearance, the two Michigan State grads kept tabs on the rest of the Big Ten, even rooting for their rivals (well, not that rival).
They understand conference matters. For the West, I say region matters.
The Mountain West Conference rode its lofty RPI rating to an unprecedented five-bid haul. Then, a typical March meltdown:
■ New Mexico, the dual-winner of the Mountain West, succumbed to that noted basketball power Harvard.
■ UNLV's November dreams of March glory came to a halt with another round-of-64 loss, this one to a California team it had beaten in Berkeley earlier this season.
■ Boise State was a First Four victim of Sweet 16 surprise La Salle.
■ Colorado State beat Missouri before being pounded by No. 1 seed Louisville.
■ And San Diego State, a Friday winner over Oklahoma and its path to the tournament's second weekend seemingly cleared with No. 2 Georgetown out of the way, was promptly dispatched by the latest America's Team, the history-making 15th seed in the South region, Florida Gulf Coast.
While Arizona's and Oregon's tourney runs have largely spared the Pac-12 from derisive finger-pointing, its marquee program, UCLA, almost four decades removed from its glory days, fired its coach after a first-round loss to a second-tier Big Ten school (Minnesota, which also fired its coach after falling to Florida on Sunday).
What western college basketball needs now: community. Where one succeeds, others can follow suit.
Gonzaga earned its clout by scheduling aggressively. It long ago shed its "Cinderella" and "midmajor" labels by taking on all comers. In his book "BraveHearts," Seattle Times columnist Bud Withers lists the veritable who's-who of basketball aristocracy conquered by the Bulldogs since 1999: Florida, UCLA, Michigan State, Maryland, North Carolina, Indiana, Louisville; the list goes on. One payoff: Michigan State and Illinois have visited Spokane in the past two years. And the Zags host a made-for-TV game against a power team in Seattle each season.
Fan base size isn't a problem for western schools: Brigham Young, UNLV, Arizona and New Mexico annually rank in the Top 20 in attendance for home games.
But since Duke isn't likely to agree to a home-and-home series with New Mexico any time soon, and San Diego State coach Steve Fisher probably can't woo Ohio State to travel to Southern California for a game, these schools need to make a concerted effort to schedule regionally.
Where is the Pac-12-Mountain West challenge? What about an annual Arizona-New Mexico border war? Wouldn't the Thomas & Mack be packed for a renewal of the UNLV-BYU rivalry?
College basketball fans regularly argue the merits of Aaron Craft or Keith Appling, Mason Plumlee or Cody Zeller. It would be nice to add a Mike Moser-Elias Harris debate.
Ched Whitney, a 22-year Las Vegas resident, is the former art director at the Review-Journal and covered UNLV basketball for the student newspaper during the Rebels' 1991 Final Four appearance. Follow him on Twitter: @ched777.