Hampton earns date with Kentucky after beating Manhattan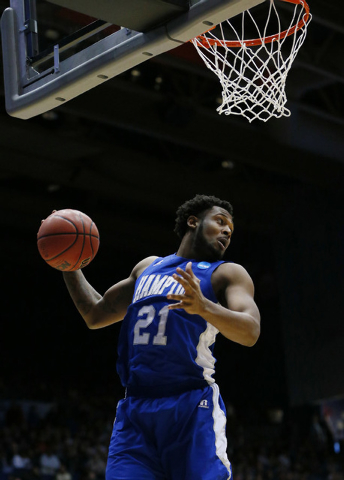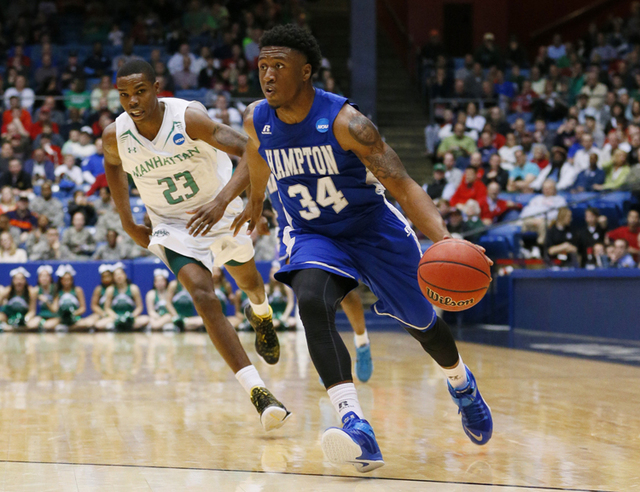 DAYTON — Hampton coach Edward Joyner Jr. said he'd seek divine intervention if the Pirates earned a matchup against the unbeaten Kentucky Wildcats.
Following Tuesday night's 74-64 win over the Manhattan Jaspers, he made the call.
"I told you guys I had Jesus on speed dial," said Joyner, pressing his cell phone to his ear. "Hello? Hello? I guess he'll get back to me. What are our odds? We know they're a great team and that we're the underdogs. But, we'll fight tooth and nail."
Guards Quinton Chievous and Reginald Johnson each scored 15 points, lifting Hampton to the victory over Manhattan in a first-round NCAA Tournament game at University of Dayton arena.
The Pirates advance to face Kentucky (34-0), the No. 1 overall seed, on Thursday night in Louisville, Ky., in a Midwest Region game.
"We really just need to go in with a great mindset," said Chievous. "Not being intimidated. Just playing as hard as we can and knocking down all our shots, going hard, and just never giving up. When adversity hits us in the game, we can't get down on ourselves."
Hampton (17-17) could be short-handed when it faces the Wildcats.
The Pirates already were without junior forward Dwight Meikle, its leading scorer and rebounder, due to an ankle injury. He'll be a game-time decision for Thursday.
With 2:29 left in Tuesday night's game, Chievous, who grabbed a game-high 13 rebounds, twisted his right ankle and was helped off the court.
"I just couldn't go any more, and my team ended up pulling it out," Chievous said. "Hopefully I can keep icing it, get treatment and be ready for Kentucky."
Manhattan junior forward Shane Richards scored 17 points, and senior forward Emmy Andujar added 11 points. Richards hit six of 16 shots from the floor but just four of 14 3-point attempts.
"It happens," said Richards. "You make shots, you miss shots. A lot of my shots were good shots. They went in and out. Can't do anything about that. It just wasn't falling."
Hampton led by as many as 12 points, but the Pirates' lead was reduced to one on a layup by Manhattan junior forward Ashton Pankey (nine points) with 13 minutes left.
Junior guard Brian Darden's jumper gave the Pirates a 62-52 lead with five minutes left. Darden scored 11 points on the night.
"I'm not going to sit here and say Manhattan didn't show up in the NCAA Tournament," said Jaspers coach Steve Masiello. "We're a good team, they're a good team. They did things that bothered us. So give them credit."
Manhattan's pressure defense sparked a 6-0 run to make it close, but the Jaspers (19-14) couldn't complete their second-half comeback.
"It was kind of hard in the beginning for our guards to get open," said Chievous. "But I feel like at the end of the game we really knuckled down and stayed calm and we got the win."
Hampton had just two days off after capturing the Mid-Eastern Athletic Conference Tournament title, while Manhattan had a week off since its last game. However, the Pirates appeared to have fresher legs, jumping out to a 7-0 lead, with Johnson scoring all seven points.
Hampton never trailed in the first half and led by as many as 12 points en route to a 38-31 lead at the break.
The Pirates went ahead 30-20 on a laser-like pass from Darden to freshman forward Charles Fisher, who dunked it home.
Hampton had three dunks in the first half, one by Chievous, who led Hampton with 11 first-half points.
Junior guard Deron Powers' 3-pointer gave the Pirates their largest lead of the half, 35-23.
Manhattan freshman forward Calvin Crawford scored seven first-half points.
"I think we might have wanted it a little too much and instead of just relaxing," said Masiello. "That's what this tournament does to you."
NOTES: G Quinton Chievous recorded his fifth double-double of the season, helping Hampton improve to 7-2 this season when at least one of its players records a double-double. … Hampton played its fifth straight game without junior F Dwight Meikle, its leading scorer and rebounder who missed the Mid-Eastern Athletic Conference tournament with an ankle injury. … Manhattan made its eighth NCAA Tournament appearance. The Jaspers reached the tourney in back-to-back years for the first time since 2003 and 2004. … The Jaspers won both prior meetings with Hampton, which joined Division I in 1995. … Hampton, which began the season 1-5, became the 24th team to enter the NCAA Tournament with a losing record. The Pirates became the eighth of those teams to win a game.