Here's a preview of Saturday's NCAA Tournament games
March 25, 2016 - 12:20 pm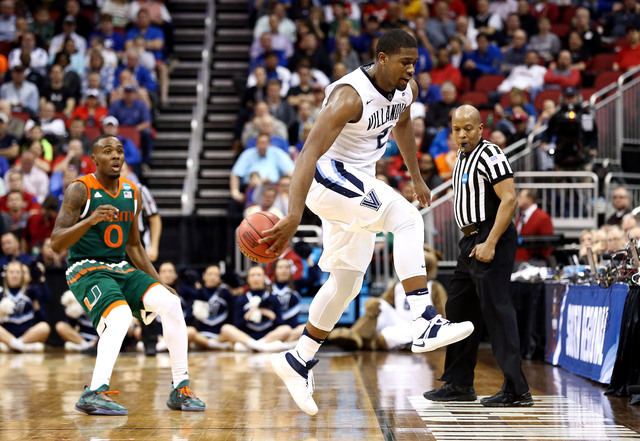 (1) Oregon (31-6) vs. (2) Oklahoma (28-7)
WHEN, WHERE: 3:09 p.m., Anaheim, California (KLAS-8)
LINE, TOTAL: Pick, 149
PLAYER TO WATCH: Jordan Woodard. Star guard Buddy Hield was held eight points below his average Thursday, and it might have been a good thing for the Sooners. Coach Lon Kruger called it one of Hield's better games because, along with his 17 points, he grabbed 10 rebounds and got his teammates more involved. Woodard was the biggest beneficiary. The junior guard made 8 of 11 shots, including a 5-for-6 performance from 3-point range. His 22 points helped Oklahoma pull away for a comfortable win over Texas A&M in a game that was never close.
STORYLINE: The emergence of another prolific scorer can go a long way toward helping Oklahoma advance now that the competition is getting tougher. Oregon will be a difficult task for the Sooners regardless. Duke tried to make several runs Thursday, but the Ducks had an answer each time. Usually, it came from Dillon Brooks. The sophomore guard, a Findlay Prep product, scored 22 points to help Oregon to a school-record 31st victory. If the Ducks can add one more to the total, they will earn a trip to their first Final Four since the national championship year of 1939. Hopefully Duke sticks around to watch the game so that Mike Krzyzewski can instruct Brooks on how to behave should that happen.
PICK: Oregon 81, Oklahoma 74
(1) Kansas (33-4) vs. (2) Villanova (32-5)
WHEN, WHERE: 5:49 p.m., Louisville, Kentucky (KLAS-8)
LINE, TOTAL: Kansas -2½, 145
PLAYER TO WATCH: Kris Jenkins. The junior forward started the tournament hot for Villanova and has improved his accuracy every game. That trend will be difficult to continue, as it doesn't get much better than his 8-for-10 effort in Thursday's win over Miami. After making 50 percent of his shots in a first-round win over UNC Asheville, Jenkins went 6-for-9 from the field against Iowa. Thursday's effort included 5 of 6 from beyond the arc, highlighted by a 40-footer in the first half that set off a social media frenzy. He also had nine rebounds and four assists. Jenkins might not be able to duplicate those lofty numbers, but he'll need a big game for the Wildcats to defeat the top-seeded Jayhawks.
STORYLINE: Jenkins wasn't alone in scorching the nets for Villanova. The Wildcats hit 63 percent of their shots in Thursday's victory and posted an astounding 1.527 points per possession. Those are video game numbers. It was a continuation of what Villanova has been doing in the tournament. The Wildcats have won their three games by an average of 24 points. The question is whether that has prepared them for what figures to be a battle with a Jayhawks team that has been nearly as dominant, rolling to an average winning margin of 18 points. Perry Ellis, playing in what feels like his 11th NCAA Tournament for Kansas, scored 27 points on 17 shots. That kind of efficiency has to impress even Villanova. One of these teams is going to have to make stops, and whichever one does will be playing in Houston next weekend.
PICK: Kansas 79, Villanova 73