La Rocque 'couldn't be more proud' despite Lady Rebels' NCAA Tournament loss
Updated March 17, 2023 - 5:41 pm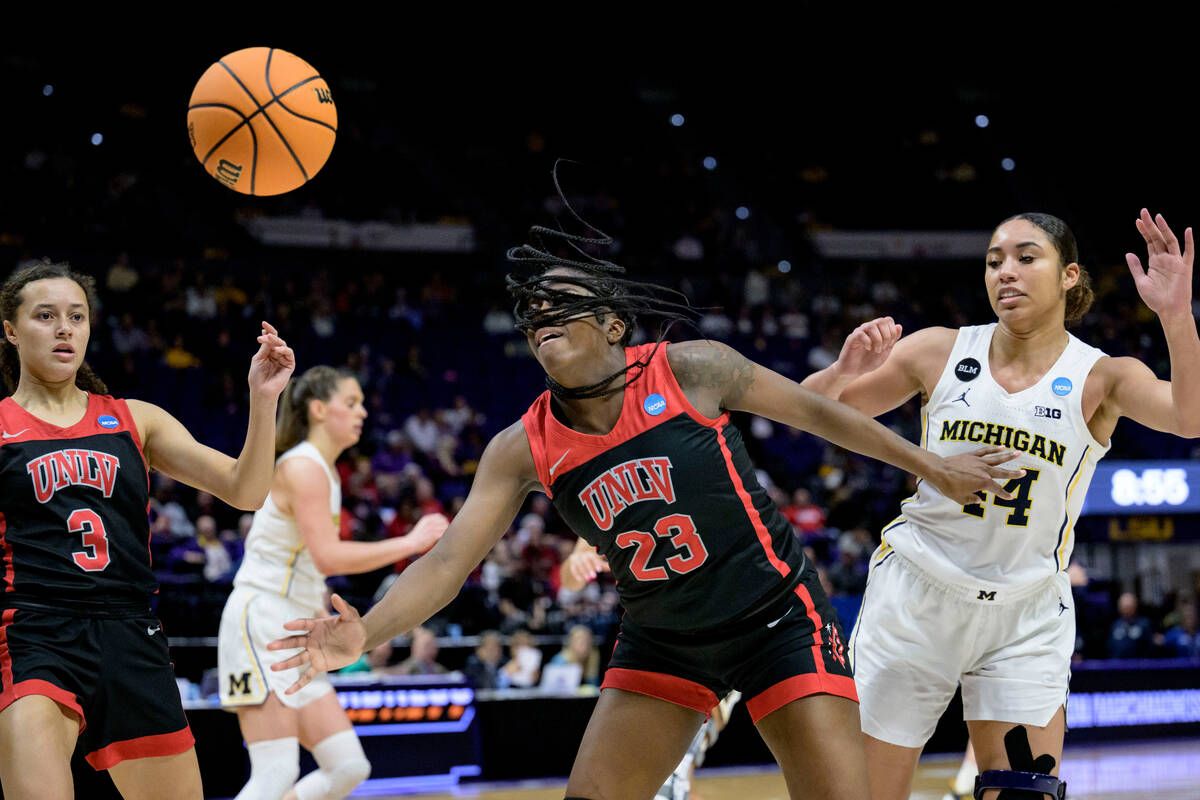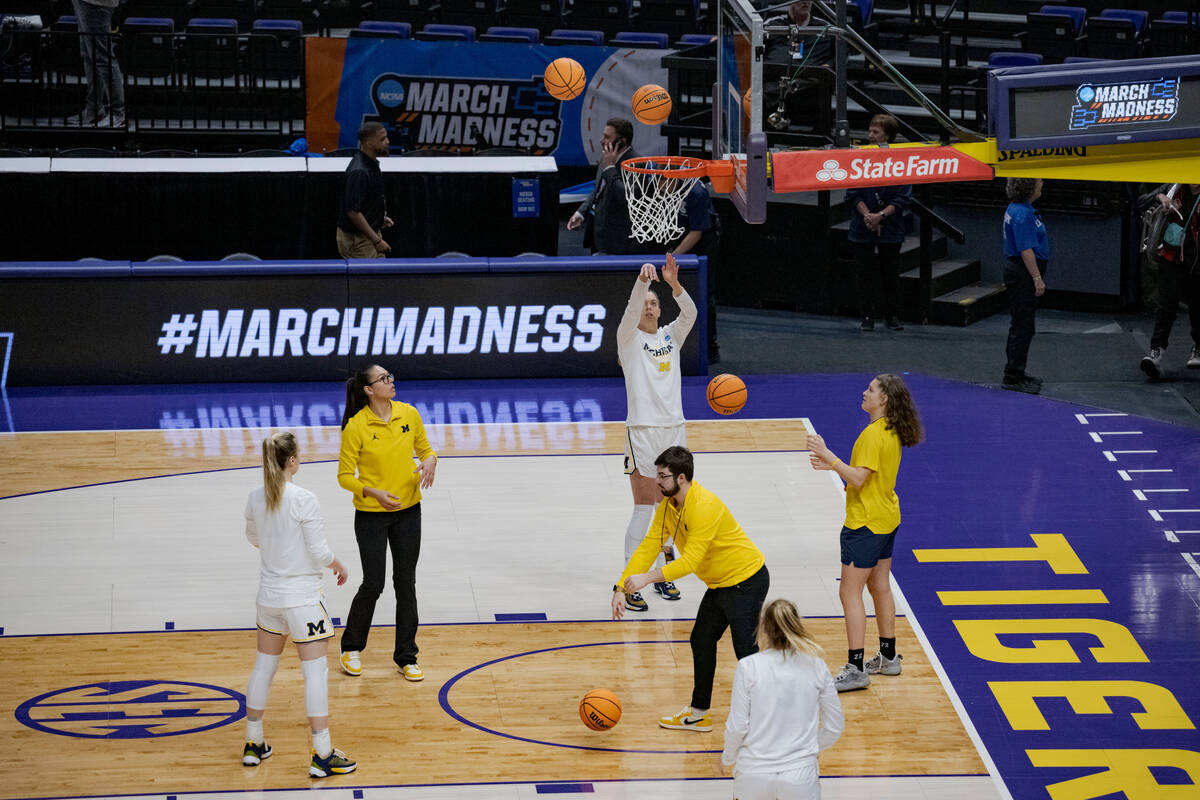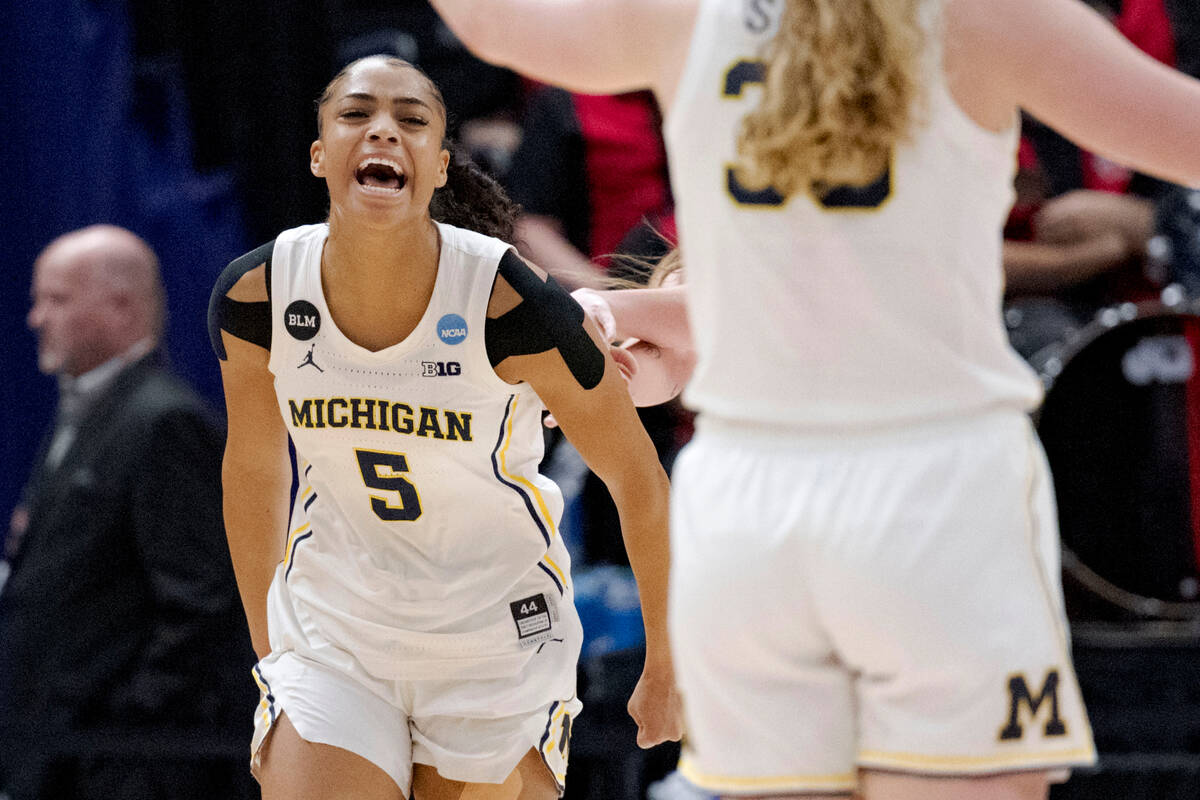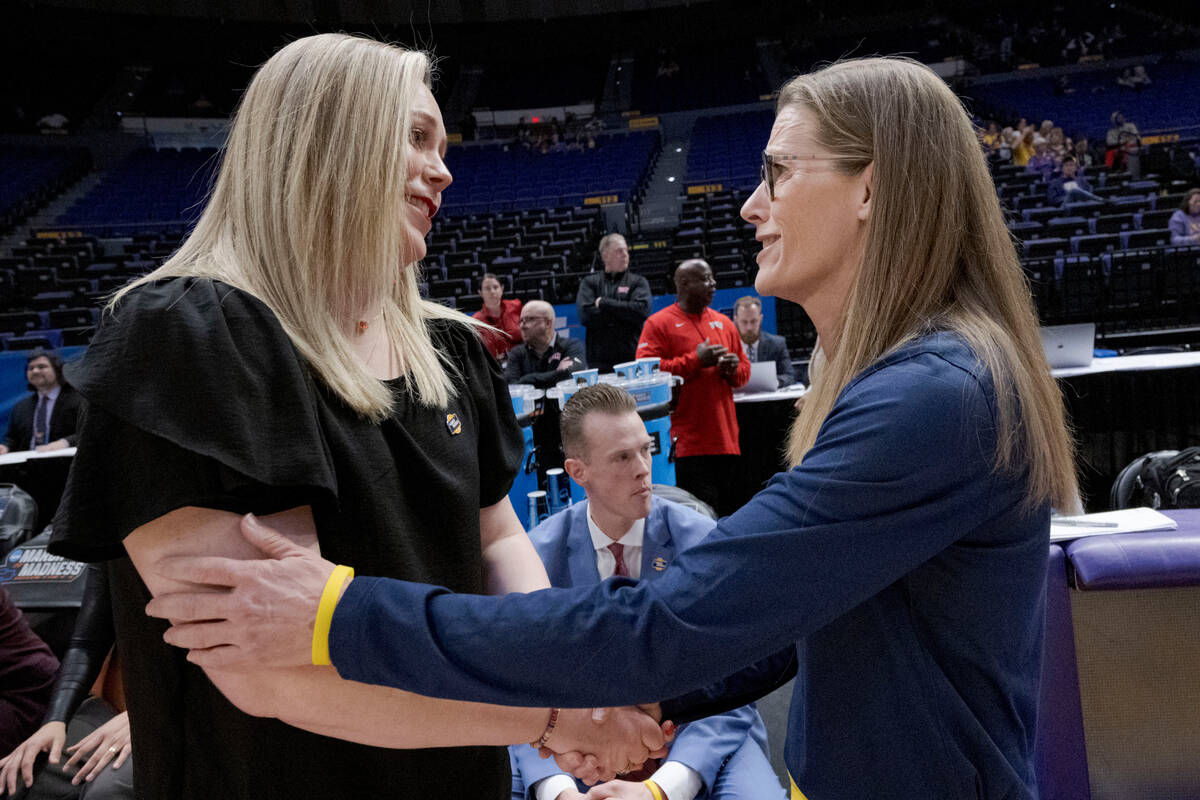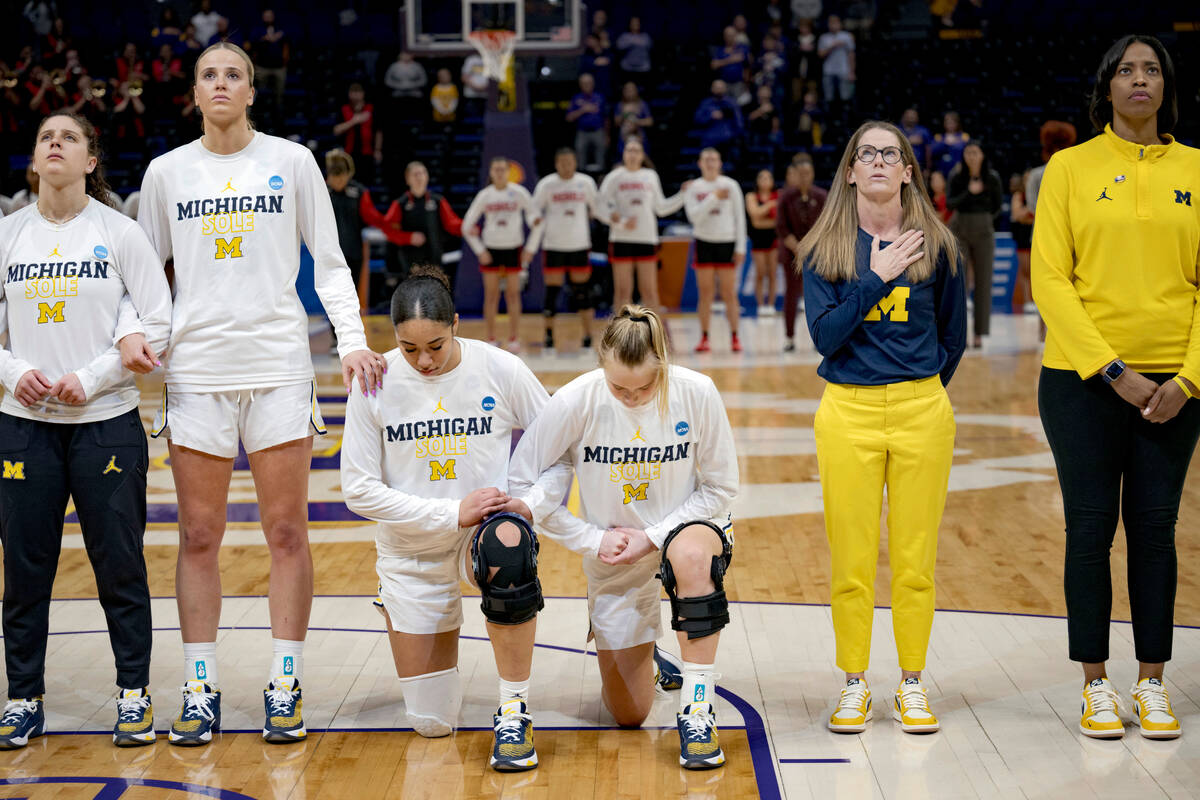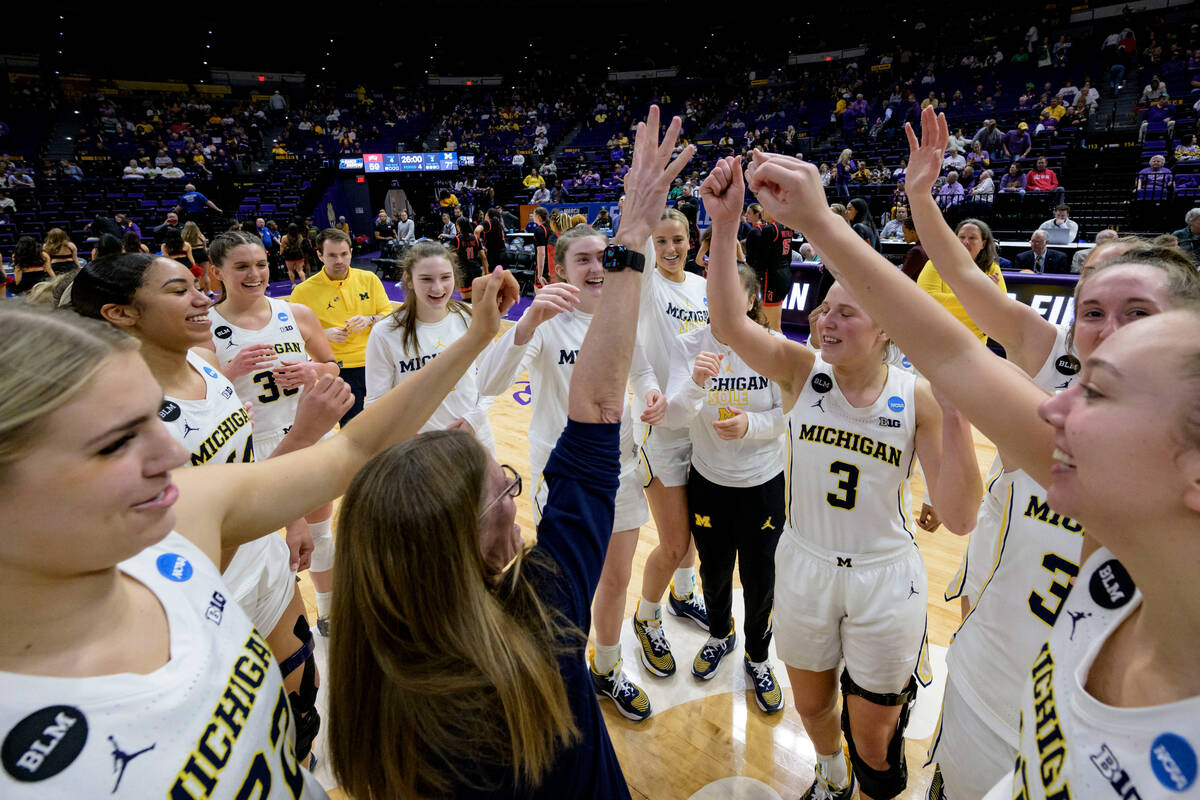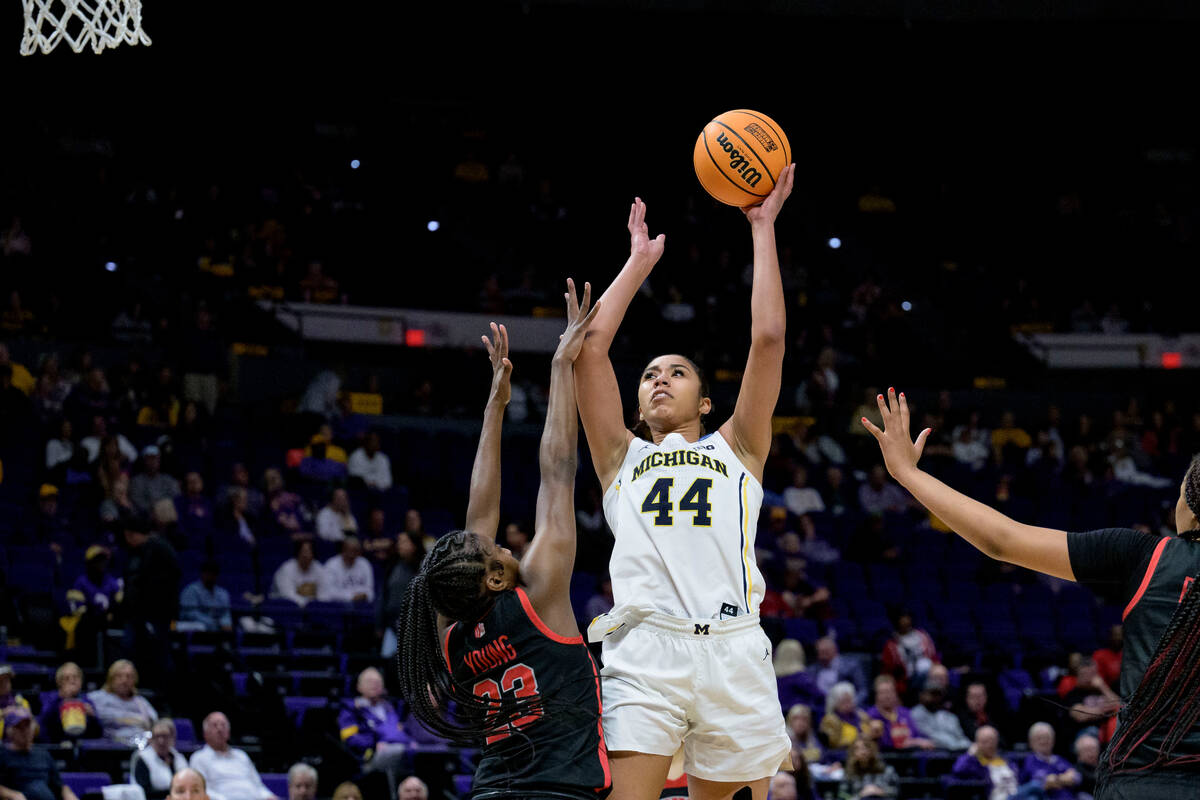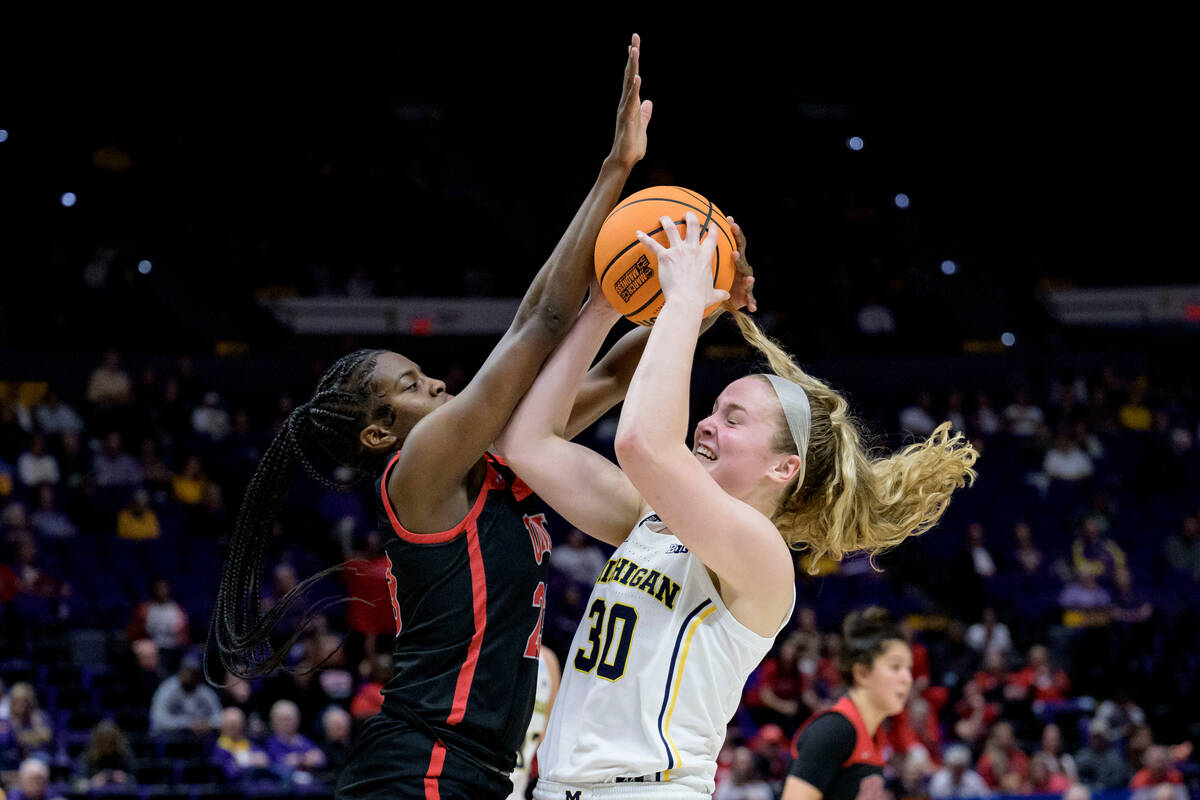 BATON ROUGE, La. — Lindy La Rocque almost forgot what it felt like to lose.
Seated at the podium following No. 11-seeded UNLV's 71-59 loss Friday to No. 6 Michigan in the first round of the NCAA Tournament, the UNLV coach reflected on her team's first defeat since Dec. 18 — 89 days and 22 wins ago.
"We expected to win today," La Rocque said.
The Lady Rebels' loss to the Wolverines at the Maravich Assembly Center ends a historic season. UNLV (31-3) finished with the most wins in a season in program history, and the 22-game winning streak ties a program record.
"I couldn't be more proud of the season we've had," La Rocque said.
However, UNLV still hasn't won an NCAA Tournament game since 1991, crashing out in the first round for a second consecutive season. Michigan (23-9) advances to the second round to face host and No. 3 seed Louisiana State, a 73-50 winner Friday over No. 14 Hawaii.
Senior guard Essence Booker scored 16 points and senior wing Justice Ethridge added 11 in their final games for the Lady Rebels, ranked No. 22 by The Associated Press. Fifth-year forward Emily Kiser and senior guard Maddie Nolan led No. 18 Michigan with 18 points apiece.
UNLV's Desi-Rae Young, the Mountain West tournament MVP, was held to 11 points and eight rebounds, below her season averages of 18.2 and 10.2, respectively.
Early foul trouble for Young, a poor first half and the size of Michigan proved too much for UNLV to overcome.
The Lady Rebels started the game on the front foot. Booker and Ethridge attacked the basket, and the game was tied 7-7 midway through the first quarter.
Michigan began to build a lead thanks to the mid-range scoring of Leigha Brown, who finished with 17 points, and UNLV began to unravel at the end of the first quarter. Sloppy turnovers, poor shooting (especially from 3), some rough minutes from the reserves and foul trouble for Young and starting forward Alyssa Brown grounded the team's offense to a halt.
The Lady Rebels' defense kept them close, as Michigan shot just 4 of 13 from the field in the second quarter. The Wolverines went almost seven minutes without a field goal until Kiser's layup at the buzzer gave Michigan a 28-20 lead at halftime.
"That first half, we kind of beat ourselves up," Booker said. "I felt like we played our worst basketball. It looked like a practice that we came to off of vacation, and we were only down eight points."
UNLV looked like a different team to start the second half. Booker scored four points in the first two minutes as part of an 8-3 run, and Young's first field goal of the game with 8:15 remaining in the third quarter cut the deficit to 31-28 as the game became more wide open.
But the extra space also allowed Michigan to find a rhythm. A Leigha Brown mid-range jumper kicked off a 17-3 run by the Wolverines to answer the Lady Rebels' push, effectively sealing the win for Michigan.
UNLV briefly got back within single digits near the end of the third quarter, but the Lady Rebels never got closer than nine. Young briefly got hot late in the third quarter, but a hard foul knocked her out of the game for a few minutes and extinguished any hopes of a comeback as Nolan rained 3s from the right corner for the Wolverines.
Booker remained UNLV's best option on offense. She used an arsenal of spins and stepbacks to find open shots, and was 5 of 10 from the floor in the second half. The Las Vegas native and Spring Valley alum also added four assists, three rebounds and a steal in her final outing as a Lady Rebel.
"I don't think I would've chose any other university to come to and end my career in Las Vegas with my teammates and the coaching staff," Booker said. "Despite our loss today, it doesn't change anything about my decision to come here."
Contact reporter Andy Yamashita at ayamashita@reviewjournal.com. Follow @ANYamashita on Twitter.