Lady Rebels look to beat Michigan, end NCAA Tournament win drought
Updated March 16, 2023 - 6:47 pm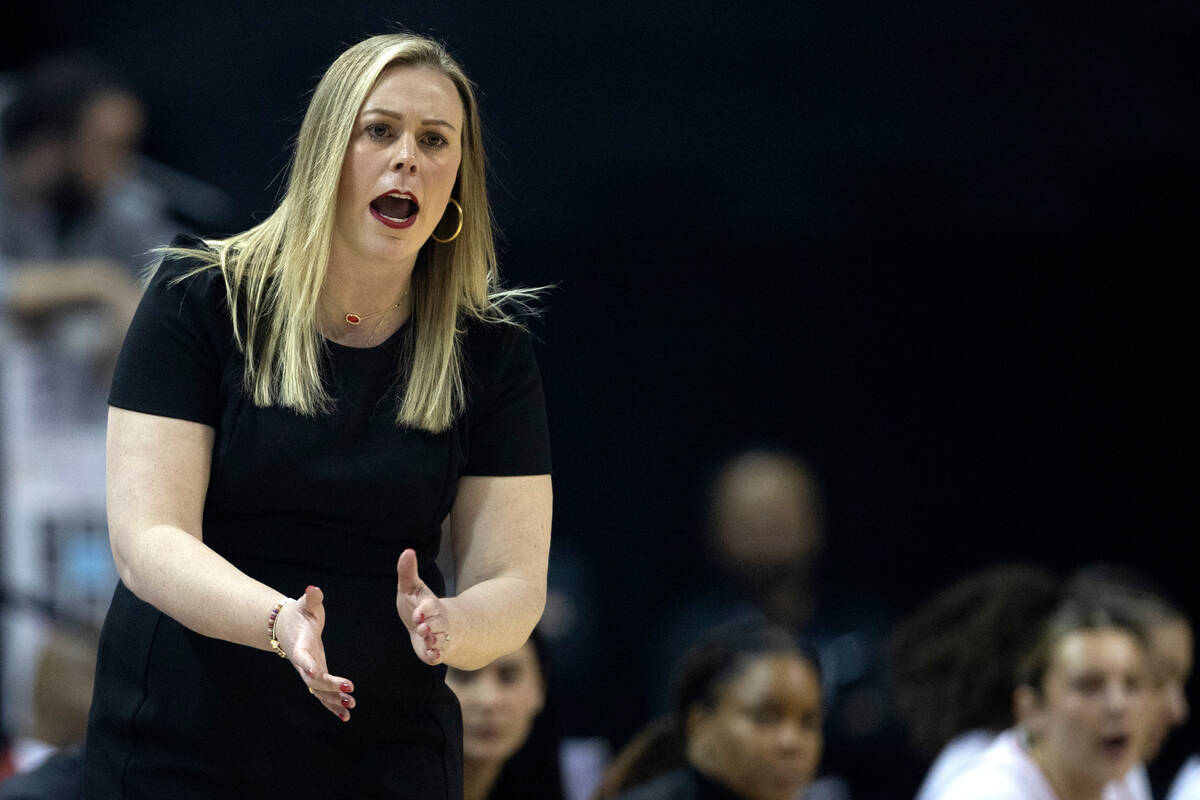 BATON ROUGE, La. — Essence Booker has seen it all.
UNLV's senior point guard has watched opposing teams try to stop Lady Rebels center Desi-Rae Young for the entire season.
Young has faced double teams, and even triple teams. Opponents have been physical to get her into foul trouble or sagged off to test her touch around the rim.
Nothing has worked.
"It's hard to stop a walking double-double," Booker said.
Young has a chance to showcase her ability on college basketball's biggest stage when No. 11-seeded UNLV (31-2) plays No. 6 Michigan (22-9) in the first round of the NCAA Tournament at noon Friday at the Pete Maravich Assembly Center in Baton Rouge.
While the Lady Rebels are confident in Young's ability to carry the team against a Power Five opponent, she's happy to soak up the pressure if it allows her teammates to get open.
"If they stop one person, there's four other people out there who can get the job done," Young said.
Added UNLV coach Lindy La Rocque: "Desi has grown so much, being patient down there, not getting frustrated, still working really hard even if she isn't getting the ball because it's opening up something else. We praise her for that."
Young and UNLV, ranked No. 22 in The Associated Press poll, will face their toughest opponent of the season in No. 18 Michigan. No longer new faces at the NCAA Tournament, the Lady Rebels' goal this season is to win a game after coming up just short a year ago in a 72-67 first-round loss to Arizona.
The Lady Rebels haven't advanced in the NCAA Tournament since 1991, when UNLV beat Texas Tech 70-65 in the first round.
Getting that elusive first tournament win in more than three decades will require UNLV's role players to support Young against a bigger Michigan team. La Rocque praised Young's improved passing for helping free up her teammates, and the Mountain West tournament MVP said the team's depth has been a strength all season.
"We all bring something to the table," Young said.
La Rocque and Young said the team has been focused while preparing for Michigan. La Rocque said she relies on the team's senior leaders, including Booker and guard Justice Ethridge, to enforce a sense of ownership in each player. Now, she and the rest of the coaching staff are trying to keep the team loose and relaxed after more than a week of waiting and practicing.
Since arriving in Louisiana, the Lady Rebels have enjoyed some authentic seafood and explored the Louisiana State campus and some of the surrounding parts of Baton Rouge.
They also visited Mike the Tiger — the only tiger living on a college campus — at his habitat near the Maravich Assembly Center.
"It's a business trip, but we like to have fun, enjoy where we're at and let our team experience new places and new things," La Rocque said. "It's no different for this trip."
Contact reporter Andy Yamashita at ayamashita@reviewjournal.com. Follow @ANYamashita on Twitter.
Up next
Who: UNLV women vs. Michigan
What: NCAA Tournament
When: Noon Friday
Where: Maravich Assembly Center, Baton Rouge, La.
TV: ESPNU
Radio: KWWN (1100 AM, 100.9 FM)
Line: Michigan -3½; total 137