Lady Rebels seek splash in NCAA Tournament loaded with talent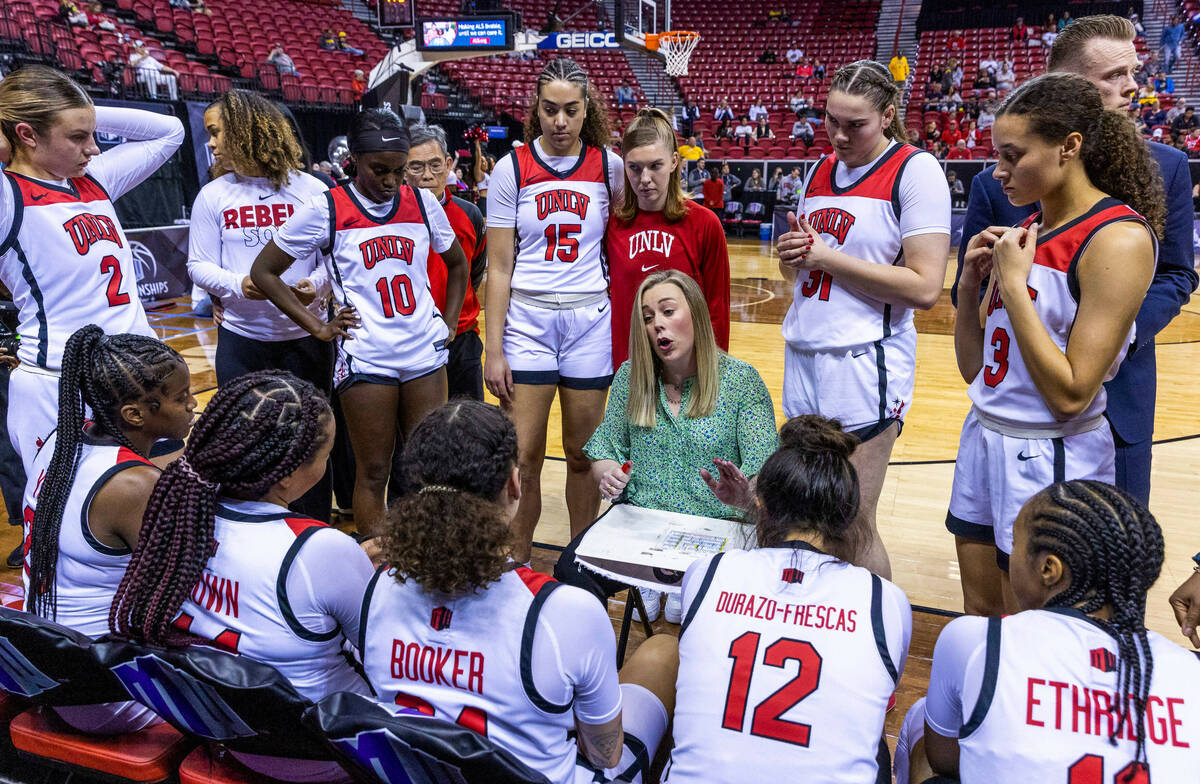 The UNLV women's basketball team returned to the NCAA Tournament last season after a 20-year absence.
The Lady Rebels fought valiantly as a No. 13 seed but ultimately fell to No. 4 Arizona 72-67 in the first round.
Now, UNLV is back in the field of 68 with a better seed (No. 11), a national ranking (No. 22) and designs on the program's first victory in the tournament since 1991.
The Lady Rebels (31-2) play No. 6 seed Michigan (22-9) in the first round at noon Friday in Baton Rouge, Louisiana.
"We're not just excited to be here," sophomore Alyssa Durazo-Frescas said. "We want to win. We want to go far. I think we're all excited to go."
After dominating the Mountain West, compiling a 22-game win streak while claiming the regular-season and conference tournament crowns, the Lady Rebels will likely have to go through two strong Power Five programs to reach the Sweet 16 for just the second time in program history (1989).
Michigan (22-9), ranked No. 18 in The Associated Press poll, is coming off its most successful season in program history after making the Elite Eight in 2022. About a month ago, Michigan looked likely to host a regional of its own.
But the Wolverines endured a difficult stretch to end the season, playing without their two leading scorers, guards Leigha Brown (18.0) and Laila Phelia (16.9), though both returned for the Big Ten tournament. Michigan finished the season by losing four of its final six games, but three of its defeats were against ranked opponents.
"They have experience, just as much as we do," UNLV coach Lindy La Rocque said. "The Big Ten is a really tough conference, so they're battle-tested."
If UNLV can overcome Michigan, it will likely get a shot at No. 3 seed and No. 9-ranked Louisiana State (28-2). Coach Kim Mulkey, who won three national titles at Baylor, has the Tigers rolling in her second season, with losses only to undefeated and top-ranked South Carolina and to Tennessee in the Southeastern Conference tournament semifinals.
LSU plays No. 14 seed Hawaii (18-14) in the first round. UNLV defeated Hawaii 76-66 on the road Dec. 11.
The tournament's four regions are named Greenville 1, Greenville 2, Seattle 3 and Seattle 4, as Bon Secours Wellness Arena in Greenville, South Carolina, and Climate Pledge Arena in Seattle will host the Sweet 16 and Elite Eight.
The Final Four will be held at American Airlines Center in Dallas.
The Lady Rebels are slotted in the Greenville 2 region, headlined by No. 1 seed Indiana. The region also includes No. 8 seed Oklahoma State, which handed the Lady Rebels their most recent loss, 87-62 on Dec. 18 in Stillwater, Oklahoma.
Greenville 1 is led by defending champion South Carolina, whose 38-game winning streak is the only one in the country longer than UNLV's.
Virginia Tech and Stanford claimed the top seeds in the Seattle 3 and Seattle 4 regions, respectively.
Gonzaga and South Florida were the only teams outside the Power Five or Big East to earn an at-large bid. The Atlantic Coast Conference led all leagues with eight berths, and the Pac-12, Big Ten and the SEC each had seven teams make the tournament.
Gonzaga was upset by Portland in the West Coast Conference tournament championship game, but nonconference wins against Tennessee and Louisville, coupled with a close loss to Marquette, helped it make the tournament.
South Florida lost during the first round of the American Athletic Conference tournament, but held wins against Texas, Arkansas, Alabama and Texas Christian and took Ohio State to overtime to earn an at-large bid.
Four teams — Sacramento State, Saint Louis, Southeastern Louisiana and Southern Utah — will make their March Madness debuts.
"It should be a lot of fun," Durazo-Frescas said.
Contact reporter Andy Yamashita at ayamashita@reviewjournal.com. Follow @ANYamashita on Twitter.
Up next
What: NCAA Tournament first round
Who: No. 11 seed UNLV vs. No. 6 Michigan
When: Noon Friday
Where: Pete Maravich Assembly Center, Baton Rouge, Louisiana
TV: ESPNU
Radio: KWWN (1100 AM/100.9 FM)