Michigan coach heaps praise on Lady Rebels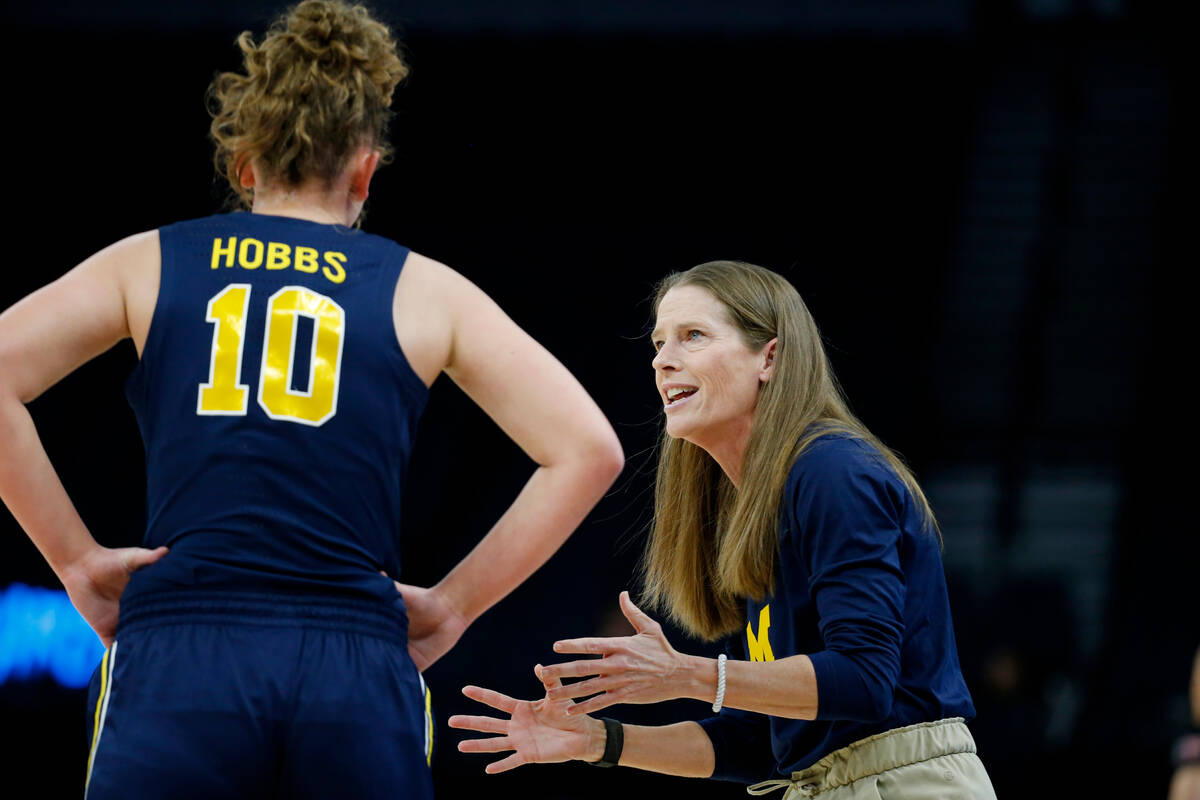 BATON ROUGE, La. — When Michigan women's basketball coach Kim Barnes Arico watches tape on UNLV's Desi-Rae Young, she sees shades of former Wolverines star Naz Hillmon.
Hillmon, an All-America forward and the 2021 Big Ten Player of the Year, led Michigan to the NCAA Tournament's Elite Eight for the first time in program history last season. Barnes Arico said Young shares many of the same traits that made Hillmon great.
"She's strong, she's physical, she rebounds, she defends," said Barnes Arico, in her 11th season at Michigan. "She can do everything for them."
No. 11-seeded UNLV (31-2) will meet sixth-seeded Michigan (22-9) at noon Friday at the Maravich Assembly Center in Baton Rouge, Louisiana, in the first round of the NCAA Tournament. Barnes Arico said the Lady Rebels, ranked No. 22 by The Associated Press, remind her of a Big Ten team.
"Any team that can win over 30 basketball games in a season is special," said Barnes Arico, whose team is ranked 18th.
Barnes Arico was full of praise for the Lady Rebels at Thursday's news conference. She has been following UNLV's rise since the season started as a voter in the coaches poll, and said the Lady Rebels' depth and balance make them one of the country's best teams.
Barnes Arico said she remembers when UNLV coach Lindy La Rocque played at Stanford and appreciates the schemes and sets the Lady Rebels run. She also said UNLV's flexible defense and discipline show how much the players have bought into the coaching staff's principles.
"The job she's doing is outstanding," Barnes Arico said. "They have talented players, but she's got them playing exceptionally well."
Phelia feeling good
Michigan sophomore guard Laila Phelia, a second-team All-Big Ten selection who averaged 16.9 points, didn't play in February because of a leg injury.
She returned two weeks ago, coming off the bench for two games in the Big Ten tournament and scoring 30 points in 52 minutes. Barnes Arico said she wanted to get Phelia some playing time before the NCAA Tournament.
"I personally feel like I'll be ready for tomorrow — mentally and physically," Phelia said. "Can't wait."
The Wolverines think Phelia's absence made them stronger as a team. Sophomore guard Jordan Hobbs got extended minutes and some starts, and Barnes Arico thinks that experience can help Michigan.
Michigan also is banking on its Big Ten experience. Fifth-year guard Leigha Brown said the Big Ten is more athletic and physical than most leagues and that Michigan will rely on the lessons it learned in conference play. Fifth-year forward Emily Kiser added that the Wolverines want to put pressure on the Lady Rebels from the start.
Barnes Arico said she thinks Michigan has an advantage over UNLV with its length, particularly at guard. Brown, Hobbs, Phelia and sophomore Greta Kampschroeder are listed at 6 feet or taller. Senior Maddie Nolan is 5-11, the shortest member of Michigan's guard rotation.
Senior wing Justice Ethridge is the tallest player in the Lady Rebels' guard rotation at 5-9.
"We have to play to our strengths," Barnes Arico said, "just like UNLV has to play to theirs."
Contact reporter Andy Yamashita at ayamashita@reviewjournal.com. Follow @ANYamashita on Twitter.
Up next
Who: UNLV women vs. Michigan
What: NCAA Tournament
When: Noon Friday
Where: Maravich Assembly Center, Baton Rouge, La.
TV: ESPNU
Radio: KWWN (1100 AM, 100.9 FM)
Line: Michigan -3½; total 137