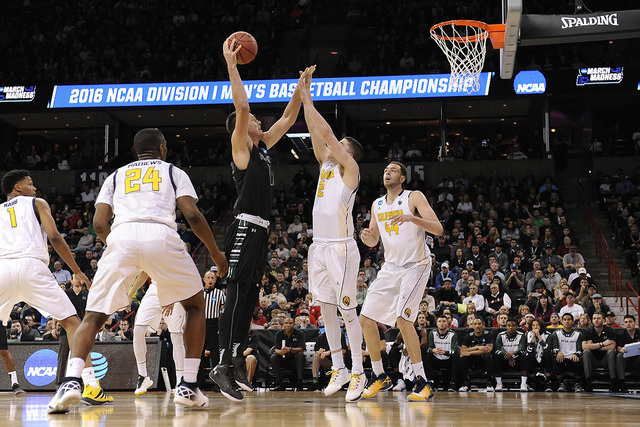 SPOKANE, Wash. — Hawaii trailed early in its first-round NCAA Tournament game against fourth-seeded Cal on Friday, but from then on it largely controlled play, ousting the short-handed Golden Bears 77-66 to advance to the second round for the first time in program history.
Quincy Smith scored 19 points, Roderick Bobbitt added 17 and Stefan Jovanovic had 16 to pace the 13th-seeded Rainbow Warriors (28-5).
Hawaii trailed 11-8 just five minutes in, but a 10-2 run established a lead the Big West Conference champions would nurse most of the first half before building some breathing room in the second.
Cal (23-11) pulled to within a point late in the first half and midway through the second, but the Rainbow Warriors beat the Bears back with the balanced scoring attack. When Mike Thomas hit a 3-pointer with 6:11 to play, the lead that had been trimmed to a single point with 11:57 to go was extended to 11 and Hawaii was on its way to its first ever NCAA Tournament win.
The Golden Bears were playing without starting point guard Tyrone Wallace. The team's leading scorer suffered a broken hand in practice earlier in the week.
Guard Jabari Bird, averaging 10.4 points per game entering the tournament, also did not play, with Cal officials saying he was "under the weather."
The Golden Bears then did themselves no favors in the first half, struggling with turnovers and foul trouble, most notably to first-team All-Pac-12 post Jaylen Brown, who picked up his third foul with 4:48 to play in the first half in which he played just nine minutes.
Brown fouled out with 6:22 to play, having recorded four points, two rebounds and seven turnovers. Jordan Mathews led Cal with 23 points and Ivan Rabb had 13 points and 12 rebounds.