No shirt, no problem for Eric Musselman's Arkansas players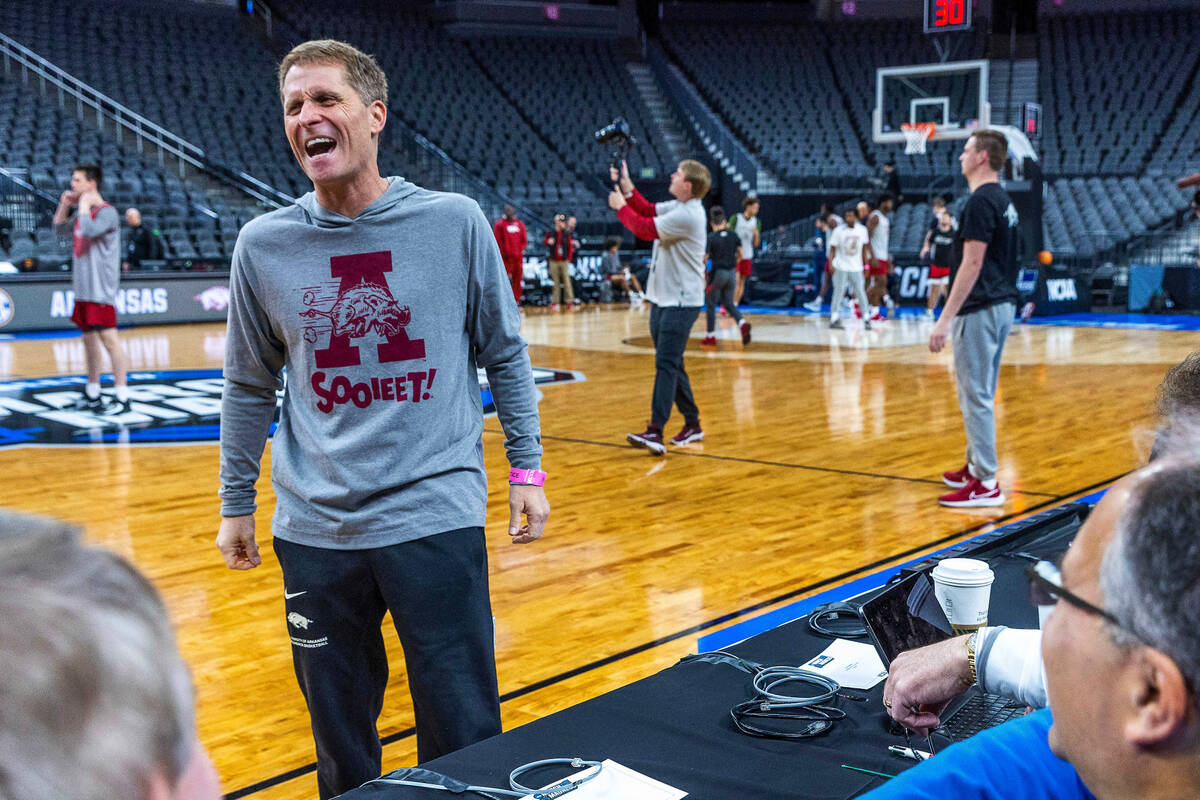 It would be easy to assume the wild shirtless celebrations that have come to be a trademark of big wins are Eric Musselman's emotional peak on display.
His Arkansas players, however, will tell you that's just normal behavior from their coach.
"He's crazy," senior forward Kamani Johnson said. "What you see on TV, that's him for sure, Shirt off, jumping around. He's like that at 8 in the morning when he's on the treadmill. That's just Muss. High energy. But I can't say enough about the journey I've been on with him since I've played for him. It's been really, really fun."
That journey has led Arkansas to the Sweet 16 of the NCAA Tournament. The eighth-seeded Razorbacks will play fourth-seeded Connecticut in a 4:15 p.m. West Regional semifinal Thursday at T-Mobile Arena.
Arkansas has won in this round each of the past two seasons only to come one victory short of the Final Four. Musselman hopes this is the year his team finally gets over the hump.
To do it, the Razorbacks will have to defeat Connecticut and then UCLA or Gonzaga on Saturday.
Should they accomplish it, chances are Musselman's bare chest will make an appearance, as it did Saturday after a 72-71 win over defending national champion Kansas.
"When you grow up in San Diego, a lot of times you don't have your shirt on, especially if you grow up in Bird Rock or La Jolla and you're riding the boardwalk," Musselman said after his team practiced Wednesday at T-Mobile Arena. "My wife's not always happy about it, but it's not something that we plan on doing all the time. Emotions just run through you. And I guess you get to a certain age and you just kind of do it just because."
The tradition began when Musselman was UNR's coach and the Wolf Pack won the College Basketball Invitational. As he was changing from his dress shirt to the championship T-shirt, he was pulled into the victory celebration with no shirt on.
Then it became a thing whenever his teams won a big game. But that's not the only thing he has taken from his days in Reno.
Musselman, 58, was an early adaptor to the new world of the transfer portal. He quickly built his roster and reloaded with high-level players from other programs before others figured out how to navigate the process.
"I promise I wouldn't be sitting here (with an SEC job) if it wasn't for the transfer portal," he said. "I kind of felt like at (UNR) we were at the forefront of the transfer portal. I know for a fact that I would never have been the coach at Arkansas if it wasn't for … guys that had transferred from Power Five schools to the Mountain West."
Arkansas' roster includes six Division I transfers, including leading scorer Ricky Council IV from Wichita State. Arkansas was considered a national title contender early in the season only to struggle through stretches because of injuries and inconsistency. Now, with potential lottery pick Nick Smith back and trying to regain his form, the Razorbacks are again proving to be a threat after eliminating Illinois and top-seeded Kansas.
A trip to the Final Four would delight Johnson, even if it means seeing his coach's bare chest again.
"I always say a happy Muss is a happy us," said Johnson, laughing. "More shirt off is good for us."
Contact Adam Hill at ahill@reviewjournal.com. Follow @AdamHillLVRJ on Twitter.
Up next
Who: Connecticut vs. Arkansas, 4:15 p.m.; UCLA vs. Gonzaga, 6:45 p.m.
What: NCAA Tournament West Regional semifinals
When: Thursday
Where: T-Mobile Arena
TV: KLAS-8
Lines: Connecticut -4, 140; UCLA -1½, 145½