Previewing Villanova vs. Michigan in the NCAA national title game
Updated April 1, 2018 - 5:55 pm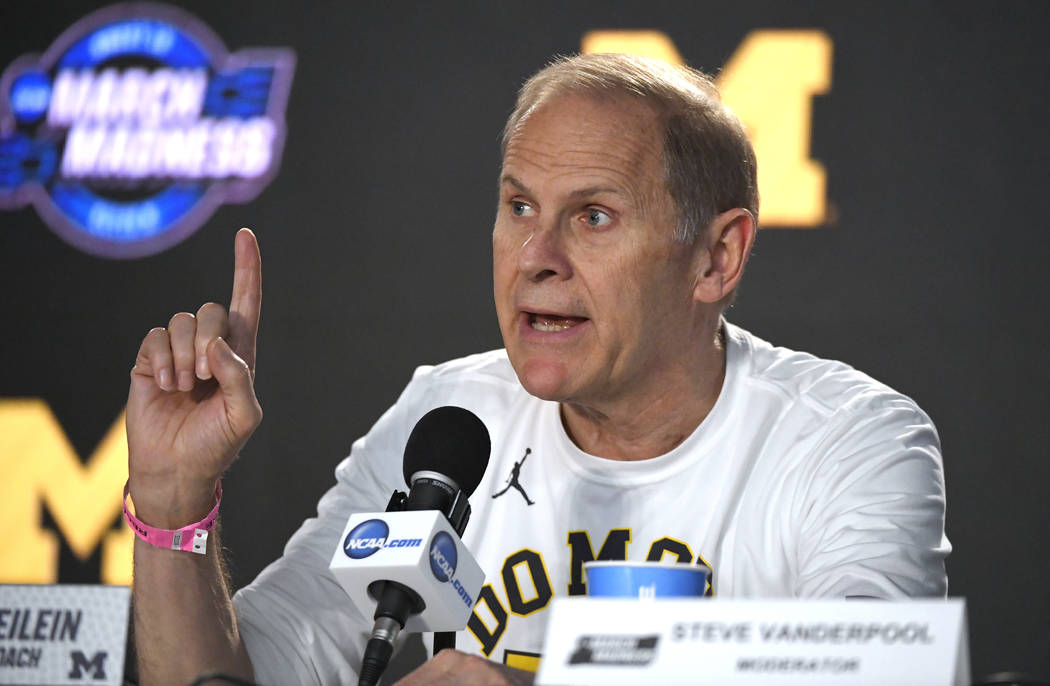 No. 1 Villanova (35-4) vs. No. 3 Michigan (33-7)
Time: 6:19 p.m. Monday
TV: TBS
Line: Villanova -6.5
How they got here: Michigan was the one to finally send Cinderella home from the dance Saturday, eliminating 11 seed Loyola Chicago and its famous nun in Sister Jean 69-57 in one national semifinal; Villanova followed by shooting 3-pointers as if they were uncontested layups, drilling a Final Four record 18 3s against a fellow No. 1 seed in Kansas and routing the Jayhawks 95-79.
Outlook: In this corner with Villanova, you have the most prolific single-season 3-point shooting team in NCAA history. In this one with Michigan, you have one of the nation's best defenses against the 3. In this corner, you have the tournament's best offense. In this one, its best defense. The Wildcats and Wolverines counter each other perfectly. It's some tough sledding to even gets 3s against Michigan, which ranks among the NCAA leaders in attempts against. But this is also a Villanova side that shot just 4-of-24 from distance against Texas Tech in the Elite Eight and won by 12. The Wildcats can win different ways. Most every way, in fact. EDGE: Villanova.
Matchup to watch: Fast vs. Slow. Michigan's best chance is to keep this thing at a snail's pace, of which it has embraced all season while ranking 324th nationally in adjusted tempo. But it's not like the Big Ten is full of run-and-gun teams, which means even though Villanova isn't among the highest rated tempo sides, the Wildcats will move at a swifter pace than most teams the Wolverines have defended. How do you control tempo if you're Michigan? Apply as much pressure as possible. Of course, West Virginia tried that. It also allowed Villanova 90 points in the Sweet 16. EDGE: Villanova.
Who must play great for Villanova to win: Jalen Brunson. Too easy? Too predictable to suggest the national Player of the Year who could pull off that rare double of also being named Most Outstanding Player of the Final Four has to step up in his team's biggest game of the year? Not really, because as the junior All-American point guard goes, so goes Villanova. He's the toughest player to defend at his position in the country. He's a load.
Who must play great for Michigan to win: Moe Wagner. Yes, the same star status thinking applies here, because if Wagner suddenly becomes average, Michigan won't stand a chance. The 6-11 junior center went for 24 points and 15 rebounds against Loyola (the only other guys to have at least 20 and 15 in a Final Four semifinal the past four decades were named Larry Bird and Akeem Olajuwon) and has a knack for hitting big shots that extend leads. Wagner grew up in Germany idolizing Dirk Nowitzki, and it wouldn't be a bad thing to challenge his inner Dallas Maverick for this one.
Possible unsung hero for Villanova: Omari Spellman. Prior to his team facing the Wildcats in the Final Four, Kansas coach Bill Self ran across his good friend, Bob Huggins. Self asked the West Virginia coach what he thought of the matchup. "You better hope Spellman doesn't shoot well," Huggins said. The freshman forward would make 6-of-15 shots and have three of his team's 18 3-pointers on Saturday in scoring 15 points and grabbing 13 rebounds. If he gives anywhere close to the same effort against Michigan, it's bad news for the Wolverines.
Possible unsung hero for Michigan: Duncan Robinson. Michigan coach John Beilein took a chance on this former Division III star at Williams College, a liberal arts school in Massachusetts. It has paid off for both player and program. Robinson is a 6-8 senior averaging 9.5 points and 2.5 rebounds, but the Big Ten Conference Sixth Man of the Year is about far more than numbers. His ability to stretch defenders and make 3s — Robinson ranks top five all-time at the school from distance — is a huge part of the spacing within Michigan's offense.
Key stat: Villanova has averaged 85 points in five NCAA wins, but the last time Michigan allowed more than 72 in a game was against Minnesota on Feb. 3. Something has to give.
Did you know? Michigan's duo of Zavier Simpson and Muhammad-Ali Abdur-Rahkman combined to shoot 2-for-17 (0-for-8 from 3) in the semifinals. A repeat performance Monday, and Villanova covers the number going away.
Quote to note: "At the end of the game, he will still look like George Clooney and I will still look like Columbo by Peter Falk. I'd like to say Kevin Costner, but I can't go there." — Beilein on the difference between himself and Villanova coach Jay Wright.
Pick: Villanova 75, Michigan 68.