Roller-coaster ride of a season ends with a thud for Arkansas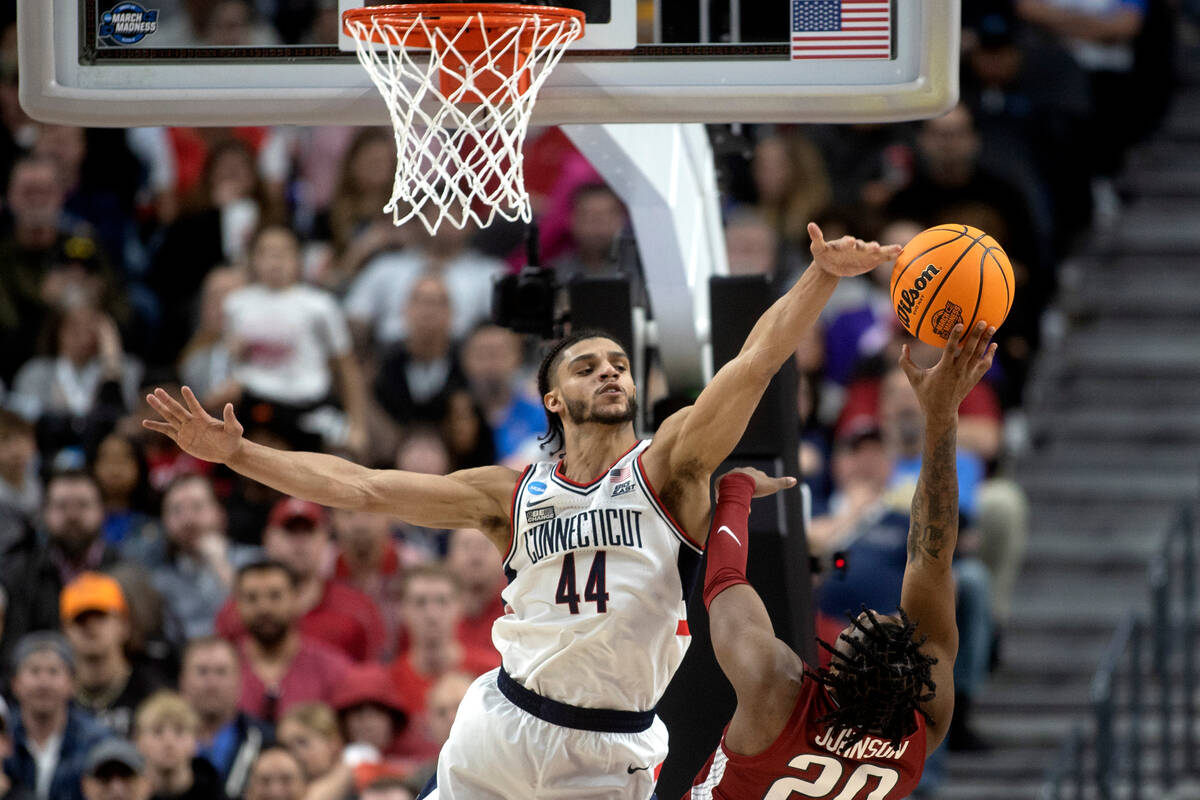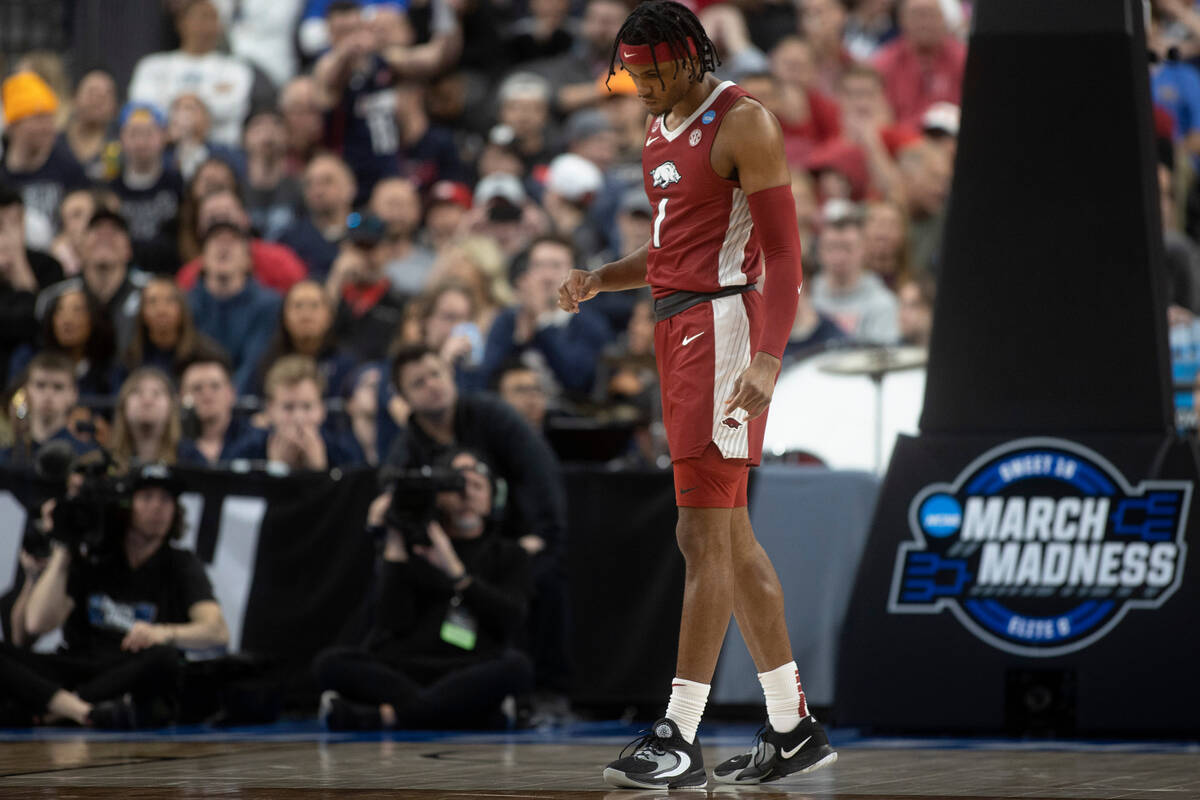 A loud chorus of screams could be heard every few minutes in the media tent set up outside T-Mobile Arena for this week's NCAA Tournament West Region games.
Locals quickly identified the noises as passengers on the roller coaster at New York-New York, a ride that could provide some symbolism for the Arkansas season that ended Thursday.
A promising season of wild swings for the Razorbacks came to end with a resounding thud as the eighth-seeded Razorbacks were never in the game and got eliminated with an 88-65 loss to fourth-seeded Connecticut in the first-ever NCAA Tournament game in Las Vegas.
"You never want to go out like that," senior forward Kamani Johnson said. "That's not what we do here."
Arkansas entered the season as a top-10 team with several NBA prospects and massive expectations. The Razorbacks maintained their ranking until mid-January when injuries and the rigors of conference play started to take their toll and contributed to a four-game losing streak.
But the Razorbacks started to look the part of national contender again at just the right time, leading to wins over Illinois and top-seeded Kansas in the NCAA Tournament. The victories started to remind Arkansas and the rest of the college basketball world just how much talent was on its roster.
Then came Thursday night.
"At the end of the season, we were playing decent ball," Johnson said. "We just fought through a lot this year. And it didn't end how we wanted it to. But we fought. That's all I can say, we fought."
While the box score doesn't always tell the story, it takes only a quick glance to see why Arkansas is headed home and Connecticut will play for a berth in the Final Four on Saturday.
The Huskies shot 57 percent from the field and 45 percent from 3-point range, making all nine of their long-range shots in the first 29 minutes of the game.
Connecticut also won the rebounding battle, 43-31.
"They did a great job rebounding the ball for the entire 40 minutes," coach Eric Musselman said. "And uncharacteristically we did not defend at the level that we have for most of the year."
UNLV tournament appearance
UNLV guard Jordan McCabe would have loved to be playing in an NCAA Tournament game Thursday.
Instead, he had to instead settle for a spot with the media schlubs sitting courtside.
McCabe was working with Bleacher Report as an on-site correspondent.
"I have a chance to step out of my comfort zone and work on the media side," he said. "It's a lot of fun."
McCabe was pleased to be a part of what he considered a pivotal moment for the city.
"It's great to have the Sweet 16 here," he said. "Events like this really show how much of a draw Las Vegas is. It's growing into the sports mecca of the world, and I don't know if there's any place better to be right now than Las Vegas."
On the scene
Raiders owner Mark Davis was among the fans taking in the historic night of basketball.
Comedian Bill Murray was also seated near the court, cheering on Connecticut. His son Luke is an assistant coach on the staff.
UNLV legend Anderson Hunt was in attendance and posted on Twitter his appreciation for a fan who he saw wearing his jersey from the glory days of the Rebels.
"I didn't know how much Love people from other schools still have for UNLV (basketball from the) late 80's early 90's!!," he wrote. "Wow and Thank you!"
Contact Adam Hill at ahill@reviewjournal.com. Follow @AdamHillLVRJ on Twitter.