'They are the culture': UNLV says goodbye to foundational seniors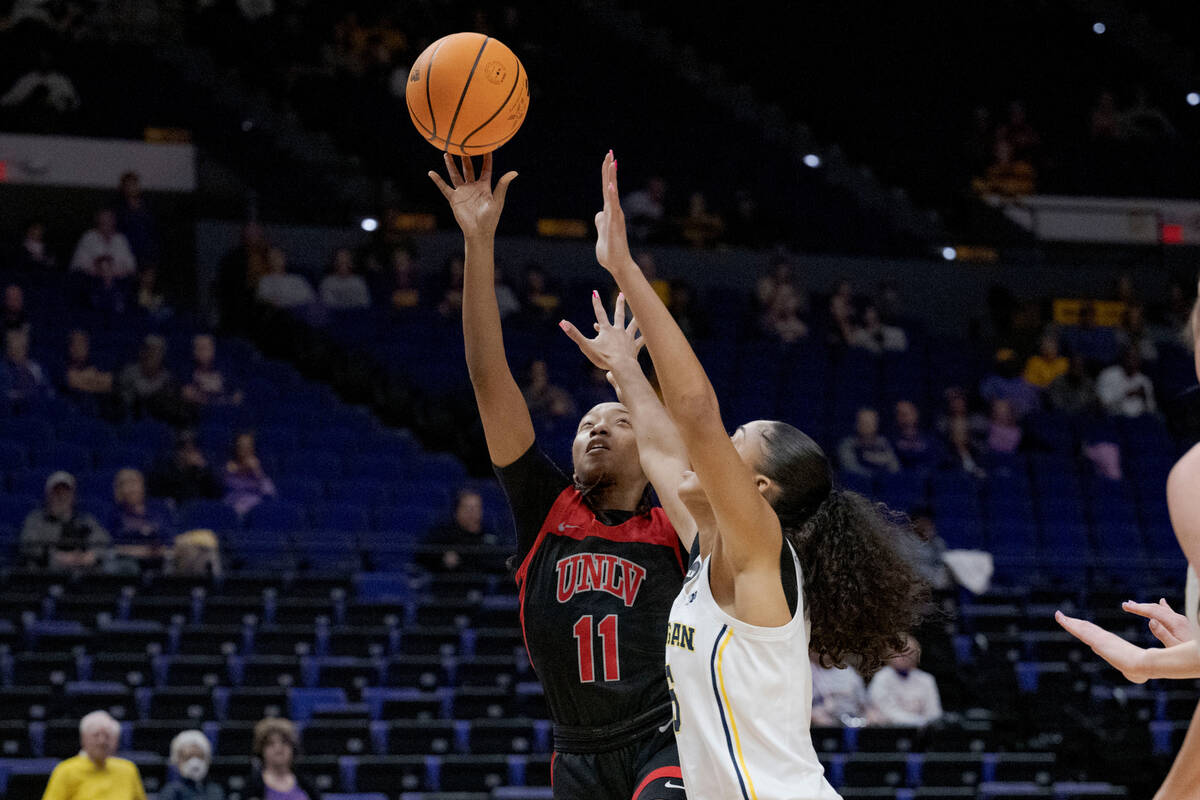 BATON ROUGE, La. — Nearly 40 minutes after the buzzer sounded on No. 11-seeded UNLV's 71-59 loss to No. 6 Michigan in the NCAA Tournament, Justice Ethridge stands alone in the tunnel leading to the court.
UNLV's senior wing is watching the game between No. 3 Louisiana State and No. 14 Hawaii on a TV hung above the tunnel. She has changed into her sweatsuit. Ethridge's basketball shoes sit on the steps in front of her as she watches and waits for the rest of her team to pack up and leave the Maravich Assembly Center.
These are Ethridge's final moments as a college basketball player.
"I hope they go further next year," she said.
Ethridge's time in the tunnel is the conclusion to a career that began five years ago — for a different coach in a different era, before there were expectations, conference championships and NCAA Tournament appearances.
Everything that's happened since feels inconceivable to Ethridge, one of three seniors, along with forward Keyana Wilfred and guard Essence Booker, who will now depart after exhausting their eligibility.
"I don't think I imagined any of this," Ethridge said.
Ethridge, Booker and Wilfred have helped oversee the program's resurrection. The Lady Rebels were a middling Mountain West program when Ethridge arrived as a freshman in 2018. UNLV finished 12-18 during the 2018-19 season, sixth in the conference standings.
Coach Lindy La Rocque, who took over for the 2020-21 season, has since guided UNLV to consecutive Mountain West regular-season and tournament championships, along with two appearances in the NCAA Tournament in her three seasons in charge.
However, these seniors are the ones who helped establish the team's championship culture, La Rocque said. They bought into her ideas, served their roles and were dedicated to the team's success. Leaders on and off the court in every sense of the word.
"Those three will forever be etched on my heart," La Rocque said.
Ethridge said she hopes she's been able to have an impact on her teammates. She said she tried to lead with her actions, do the right things and demonstrate the importance of attention to detail to the strong young core La Rocque recruited for the future. Most of them seem to understand the message.
"They made their mark on this team," sophomore Alyssa Durazo-Frescas said. "They left their mark on me."
Durazo-Frescas and fellow sophomore Alyssa Brown were starters this season, while another sophomore, Kenadee Winfrey, was a key contributor off the bench.
La Rocque anointed sophomore guard Kiara Jackson, the reigning Mountain West Sixth Player of the Year, as Booker's successor at point guard during the postgame press conference. While the Lady Rebels begin to look forward to next season, their mentality and their foundation for the future have been set by Booker, Ethridge and Wilfred.
"They are the culture," Durazo-Frescas said. "They're the reason why we are 31-3 today. We couldn't do it without them."
Contact reporter Andy Yamashita at ayamashita@reviewjournal.com. Follow @ANYamashita on Twitter.