Wisconsin can't be consumed by Kentucky upset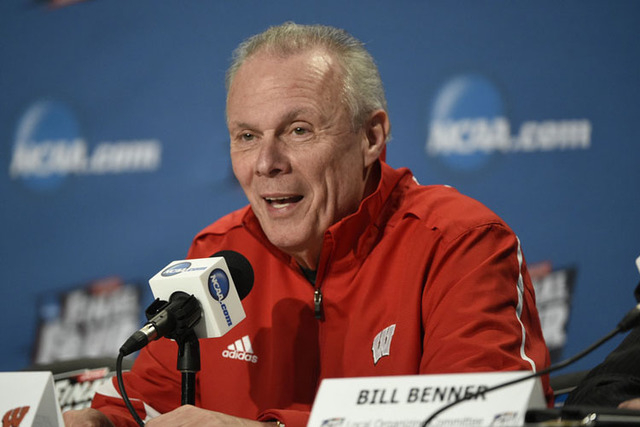 INDIANAPOLIS — The training table was hot dogs. The morning of the national championship game, he had a cream doughnut and a diet pop. There might have been one media member from a newspaper back home covering the game.
He thinks it was a stringer, but isn't sure.
"You ask me what it was like," Bo Ryan said Sunday as he glanced across a room packed with hundreds of reporters documenting his every syllable. "It wasn't like this."
In March 1991, Duke's basketball team beat an undefeated UNLV side in one Final Four game in Indianapolis. Two days later, the Blue Devils won the first of what is now four national titles under head coach Mike Krzyzewski.
A few weeks earlier, Ryan also won the first of four national championships, some 130 miles east of here in Springfield, Ohio. His team at Wisconsin-Platteville proved the best in Division III that year, and would do so again in '95, '98 and '99.
But now it is Ryan and his current team, Wisconsin, who slayed the undefeated dragon in a Final Four game when beating Kentucky on Saturday; it is Ryan and his Badgers who will try to not let the emotional high of such a moment linger in a way it influences them negatively tonight.
Wisconsin plays Duke for the national championship at Lucas Oil Stadium, a battle of No. 1 seeds that will present the Badgers all sorts of challenges, none more than this: Will they have moved on mentally from ending Kentucky's pursuit of 40-0?
"You know, you have to forget about the one you just played," Ryan said. "The only thing that's going to help you for that next game is what you learned for the 40 minutes during the (previous one). When we're at practice, they'll be reminded about a few things from (Saturday), but it will be how we can get better."
Wisconsin players are an interesting bunch. News conferences often become more stand-up routines than serious answers. They've enjoyed the experience of reaching a Final Four as much as any team. They seem to own an innate ability to know when to laugh and when to focus, when it is play time and when it is game time, when to joke around and when to survive and advance.
They also know how to quickly distance themselves from controversy.
Kentucky guard Andrew Harrison caused a social media uproar late Saturday when he directed an obscenity and racial slur at Wisconsin star Frank Kaminsky after a teammate was asked about the forward.
Harrison muttered the comment with a hand over his face, but in front of him was a live microphone.
"(Bleep) that (N-word)," Harrison said.
Harrison, who is black, later apologized via Twitter and by telephoning Kaminsky, who is white.
"Yeah, he reached out to me," Kaminsky said. "We talked about it. Over it. Nothing needs to be made out of it."
It was obvious Sunday where Kaminsky and Ryan and the entire Wisconsin team wanted the issue — put to bed so that they might focus only on tonight's final.
When it returned to its hotel following that upset of UNLV in '91, Duke was swallowed by its fan base waiting to celebrate the moment. Those fans never imagined the Blue Devils would beat the Rebels. Krzyzewski said it was important the players didn't get caught up in any of it, that they quickly moved on to preparing for a final against Kansas.
When it returned to its hotel Saturday, the Badgers discovered a similar scene. As they stood atop a second-floor corridor, players shot video of the madhouse below, a virtual sea of red packing the lobby and cheering loud enough for those back in Madison to hear.
You couldn't see one inch of open space, not one fiber of carpet.
It was surreal.
And then Ryan's telephone began beeping with texts.
"Mark Johnson is the women's hockey coach at the University of Wisconsin," Ryan said of the former member of the Miracle on Ice team from the 1980 Olympics. "Won a lot of national championships. Great, great teacher, great coach. I was reminded, I can't tell you by how many people, 'Hey, Bo, in 1980, you know after we beat Russia, we had to beat Finland.' I don't know a lot about hockey, but I knew about the '80 team. I said, 'You know what, you're right.' Most people think that Russia was the gold-medal game. I've been reminded that Finland is Duke, both really good teams.
"Duke is a really good team. I think Finland was a good team because they got to the finals. So, yes, we know we've got 40 more minutes, as I've said a thousand time. We know we got some work to do."
Times change. Cream doughnuts have been replaced with a buffet of eggs and bacon and pancakes and omelets and more fruit than any one person could eat. Different stage, different era, different eats, different stakes.
Wisconsin hardly needs a miracle to beat Duke tonight, but does need this: It must forget all about Russia, er, Kentucky.
The dragon might be dead, but another monster awaits.
Las Vegas Review-Journal sports columnist Ed Graney can be reached at egraney@reviewjournal.com or 702-383-4618. He can be heard from 11 a.m. to 2 p.m. Monday through Friday on "Gridlock," ESPN 1100 and 100.9 FM. Follow him on Twitter: @edgraney.