Xavier pulls away from Weber State late for 71-53 win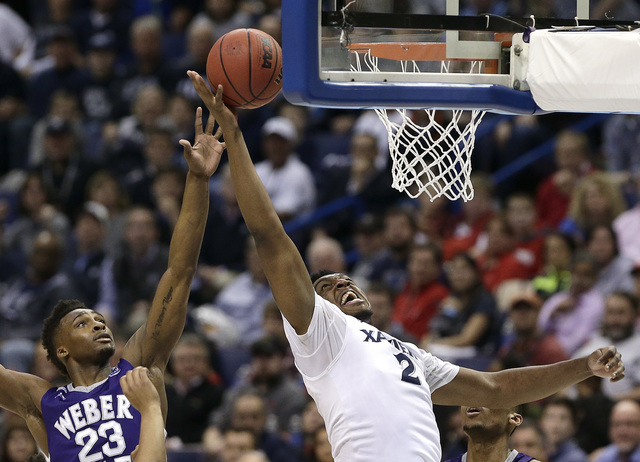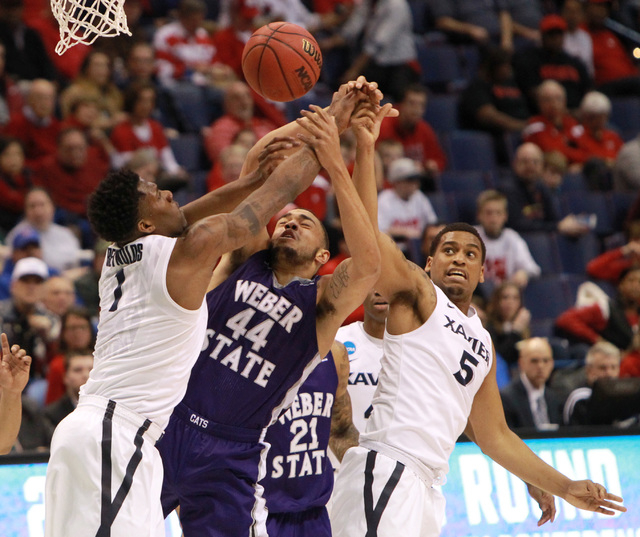 ST. LOUIS — James Farr had 18 points and 15 rebounds, fellow big man Jalen Reynolds added 12 points and No. 2 seed Xavier pulled away late for a 71-53 victory over pesky 15th-seed Weber State in the first round of the NCAA Tournament on Friday night.
Remy Abell added 11 points and Trevon Bluiett had 10 for the Musketeers (28-5), who never trailed the Big Sky Tournament champs in advancing to play seventh-seeded Wisconsin for a spot in the Sweet 16.
The Badgers trudged past Pittsburgh earlier in the night.
Weber State (26-9) was within 54-47 midway through the second half when Farr and Reynolds, both of them heftier than anybody on the Wildcats' bench, began to impose their will. The managed to power right through Weber State's back line for easy buckets, allowing the Musketeers to slowly draw away.
Joel Bolomboy finished with 14 points for the Wildcats. McKay Cannon had 10.
Early on, it looked as if Xavier learned a lesson from fellow No. 2 seed Michigan State, which allowed Middle Tennessee State to hang around long enough to spring an upset. The Musketeers opened a 21-6 advantage before the game was 10 minutes old, executing flawlessly on both ends of the floor.
Then they started to get sloppy.
It started with one turnover that quickly became contagious, and the miscues eventually seeped into their shooting. Weber State took advantage of the opening, closing within 34-23 by halftime.
The Wildcats kept inching closer early in the second half.
Cannon scored seven quick points, Bolomboy hit a 3-pointer and by the time Xavier coach Chris Mack looked at the scoreboard, the lead was down to 46-39 with 13 minutes left.
The Wildcats managed it without starting guard Ryan Richardson, too. He hit the deck early in the game and came up favoring his leg. He tried to warm up for the second half but stuck with a seat on the bench.
The way Reynolds and Farr began to pound away, it was probably the safest place to be.
The 6-foot-10, 238-pound Reynolds twice flushed one-handed dunked over the Wildcats midway through the second half, and the 6-9, 244-pound Farr was there to collect loose rebounds for easy put-backs.
Their size eventually became too much for tiny Weber State handle.
TIP-INS
Weber State: Bolomboy also had 10 rebounds. … The Wildcats shot 4 of 21 from beyond the arc and were out-rebounded 43-27. … Weber State had won 10 of its last 12 games.
Xavier: Myles Davis had six points, eight rebounds and six assists. … The Musketeers, with the best seed in school history, are seeking their sixth trip to the Sweet 16 in the last nine seasons.
UP NEXT
Xavier plays the Badgers on Sunday.