Nevada congressmen urge NCAA to consider Las Vegas
Updated April 6, 2017 - 6:13 pm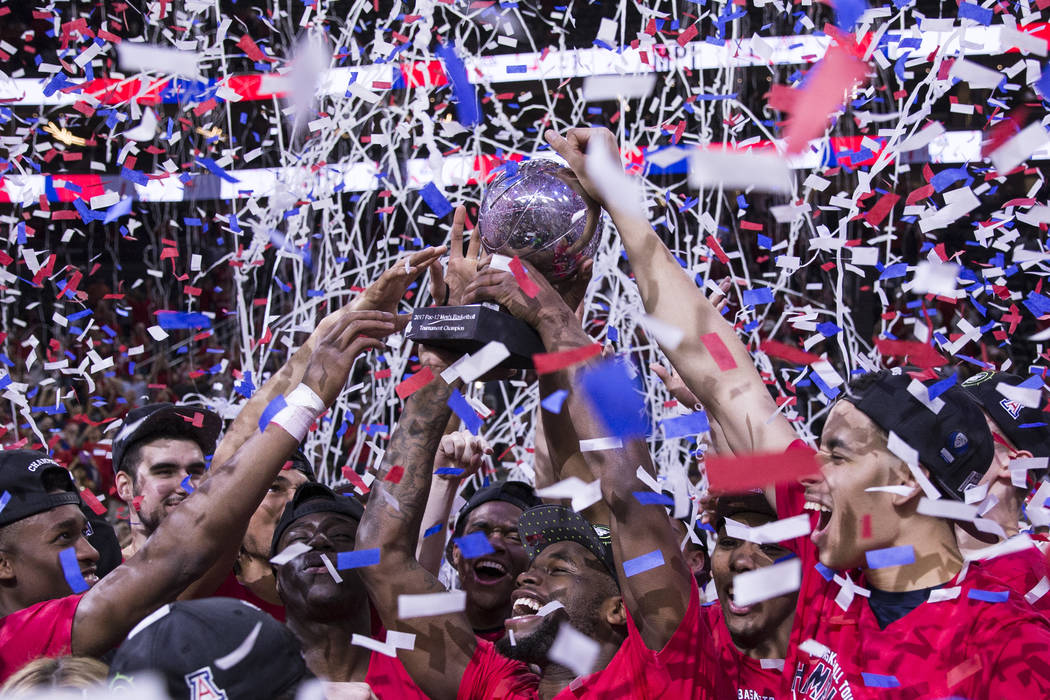 With Las Vegas still on the outside looking in when it comes to hosting college championship games, Nevada congressmen sent a letter to NCAA President Mark Emmert asking the organization to rethink its stance.
Senators Dean Heller and Catherine Cortez Masto, as well as representatives Dina Titus, Mark E. Amodei, Ruben Kihuen and Jacky Rosen, signed the letter, saying the NCAA should revisit its sports wagering policy.
The letter comes as a response to Emmert's announcement on March 30 that a bid from Las Vegas Events for three championships — men's basketball, men's ice hockey and wrestling — would not be considered for the upcoming cycle of awarding site for championships when the Board of Governors meets April 25.
The NCAA is currently battling the state of New Jersey over the state's attempt to have legalized sports better, meaning allowing Las Vegas to host championship events could potentially hurt the organization's case.
The congressmen wrote that they believe the litigation has "no bearing" on championship site selection and said legal sports betting protects the integrity of events in monitored properly.
The letter also said Las Vegas is now home to the Pac-12, Mountain West, West Coast and Western Athletic Conference basketball championships, the Las Vegas Bowl, an NHL team and soon an NFL team and added the city will continue to be an "outstanding venue" for college and professional sports.
The full text of the letter can be found below:
Dear President Emmert,
We were encouraged that for the first time, Las Vegas Events (LVE) was permitted to bid for National Collegiate Athletic Association (NCAA) championship games that will be held between 2019 and 2022. We were disappointed to learn, however, that the NCAA will not revisit its policy prohibiting championship events from being held in jurisdictions that permit single-game sports wagering, thus disallowing LVE's bid from consideration. We understand that the NCAA has chosen not to revisit this policy because of potential concerns that it could negatively impact the NCAA's ongoing sports wagering litigation with New Jersey. We respectfully believe that these concerns are unfounded and strongly believe that the NCAA, its member schools, and its fans could greatly benefit if NCAA championships were permitted to be held in Nevada. We urge you to revisit the NCAA's sports wagering policy and consider LVE's championship bid.
There is no question that legal sports wagering, which is dwarfed by the illegal market elsewhere, with appropriate regulations protects the integrity of athletic events. Legal, regulated sports betting requires an exceptional degree of diligence by both sports book operators and gaming regulators, and this diligence heightens rather than undermines the integrity of athletic events. The Nevada Gaming Control Board and Gaming Commission work to protect the integrity and stability of betting, and gaming is recognized as one of the most highly regulated and professional industries in our state. In fact, Nevada's sports books have been the first to identify point shaving incidences in college sports and have brought such issues to the attention of law enforcement and the NCAA. And while we respect your concerns about any potential impact on ongoing litigation concerning the Professional and Amateur Sports Protection Act, we respectfully disagree and believe that Nevada stands at an unfair disadvantage.
This ban has widespread effects impacting all NCAA-sanctioned inter-collegiate championships. This includes women's sports and other inter-collegiate sports such as golf, tennis, or any of the other NCAA-sanctioned competitions that are currently banned from hosting NCAA championships in Nevada.
Las Vegas now hosts the PAC-12, Mountain West, West Coast and Western Athletic conference basketball championships as well as bowl games, and no questions have arisen about the integrity of those events. Professional sports leagues recently have shown strong support for Las Vegas, which will be the home to the 31st National Hockey League team later this year when the Vegas Golden Knights begin play at T-Mobile Arena and soon thereafter, to the National Football League's Raiders. The city has a brand new, state-of-the-art arena, thousands of hotel rooms within walking distance to the arena, and world-class entertainment and dining options. It is and will continue to be an outstanding venue to host collegiate and professional sports. By lifting this ban, you can give access to NCAA student-athletes to compete at some of our world-class athletic facilities and bring fans from all around the country to our state.
Las Vegas will draw NCAA fans from across the nation who would welcome the opportunity to experience the championships in a brand new arena in a city with other outstanding hospitality assets. We urge you not to penalize the fans or the state of Nevada over pending litigation that we believe has no bearing on the championship site selection.
Sincerely,
DEAN HELLER, U.S. Senator
CATHERINE CORTEZ MASTO, U.S. Senator
DINA TITUS, Member of Congress
MARK E. AMODEI, Member of Congress
RUBEN KIHUEN, Member of Congress
JACKY ROSEN, Member of Congress
Contact reporter Ben Gotz at bgotz@reviewjournal.com. Follow @BenSGotz on Twitter.