New MGM arena may host heavyweight college hoops event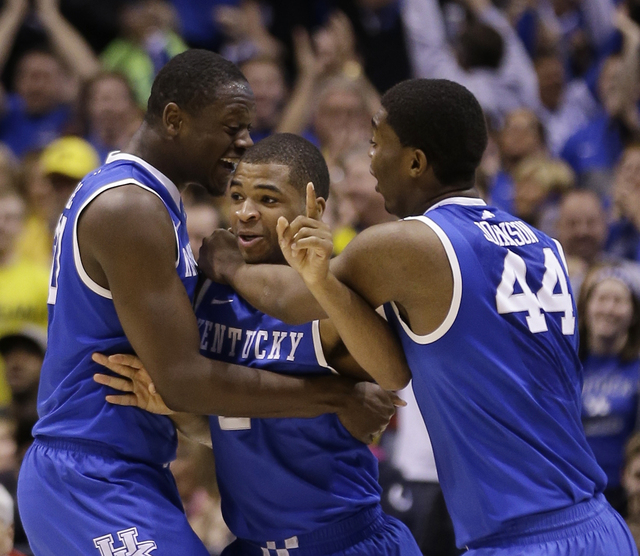 The new MGM arena could be the home to a college basketball event that boasts three of the most prestigious programs in the history of the sport.
The CBS Sports Classic is a one-day doubleheader with Kentucky, North Carolina, UCLA and Ohio State participating over a three-year span with the teams switching opponents annually. The Las Vegas event, scheduled for Dec. 17, 2016, matches Kentucky against North Carolina and UCLA against Ohio State.
This year's matchups, scheduled for Dec. 20 at the United Center in Chicago, has UCLA facing Kentucky and North Carolina playing Ohio State. On Dec. 19, 2015, North Carolina will play UCLA and Kentucky will meet Ohio State at the Barclays Center in Brooklyn, N.Y.
An MGM official said Wednesday nothing has been booked for that date in the new $375 million arena, which broke ground May 1. It is scheduled to open in the spring of 2016 and will seat 19,000 for basketball.
The four participating teams have a total of 25 national championships. The games will be nationally televised on CBS and will be streamed online exclusively on CBSSports.com.
"We're excited to bring these powerhouse programs together for a tremendous early-season showcase," said Dan Weinberg, the senior vice president of programming for CBS Sports. "From its debut next season, the CBS Sports Classic will be a marquee event, adding to our already deep college basketball schedule."
UCLA is already familiar with Las Vegas as an annual participant in the Pacific 12 Conference Tournament at the MGM Grand Garden. Kentucky and North Carolina have played in the Las Vegas Invitational, which takes place each November at Orleans Arena.
"We are excited to be part of the CBS Sports Classic the next three seasons," Ohio State coach Thad Matta said in a statement. "The four teams competing have a tremendous history of success in college basketball. We have partnered with terrific cities and venues to make this a great experience for our program, our student-athletes and our fans."
The latest event will add to an already busy college basketball December in Las Vegas. The Grand Garden already plays host to a doubleheader that raises money for Coaches vs. Cancer, which is televised on ESPN. The Las Vegas Classic is played at Orleans Arena right before Christmas, and the South Point plays host to men's and women's tournaments at the Division I, II and III levels before and after Christmas.
Contact reporter Steve Carp at scarp@reviewjournal.com or 702-387-2913. Follow him on Twitter: @stevecarprj.