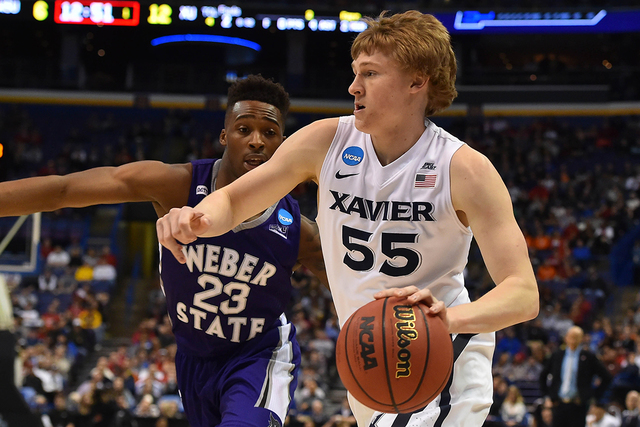 A one-handed dunk by senior guard J.P. Macura with 22 seconds left seemed like the perfect way for No. 15 Xavier to punctuate an 80-70 road win against Wisconsin on Nov. 16.
Only Macura wasn't finished.
Just 10 seconds later, with the clock stopped for a foul, Macura mocked the Kohl Center crowd with a "Gator Chomp," the signature move of a Florida program that knocked the Badgers out of the Sweet 16 last season.
The Badgers lasted one fewer round than the 11th-seeded Musketeers, who seemingly blossomed out of nowhere to reach coach Chris Mack's first Elite Eight. Macura's chomp added swagger to a spotlight already on this year's team as Xavier heads to the Continental Tire Las Vegas Invitational at Orleans Arena on Thursday and Friday.
On Fridays, #WeChomp… some also do it on Thursdays. pic.twitter.com/Ou3Glf8h3k

— Florida Gators (@FloridaGators) November 17, 2017
"I really like the makeup of our team because there's an infusion of some talented freshmen, but we also have some veteran leadership," Mack said. "It's a fun team to coach."
The win against Wisconsin, which upset the Musketeers in the 2016 NCAA Tournament, validated high preseason expectations and brought added attention to the program. The most notable reaction came from professional golfer and Wisconsin resident Steve Stricker, who tweeted after the game that he was "embarrassed" for Xavier and said he had "never seen some of the bush league things I saw tonight."
I'm embarrassed for @XavierMBB! A good team, but I've never seen some of the bush league things I️ saw tonight. Clearly @CoachChrisMack doesn't have control of his players. @BadgerMBB

— Steve Stricker (@stevestricker) November 17, 2017
Much of Stricker's ire was likely directed at Macura, but the 6-foot-5-inch guard isn't just a trash talker. He's a tone-setter.
Mack credited the "hyper-competitive" senior with helping the team get after each other during preseason practices and setting a standard other players have to match.
"He's really unique. I think the thing people can appreciate about J.P. is he doesn't take a play off. He plays to win every play no matter what the score is," Mack said. "He's one of the most competitive players I've ever coached. I don't know if there's any coach in the country who wouldn't want that type of player on their team."
Macura, who is averaging 13.5 points, added muscle this offseason so he could rebound more efficiently and be more productive in the paint. His driving ability, paired with fellow senior and potential All-American candidate Trevon Bluiett's sharpshooting, make the Musketeers difficult to defend.
Bluiett, a 6-foot-6-inch swingman with a quick release, is averaging 24.3 points while hitting 55.6 percent of his 3-pointers. The senior backcourt mates are just one reason Xavier hopes for another deep NCAA Tournament run, even if this time there's a few more eyes on them.
"As long as we continue to improve throughout the course of the year, I like our team's chances," Mack said.
Contact Ben Gotz at bgotz@reviewjournal.com. Follow@BenSGotz on Twitter.
Continental Tire Las Vegas Invitational Schedule
*All games at Orleans Arena
Thursday
*Hampton vs. Northern Arizona, 10:45 a.m. (Lower flight)
*Xavier vs. George Washington, 2 p.m. (Top flight)
*Kansas State vs. Arizona State, 4:30 p.m. (Top flight)
*Rider vs. California-Irvine, 7 p.m. (Lower flight)
Friday
*Lower flights losers, 11 a.m.
*Top flight winners, 2:30 p.m.
*Top flight losers, 5 p.m.
*Lower flight winners, 7:30 p.m.