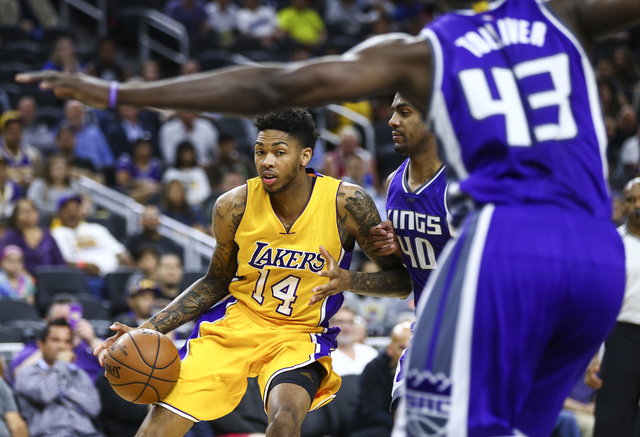 A few months ago, as Team USA trained in Las Vegas, Kevin Durant got his first good look at Brandon Ingram, who was training with the USA Select Team.
He liked what he saw.
"First person I can say that I can look at him and feel like I'm looking in the mirror," Durant told reporters of Ingram.
And while that's a hefty comparison to place on a 19-year-old, the young forward does somewhat resemble Durant in body type and playing style.
At 7 p.m. Saturday, the Los Angeles Lakers rookie and the Golden State Warriors star will face off for the first time at T-Mobile Arena in NBA exhibition action.
Ingram, the No. 2 pick in the draft, has gotten off to a slow start in the preseason despite all the talent and hype surrounding him.
He comes from Duke, where he averaged 17.3 points and 6.8 rebounds in his one college season.
But he hasn't scored more than seven points in a game, and Thursday against the Sacramento Kings at T-Mobile, he recorded just two points, both on free throws, going 0-for-5 from the floor.
Although he's started slow, Lakers coach Luke Waltonsaid he thinks Ingram will be just fine.
"He's a very confident person. He's quiet, so I'll ask him how he's doing, and his answer is always 'fine,'" Walton said. "He says his shot's feeling better. Body language or aggressiveness … doesn't seem to be getting any less, which would be normal of a player that's losing confidence in their shot."
Though the shots haven't been falling, Ingram hasn't let that translate defensively.
Less than a month after the draft, he participated on the USA Select Team, which features some of the league's budding stars. The Select Team trains with the National Team, and Ingram said that experience helped him progress a lot defensively.
"I think with the team I got a little better on the defensive end," Ingram said. "It's been my main focus coming out here and trying to guard the best player on the floor."
Offensively, he said he was just trying to stay comfortable and get in his groove.
While he does that, the Lakers plan to start him off the bench to help ease him into his first season while he also works on bulking up. Ingram is 6 feet 9 inches tall and 190 pounds.
"I think he's fine," Walton said. "I think it's just figuring out this NBA game, playing with new guys and figuring out where to get his shots from."
Betsy Helfand can be reached at bhelfand@reviewjournal.com. Follow on Twitter: @BetsyHelfand
Warriors vs. Lakers
WHAT: NBA exhibition game
WHEN: 7 p.m. Saturday
WHERE: T-Mobile Arena