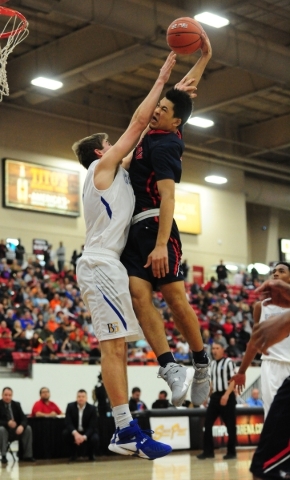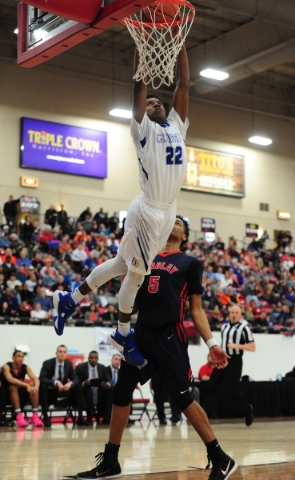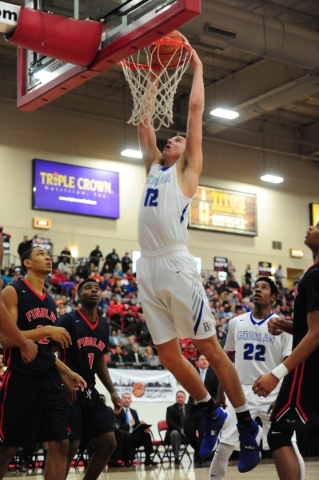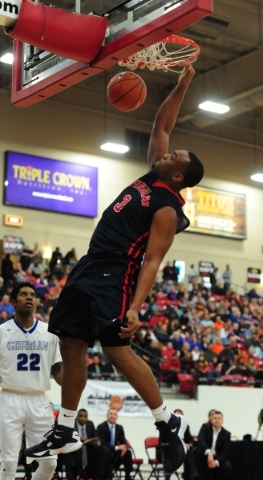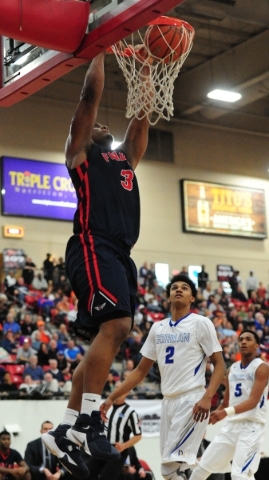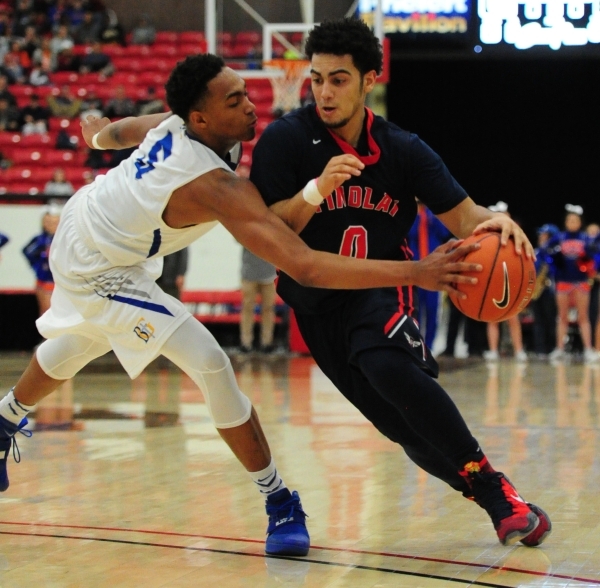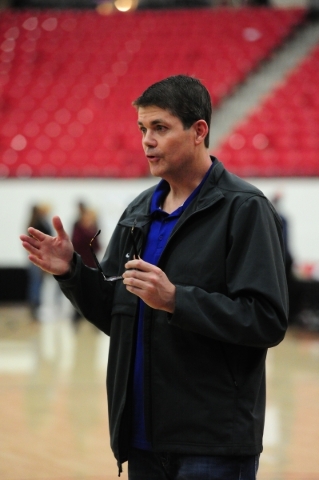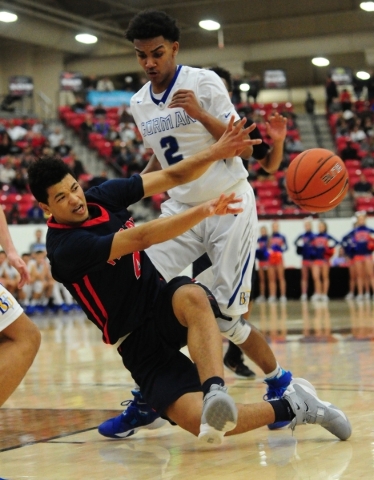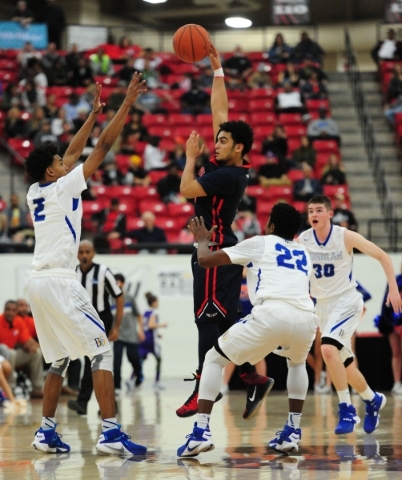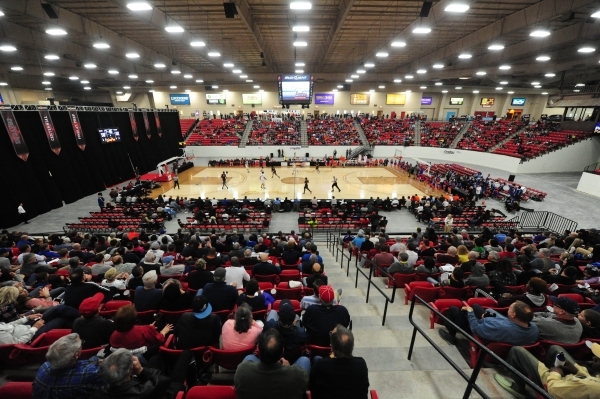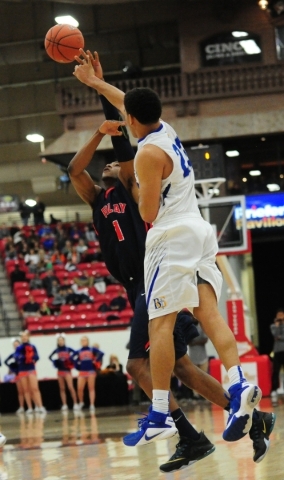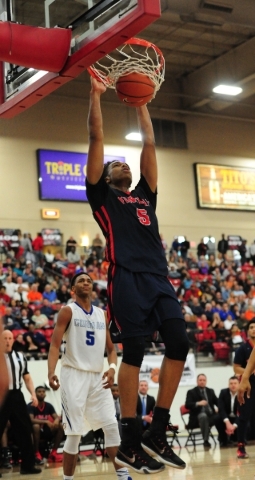 Early in the second half Saturday, Bishop Gorman's Charles O'Bannon Jr. drove to the basket, hung in the air, switched the ball to his left hand and somehow scooped it off the glass and in.
It was the kind of play the junior standout made all day.
O'Bannon scored 16 of his 25 points in the second half to lead the Gaels to a 77-71 upset victory over Findlay Prep in the Big City Showdown at South Point Arena. The Pilots entered the game ranked No. 4 in the nation by USA Today.
"He makes the strangest, most acrobatic shots I've ever seen," Gorman coach Grant Rice said. "We used to say, 'Chuck, get on balance,' and then we just said, 'Forget it, just be Chuck.' And he was today."
The victory was Gorman's second over the Pilots in nine meetings. The Gaels won 76-72 in overtime in 2014.
"It's everything," O'Bannon said of the victory. "I feel like our season's completed, but we've still got work to do."
O'Bannon took over the game in the third quarter, scoring 10 points and shouldering the load after McDonald's All American Zach Collins went to the bench with his fourth foul with 5:09 left in the quarter.
O'Bannon had seven points after that, including a 3-pointer from the right wing with 1:02 left in the quarter that broke a 51-51 tie and put the Gaels (15-6) up for good.
"Zach was in foul trouble, so everybody had to step up a little bit because we didn't have our McDonald's All American in the game," O'Bannon said. "So we just had to make it happen."
O'Bannon's acrobatic, hand-switching drive with 7:17 left made the score 60-52, and the Gaels brought the 6-foot-11-inch Collins back with 6:47 to play.
O'Bannon was 7-for-16 from the field and 4-for-5 on 3-pointers.
"The way Chuck plays when it's clutch time, it's unbelievable," said Collins, who finished with 16 points, 11 rebounds and three blocked shots. "The kid is just super competitive. He can score whenever. He's practically unguardable now in high school. He was huge for us. He's the reason why we won the game."
Rice also praised reserves Jamal Bey and Ryan Kiley, who both played big minutes in the second half with Collins on the bench.
Bey had eight points and four assists, and Kiley had seven points and three rebounds.
"I was scared to death when Zach got that fourth foul," Rice said. "You have that dominant big man who's on the bench, and it was scary. But Ryan Kiley stepped up. Jamal Bey came into the game, and they played great minutes for us. They did a heck of a job."
Christian Popoola added 14 points and two rebounds for Gorman, and Byron Frohnen played a strong all-around game, helping handle the ball and adding five rebounds and three assists. He also helped defend the post with Collins on the bench.
With time running down in the first half, Frohnen drove down the left side and kicked the ball to Bey on the right wing for a 3-pointer to give the Gaels a 38-36 halftime lead.
"Byron's one of the most underrated players in the state," Rice said. "He's a great kid, is just an unbelievable player and just does all the little things."
Carlos Johnson scored 29 points and had an array of rim-punishing dunks to lead Findlay (18-1). But the Pilots got only five points on 2-for-8 shooting from leading scorer Markus Howard, who picked up two early fouls and never got into rhythm.
P.J. Washington added 13 points, nine rebounds and five assists for Findlay.
"We came out here, no fear, super confident like we were supposed to win this game," Collins said.
"I'm so proud of our team and the way we handled ourselves, even in crunch time. We went through some adversity in the beginning of the season because we couldn't convert in crunch time. We definitely learned from that, and it showed tonight."
Contact prep sports editor Damon Seiters at 702-380-4587 or dseiters@reviewjournal.com. Follow him on Twitter: @DamonSeiters
Box score:
Bishop Gorman 77, Findlay Prep 71
Complete coverage of high school sports.