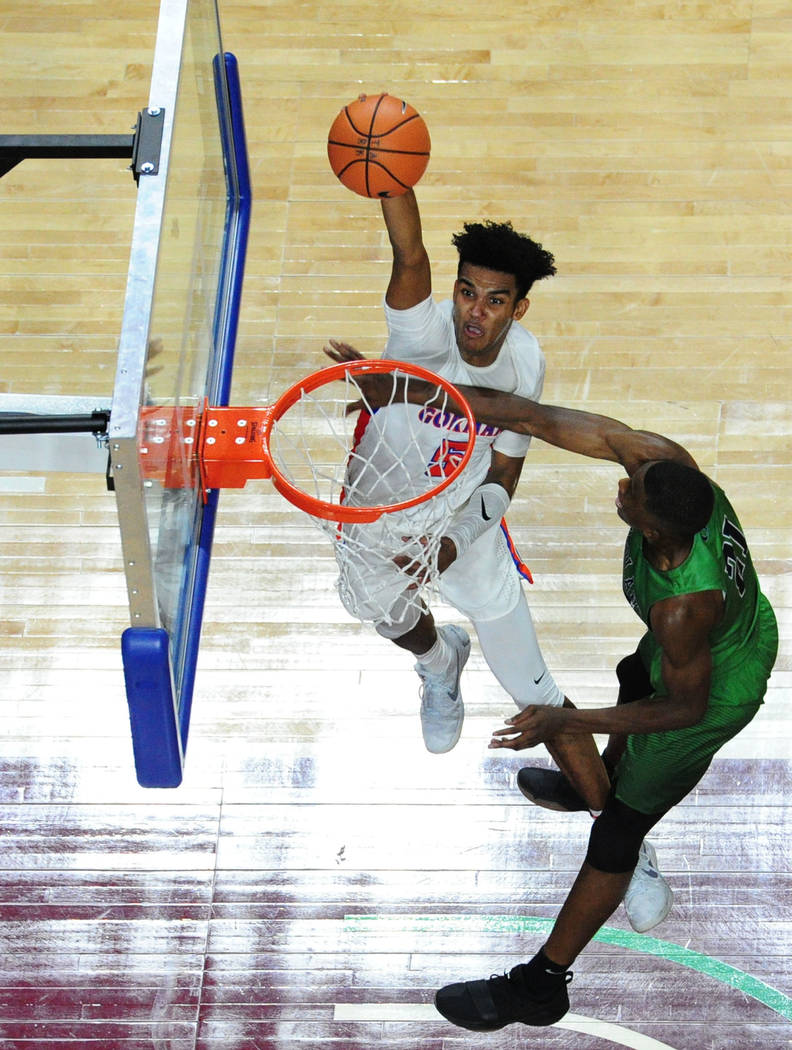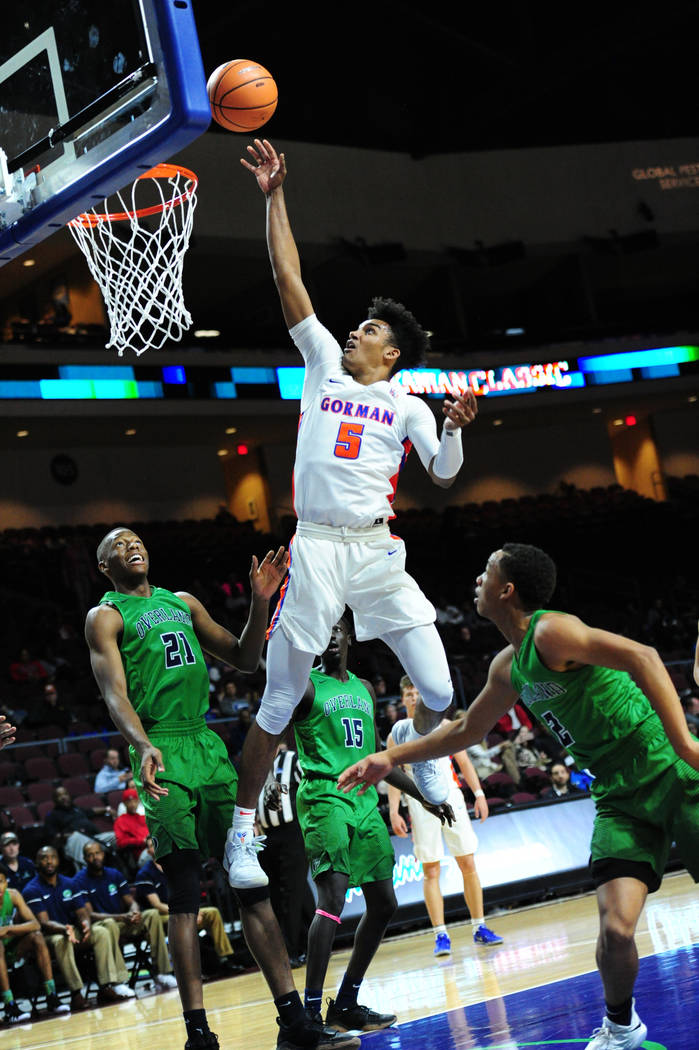 Bishop Gorman sophomore Noah Taitz is known as a shooter, so a first half in which he didn't make a field goal and was just 2-for-4 from the free-throw line was unusual.
He lived up to his reputation in the second half on Wednesday.
Taitz knocked down three 3-pointers in the first 6:30 of the second half to lead the Gaels to a 69-63 victory over Overland (Colorado) in the Tarkanian Classic at Orleans Arena.
"We really talked about our defensive pressure and not overplaying on defense (at halftime)," Gorman coach Grant Rice said. "And that led to some good offense, and we got some transition points. And Noah hit three big 3s, and that extended that lead."
Gorman came out of halftime with an eight-point lead, but Taitz got hot, knocking down the three 3-pointers and getting fouled on another 3-point attempt. He hit all three free throws to make it 53-37 with 9:33 to play.
At that point, it looked like the Gaels would cruise past the Trailblazers, but that wouldn't happen. Turnovers and dreadful free-throw shooting helped keep Overland in the game.
Gorman turned the ball over 20 times and was just 15-for-28 (53.6 percent) from the free-throw line. But four of those free throws came in the final 28 seconds to preserve the lead.
"It looked like with a couple plays we could have pulled away, but it just didn't happen," Rice said. "Overland's obviously a good team, and we made some mistakes. We'll just keep getting better. It's that kind of team."
Part of the reason for Rice's optimism was the contributions from young players. Along with Taitz, who scored 15 of his 17 points after the half, 6-foot-9-inch sophomore Isaiah Cottrell had 10 points, 10 rebounds and two blocked shots. He was 5-for-5 shooting in his first start.
Gorman also got a spark from freshman guards Will McClendon and Zaon Collins. McClendon finished with eight points, three rebounds, three assists and two steals, and Collins had eight points, three rebounds, three assists and one steal.
"Our freshmen are really giving us good minutes," Rice said. "Will in the first half, and then obviously Zaon Collins is a floor general out there."
Contact prep sports editor Damon Seiters at dseiters@reviewjournal.com or 702-380-4587. Follow @DamonSeiters on Twitter.
Box score:
Bishop Gorman 69, Overland (Colo.) 63
Wednesday's highlights
Boys
Las Vegas High's Jaylin Headen scored 27 points in a 90-65 win over San Bernardino (California) in the Tarkanian Classic at Desert Oasis.
Tieman Allen made three free throws with nine seconds left lifting Palo Verde to a 67-66 win over Layton Christian (Utah) in the Tarkanian Classic at Desert Oasis.
Sierra Vista's Maka Ellis scored 28 of his game-high 46 points in the second half as the Mountain Lions beat Jordan (Utah) 94-85 in the Tarkanian Classic at Faith Lutheran
Girls
Bishop Gorman's Bentleigh Hoskins scored seven of her 16 points in overtime in a 48-46 win over Castle View (Colorado) in the Tarkanian Classic at Durango.
Spring Valley's Essence Booker scored 28 points in a 67-42 win over Mt. Eden (California) in the Tarkanian Classic at Liberty.
Liberty's Dre'una Edwards had 23 points in an 84-37 win over Buckeye (Arizona) in the Tarkanian Classic at Durango.