Oklahoma State wins MGM Grand Main Event, improves to 6-0
November 26, 2014 - 11:41 pm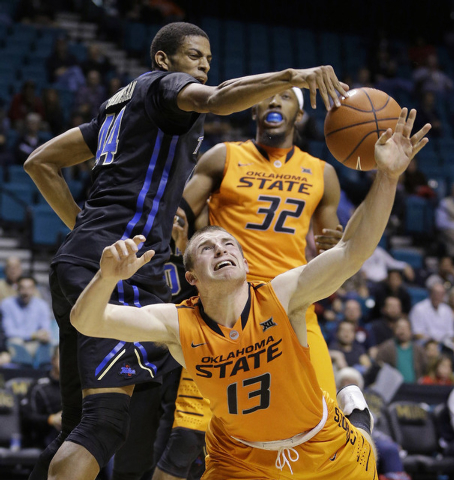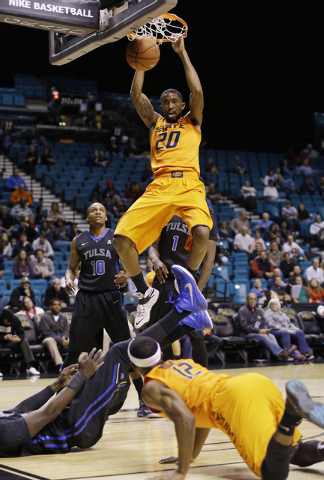 Of the four Division I basketball-playing schools in Oklahoma, many observers think Lon Kruger has the best team with his Oklahoma Sooners, who are 3-1 and ranked No. 21 in the USA Today coaches' poll.
But Oklahoma State also has started quickly. The Cowboys are 6-0 after a 73-58 victory on Tulsa on Wednesday night in the championship game of the MGM Grand Main Event in front of 1,712 at the MGM Grand Garden.
"I'm very proud of our guys," Oklahoma State coach Travis Ford said. "The effort was outstanding, and we got contributions from everybody. This will only help us moving forward."
It wasn't a complete loss for the city of Tulsa on Wednesday. Oral Roberts, located about seven miles from the Golden Hurricane's campus, defeated Milwaukee 56-52 at the Grand Garden. Incidentally, Kruger and the Sooners will be in Las Vegas on Dec. 20 to play Washington in the first game of the MGM Grand Showcase doubleheader to benefit Coaches vs. Cancer. UNLV will play Utah in the second game.
It's the second year in a row Oklahoma State has started 6-0. The last time that happened was in 1936-37 and 1937-38.
This was the first meeting between the two schools since 2011 and only the fifth time they've played since 1996.
On Wednesday, Oklahoma State held the upper hand. The Cowboys did not allow Tulsa to break them down off the dribble and get to the basket. Instead, Ford switched defenses constantly and turned the Golden Hurricane into a team of jump shooters.
It was a sound strategy. Tulsa (3-2) was 2 of 7 in the first half from the perimeter, and Oklahoma State increased its lead from 17-13 to 31-19 to 45-30 at halftime.
It was more of the same in the second half, as Oklahoma State extended its lead to 52-31 with about 15 minutes to play. Tulsa never found an offensive rhythm, as Frank Haith's team continued to struggle to get good shots. The Golden Hurricane shot 4 of 15 from beyond the 3-point arc.
Le'Bryan Nash , the tournament's Most Valuable Player, led Oklahoma State with 21 points, and Anthony Hickey and Phil Forte scored 14 apiece. Tulsa, which trailed by 25 points with 5:01 to play, was led by Shaquille Harrison with 17 points.
Auburn 71, Oregon State 69 — The Tigers (3-2) placed five players in double figures, led by K.T. Harrell's 20 points.
Trailing 59-56 with 6:10 to play and Cinmeon Bowers, its star rebounder and leading scorer on the bench with four fouls, Auburn got a key defensive stop, then converted at the other end to maintain contact and eventually pulled even at 61 with 3:59 remaining. The Tigers outscored the Beavers 10-5 in the next 3:51 before a Malcom Duvivier 3-pointer with two seconds left got Oregon State within two before time ran out.
Former Spring Valley High School guard Gary Payton II led the Beavers (3-2) with 20 points and 12 rebounds.
Oral Roberts 69, Milwaukee 66 — The Golden Eagles led by 15 points with about 11 minutes to play but had to survive Cody Wichman's 3-point attempt to tie in the final seconds.
Obi Emegano had 20 points, and Kory Billbury scored 19 points and grabbed 11 rebounds to lead Oral Roberts (2-3). Steve McHorter led the Panthers (2-4) with 21 points.
Contact reporter Steve Carp at scarp@reviewjournal.com or 702-387-2913. Follow him on Twitter: @stevecarprj.