Payton, nine-time All-Star, 'trippin' ' over enshrinement
September 7, 2013 - 10:35 pm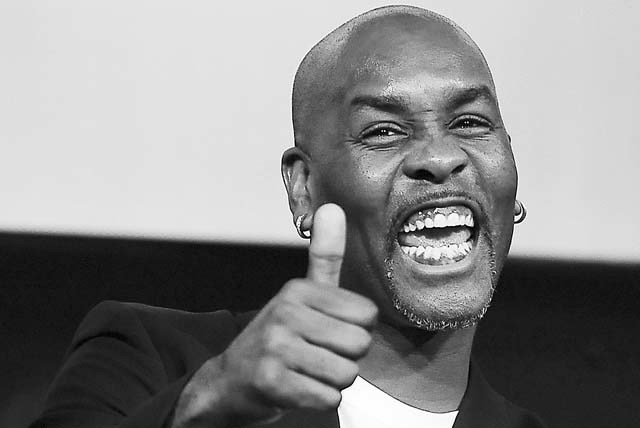 SPRINGFIELD, Mass. — Gary Payton talked a lot of trash during his storied 17-year NBA career. But he didn't have to talk his way into the Naismith Basketball Hall of Fame. His play on the court did that for him.
The 45-year-old Payton, who grew up in Oakland, Calif., made his name in Seattle for a team that no longer exists and has lived in Las Vegas for the last 16 years, receives his sport's highest honor today when he is enshrined along with fellow Las Vegan Jerry Tarkanian and 10 others. It's still a little surreal to him.
"I thought about using basketball to get my parents a better life and me getting out of this rat race (in Oakland)," Payton said Saturday after he, Tarkanian and the other inductees were presented their Hall of Fame jackets. "I really didn't think about the Hall of Fame until I got to the Lakers in 2005 and I saw all the Hall of Famers they had.
"And now that I'm here and I see all the pictures of guys I remember watching when I was a kid, knowing their stories, having their posters on my bedroom wall, I'm still trippin'."
So how did Payton wind up in Las Vegas? It was early in his career with the SuperSonics and Tim Grgurich was an assistant on George Karl's staff after Karl took over for K.C. Jones in 1991. Grgurich, the former UNLV assistant to Tarkanian who still lives in Henderson, would hold workouts with Payton during the summer at the old Sporting House on Industrial Road after he joined the Sonics in 1992.
Grgurich suggested to Payton since he was in Las Vegas so often, why not invest in some property and own a home?
"I wound up buying two pieces of property, one with a house, the other was vacant," Payton said. "When I needed a bigger place, I built on the vacant property and sold the other house. That was more good advice Coach Gerg gave me."
After 12½ seasons, Payton left the Sonics to play for Milwaukee, the Los Angeles Lakers, Boston and Miami, where he finally won a ring when the Heat captured the NBA title in 2006. But he always kept a home in Las Vegas and three of his four children went to school in Las Vegas. His youngest, Julian, attends Bishop Gorman High School.
"Hey, it's Coach Tark's town. I'm just glad to be part of it," Payton said.
The 6-foot-4-inch Payton averaged 16.3 points and 6.7 assists in his NBA career. But his defensive prowess, which earned him the nickname "The Glove," is what distinguished himself on the court. He was a nine-time All-Star and nine-time All-Defensive first-team selection.
It was Ralph Miller, his college coach at Oregon State, who sold Payton on the notion that he could be great defensively. Grgurich took it a step further, helping Payton blossom into one of the NBA's all-time greatest defensive point guards.
"I had gotten away from being the player I was in college and Coach Gerg brought me back," Payton said. "He showed me film of me at Oregon State and film of my first couple of years in Seattle and he said, 'We got to get you back to being the player you used to be.' A year later, I was an All-Star."
Today, he's a Hall of Famer.
Contact reporter Steve Carp at scarp@reviewjournal.com or 702-387-2913. Follow him on Twitter @stevecarprj.