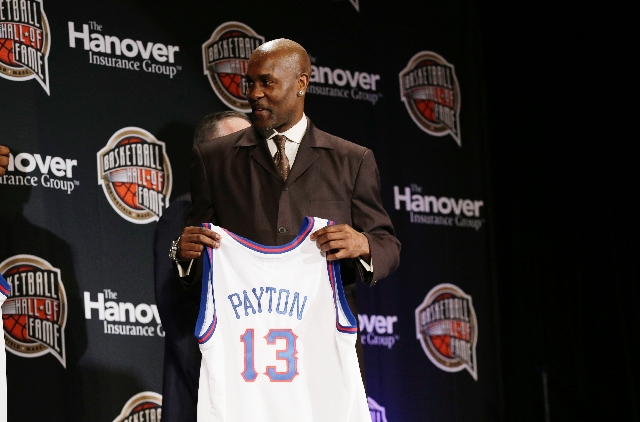 Gary Payton never saw himself becoming "The Glove." He wanted to be "The Gun."
"I was an offensive-minded guy when I went to Oregon State," Payton said Monday in Atlanta, where he was announced as an inductee to the Naismith Basketball Hall of Fame. "Coach Ralph Miller pulled me to the side and said, 'You'll be one of the greatest defensive point guards ever.'
"And I said to myself, 'Yeah right. I'm shooting every time I get the ball.' But I got really good at it and started liking it and took it from there."
Payton became an All-American at Oregon State and scored more than 21,000 points over 17 NBA seasons, averaging 16.3 points and 6.7 assists per game. But Miller was right. Payton would be better known for his suffocating defense. His 2,445 steals, fourth most in NBA history, are proof of how he earned his "Glove" nickname.
The Las Vegas resident said the Hall of Fame was the least of his concerns when he began his pro career in 1990.
"When I started playing basketball and got in the NBA, I just wanted to be a guy in the NBA doing something," Payton said. "But even as my career went on and started getting better and better, I still never thought about being in the Hall of Fame. When I think about it, I don't even feel like I'm here now. It's such a dream."
Payton, a nine-time NBA All-Star who also won two Olympic gold medals with Team USA in 1996 and 2000, made the Hall on his first time on the ballot. He will have two Hall of Famers — John Stockton and George Gervin — as his presenters at the induction ceremony Sept. 8 in Springfield, Mass.
"I looked up to George Gervin growing up as a kid; he was my favorite player," Payton said. "And John Stockton was such a tough competitor. Some people thought he was a dirty player, but I don't think he was. He was just really tough, and I respected that."
Over the years, Payton has credited former UNLV assistant coach Tim Grgurich for helping him develop into a Hall of Fame player. On Monday, Grgurich said Payton deserves the credit.
"I didn't know Gary when I first came to Seattle" in 1992, Grgurich said. "He happened to be one of the guys I started working with. He didn't know me and I didn't know him. But we started working together, and we'd go to Vegas, to Oakland (Payton's hometown), to San Diego during the summer, and it grew from there.
"Your job as a coach is to try to teach. You have no idea what the results will be. But if Gary didn't have the will, if he didn't have it inside him, if he didn't have the great upbringing from his parents, it wouldn't have mattered. But he made it work.
"I think I learned more from Gary than he did from me. I'm just happy for him that he got in. He deserves to be in."
Contact reporter Steve Carp at scarp@reviewjournal.com or 702-387-2913. Follow him on Twitter: @stevecarprj.