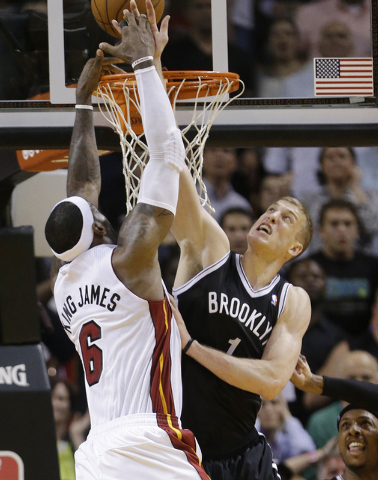 With one defensive play, Mason Plumlee has helped claim a title.
No, not the NBA championship.
His block of a LeBron James dunk attempt late in Brooklyn's victory over Miami on Tuesday night was incredible, but it was still in the regular season.
Instead, Plumlee's great defensive effort helped him and his brothers earn the award of "D.W.F."
If you're looking that up in the official registry of NBA honors, just stop right now.
No, there is no documentation of "D.W.F." anywhere. In fact, there is only one previous known group who has carried the label.
The label was bestowed upon Plumlee and his brothers – Miles of the Phoenix Suns and Marshall of Duke – by TNT NBA analyst Charles Barkley between games of a doubleheader on the network on Tuesday night.
The letters form the abbreviation for "Dominant White Family."
Barkley said the block officially gave the Plumlees the title over the previous D.W.F., the Barrys.
He didn't specify where the Kardashians fell in those rankings.