Ragin' Cajuns planning to build on NCAA trip
November 25, 2014 - 11:17 pm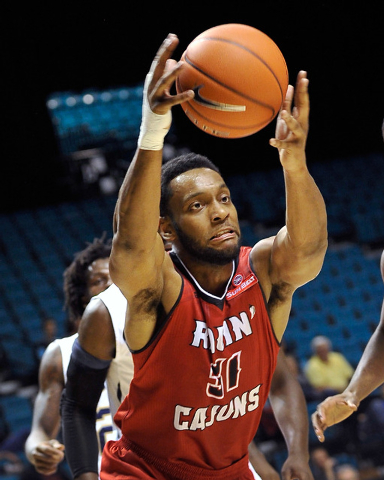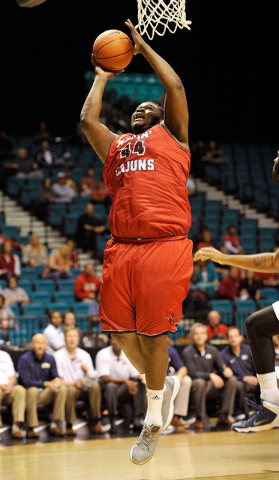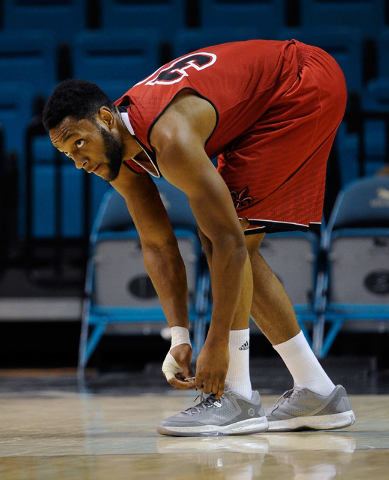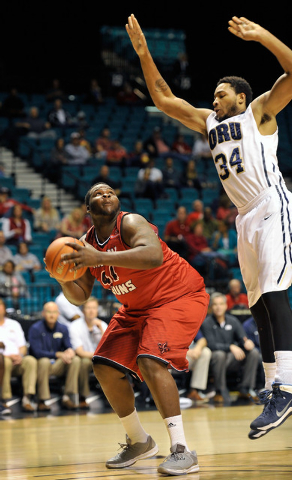 The dossier read like this: a 23-12 record, a conference tournament title and a trip to the NCAA Tournament. Also, the team's top player was selected in the lottery of the NBA Draft.
That was Louisiana-Lafayette's 2013-14 basketball season. Pretty good, you'd say?
But in the world of college basketball, maintaining that kind of quality is a challenge, especially at the midmajor level.
Bob Marlin, in his fifth year as coach of the Ragin' Cajuns, understands his situation. He has no choice but to accept the fact there's life after Elfrid Payton, the All-America guard who was taken at No. 10 by Philadelphia in June and quickly traded to the Orlando Magic.
"We've got things going in the right direction," Marlin said after his team routed Oral Roberts 76-52 on Tuesday in the MGM Grand Main Event at the Grand Garden. "Losing a player like Elfrid is obviously huge. But because we had Elfrid in our program, we're getting better reception from recruits. We just need a few more signatures."
The Ragin' Cajuns are done playing in Las Vegas. The three-day tournament ends today with Oral Roberts facing Milwaukee at 1 p.m., followed by Oregon State-Auburn in the third-place game at 6, then Tulsa-Oklahoma State in the championship game at 8:30.
Louisiana-Lafayette (2-3) leaves with the toughest part of its schedule behind it. The Ragin' Cajuns opened the tournament with road defeats to Tulsa and Auburn, then lost Monday at the Grand Garden to Milwaukee 56-52 before bouncing back Tuesday against the Golden Eagles (1-3).
"We needed that," said guard Kasey Shepherd, who tied his career-high with 22 points Tuesday. "I think we took things a little personal and came out to play with more purpose and more energy."
It's the kind of game Marlin said his team will need to play consistently to get a return trip to the NCAA Tournament. The Ragin' Cajuns were picked to finish second behind Georgia State in the Sun Belt Conference preseason poll, a sign of growing respect for the program.
"We're a different team," Marlin said. "We've got a lot of new faces and new roles. Kasey was Elfrid's backup last year. Now he's our guy. But we feel like we're deeper and bigger at every position, and that should help us in trying to play our best basketball come March."
Lafayette didn't have one of its key players — 6-foot-9-inch junior forward Shawn Long — in Las Vegas. Long, battling a bone bruise in his foot and tendinitis in his knee, averaged 18.6 points and 10.4 rebounds as a sophomore and was a first-team All-Sun Belt selection. He's expected to return Dec. 3 against Jackson State.
"When we get him back, it's going to give us more of a presence inside and open things up on the perimeter," Marlin said.
From Shepherd's perspective, time is in the Ragin' Cajuns' favor.
"We're just now starting to mesh," he said. "This trip to Vegas was really good for us because it gave us a chance to spend a lot of time together. If we were back home, everybody would be doing their own thing. Here, we got to be a team, and it just helps everything. We're learning our roles and about each other, and we're getting comfortable with each other on the court."
Marlin said while things could be better, he liked what he saw in Las Vegas, especially Tuesday, when Lafayette led by as many as 27 points.
"We'd rather be 3-2, but the trip finished better than it started," he said.
Contact reporter Steve Carp at scarp@reviewjournal.com or 702-387-2913. Follow him on Twitter: @stevecarprj.