Scooter Christensen returns to Las Vegas with Harlem Globetrotters
February 8, 2017 - 7:44 pm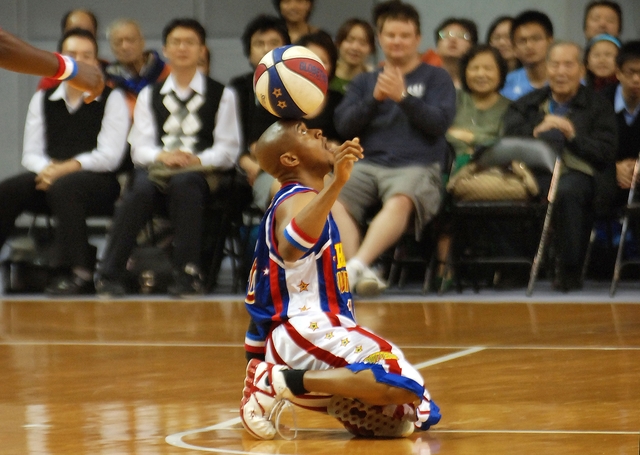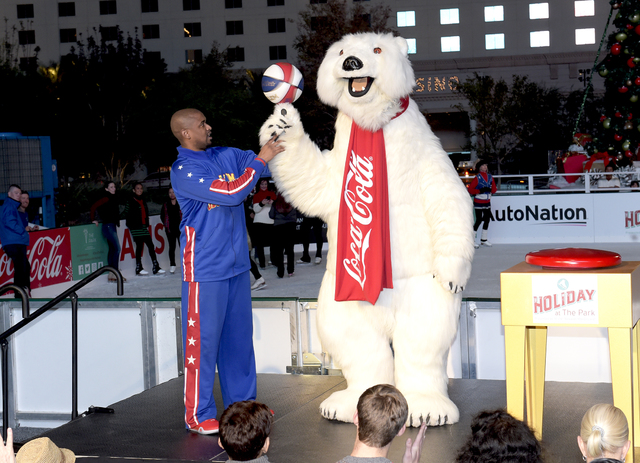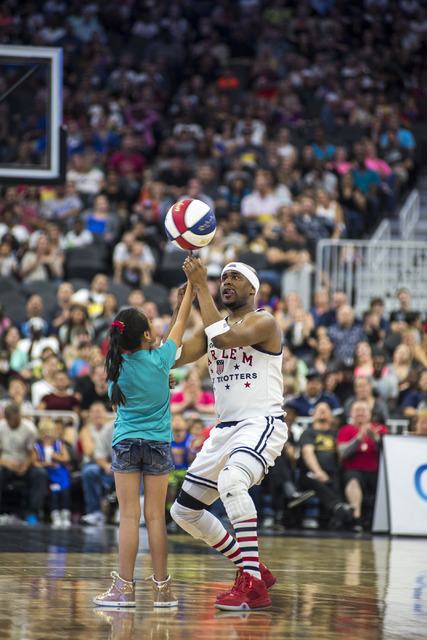 Don't ask Shane "Scooter" Christensen how many times he's been to Italy. Or Spain. Or Germany.
He doesn't know. The answer is too many times to count.
He's been to China at least eight times. He has spent his career, well, globetrotting.
But Thursday, when the Harlem Globetrotters play at 7 p.m. at T-Mobile Arena, Christensen will be back home.
The 38-year-old won a state basketball title with Bishop Gorman High School in 1997 before heading to the University of Montana.
From there, he played in some smaller leagues before becoming an assistant video coordinator for the Phoenix Suns. He got back on the court as a Suns' practice player, and a Globetrotters scout noticed him.
Christensen, who is in his 12th season with the team and lives in Las Vegas during the offseason, is excited to play in his hometown in front of family and friends.
While Las Vegas is special for sentimental reasons, places such as Jerusalem and Baghdad, where he played for troops, stick out as some of his more memorable trips.
And then there was a game played on an aircraft carrier on the Mediterranean Sea while F-16s flew overhead.
"That never would have happened if it wasn't for the Globetrotters," Christensen said.
Neither would most of the travel. Christensen last crossed Australia off his list, marking 80 countries he has visited.
But all the travel doesn't mean he's on a constant vacation.
"My mom was saying, 'Good, you get the chance to see all these different places,' " he said. "I'm like, 'not really, Mom.' "
Between travel, practice and games, he estimated he gets maybe a couple of hours at each stop to sightsee.
"But you travel so much, you play so much, you practice so much, sometimes you just want to sit down," Christensen said.
The job is, after all, about the basketball.
Christensen is known for his ball-handling skills. He also worked hard to perfect the skill of spinning a basketball on his nose.
During his first year with the Globetrotters, Christensen watched Michael "Wild Thing" Wilson do it and was amazed.
After more than enough nose burns and bleeds, he conquered the task and now is listed in the Guinness World Records for longest duration spinning a basketball on the nose at 7.7 seconds.
"I think the kids get a kick out of that, but I think they get a kick out of my dribbling skills, and I guess my comedy skills, too," he said.
While he prides himself on his shooting and his ball handling, he often gets comments after games about other aspects of his performance.
"I want to make every shot that I shoot. I want to make sure that every move that I do is cool, and I work so hard at it, and then at the very end, I get a kid come up to me like, 'Hey, man, I like your dance moves,' " Christensen said. "And I'm like, 'What? Did you see the basketball skills I've been practicing for years and years? You like how I dance?' But that's what it's all about."
Because in the end, the travel is cool, the basketball is fun, but Christensen is in it to make people happy and put smiles on faces.
"We might not be able to speak the language that well when we go to these different countries, but we always get that message across of putting a smile on someone's face just through our actions that we're doing on the court," Christensen said. "To have that kind of power with basketball, something that I've been playing since I was 5 years old, it's just an unbelievable feeling."
Contact Betsy Helfand at bhelfand@reviewjournal.com. Follow @BetsyHelfand on Twitter.
HARLEM GLOBETROTTERS
Where: T-Mobile Arena
When: 7 p.m. Thursday
Tickets: Available on Harlem Globetrotters' official website