Spurs' Popovich to take over as USA Basketball coach in 2017
October 23, 2015 - 10:21 am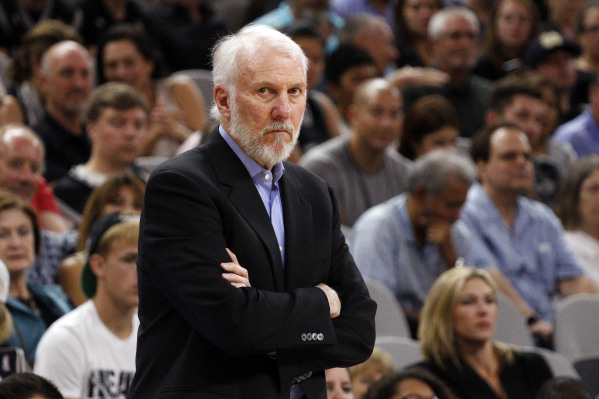 When Team USA comes to Las Vegas to train in 2017, it will have a new yet familiar face in charge.
USA Basketball announced Friday that longtime San Antonio Spurs coach Gregg Popovich has been selected to replace Mike Krzyzewski as coach of the men's national team.
Krzyzewski, the Hall of Fame coach from Duke, has guided the Americans to gold medals at the 2008 Beijing Games and 2012 London Games and a 36-1 record in international competition since taking over in 2006. He will coach Team USA in next year's Olympics in Rio de Janeiro, then will remain with USA Basketball as a special adviser.
"I'm extremely humbled and honored to have the opportunity to represent our country as the coach of the USA National Team," Popovich said in a statement. "What the program has accomplished over the last decade under the leadership of Jerry Colangelo and Mike Krzyzewski is truly impressive. I will do my utmost to maintain the high standards of success, class and character established by Jerry, Coach K and the many players who have sacrificed their time on behalf of USA Basketball."
Popovich is entering his 20th season as an NBA head coach and has guided the Spurs to five NBA championships. His .685 winning percentage is third-best all time among NBA coaches.
Colangelo, the chairman of USA Basketball and managing director of the men's national team, said it was important to have a successor to Krzyzewski named sooner rather than later so as not to be a distraction next summer when Team USA prepares for the Olympics. The team will train at UNLV's Mendenhall Center in mid-July before heading to Brazil.
"By making this decision now, it will allow us to have a clean, efficient and immediate transition following the 2016 Olympic Games," Colangelo said. "This progression plan will also help ensure that our national team will continue to build on the culture and success we have achieved since launching the program (in 2005)."
Contact reporter Steve Carp at scarp@reviewjournal.com or 702-387-2913. Follow him: @stevecarprj