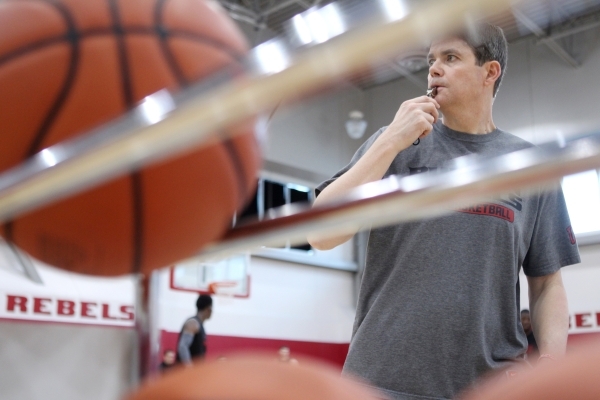 Nov. 13: Cal Poly
Patrick McCaw scored 15 points, and Stephen Zimmerman Jr. had 12 points and nine rebounds in his college debut as the Rebels held off a rally to win 74-72 at the Thomas & Mack Center.
Today: New Mexico Highlands, 7 p.m.
The Cowboys compete in Division II in the Rocky Mountain Athletic Conference. UNLV can pump up its stats, put on a dunking exhibition, empty the bench and possibly top 100 points.
Wednesday: Southern Utah, 7:30 p.m.
Two seasons ago, the Thunderbirds went 2-27. But progress is being made with Southern Utah, which returns five starters from last season's 10-19 team.
MAUI INVITATIONAL
Nov. 23: vs. UCLA, 8:30 p.m. (ESPN2)
Despite dropping their opener to Monmouth, the Bruins will be favored by about 5 points in this matchup in Hawaii. UCLA is one of the top five teams in the Pac-12 Conference.
Nov. 24: vs. Kansas or Chaminade, 7 p.m. or 1:30 p.m. (ESPN or ESPN2)
The Bruins-Rebels winner will get Kansas, which might be the nation's strongest team. The loser gets Division II Chaminade, which features UNLV transfer Dantley Walker.
Nov. 25: vs. TBD
The eight-team field in Maui includes Indiana, St. John's, Vanderbilt and Wake Forest.
Nov. 28: Prairie View A&M, 7 p.m.
This is a soft landing spot after the Hawaii trip. The Panthers, who return one starter from a 15-18 team, are projected to be in the bottom half of the Southwestern Athletic Conference.
MGM GRAND SHOWCASE
Dec. 4: vs. Oregon, 8 p.m. (ESPN2)
The Ducks, comparable in talent to UCLA, probably will be favored. Dana Altman gets the coaching edge in most matchups. UNLV junior Ben Carter is a transfer from Oregon.
Dec. 9: at Wichita State, 6 p.m. (ESPN2)
Gregg Marshall is an elite coach with great senior guards in Ron Baker and Fred VanVleet. But the Shockers' front line is small, and the Rebels are big.
Dec. 12: at UC Riverside, 4 p.m.
Senior forward Taylor Johns is the Highlanders' player to watch. For the Rebels, this is a must-win road game against a mediocre Big West Conference opponent.
Dec. 16: Arizona State, 7 p.m. (CBSSN)
After a good run at Buffalo, Bobby Hurley takes over as Sun Devils coach. But, after losing his opening game to Sacramento State, it's obvious he has a rebuilding job ahead.
Dec. 19: at Arizona, 6:30 p.m. (ESPN2)
This is a revenge game for the Wildcats, who were upset 71-67 in Las Vegas in December. Sean Miller has reloaded after losing four starters from a 34-4 team.
Dec. 22: South Dakota, 7 p.m.
It's a post-Pac-12, pre-Christmas flat spot for the Rebels. But they coasted past the Coyotes 75-61 last season in Sioux Falls and should roll again.
MOUNTAIN WEST CONFERENCE
Dec. 30: Fresno State, 8 p.m. (ESPNU)
Prediction: UNLV will take a 9-4 record into league play. The Rebels and Bulldogs play three common nonconference opponents — Arizona, Cal Poly and Oregon.
Jan. 6: at Colorado State, 7 p.m. (CBSSN)
UNLV coach Dave Rice is 0-4 in Fort Collins. The Rams will be surprisingly good, and they opened the season with an impressive upset win at Northern Iowa.
Jan. 9: at Wyoming, 3 p.m. (CBSSN)
Rice will get tested by two of the league's sharpest coaches in back-to-back games. After facing Larry Eustachy, he'll head north to square off with Larry Shyatt. But at least the Cowboys lost Larry Nance Jr. to the NBA.
Jan. 12: New Mexico, 7 p.m. (CBSSN)
The Lobos won in Las Vegas last season. The Rebels got payback in Albuquerque. With its clearly superior talent, UNLV should sweep the series this time.
Jan. 16: Air Force 7 p.m. (ESPN2 or ESPN3)
The Falcons will come in as double-digit underdogs and should leave with a double-digit defeat. The talent gap between these teams is about as wide as the Grand Canyon.
Jan. 19: at Utah State, 8 p.m. (ESPNU or ESPN3)
Veteran coach Stew Morrill retired, and star forward David Collette left the team two days before the season opener. Still, the Aggies are always tough to beat in Logan.
Jan. 23: at UNR, 7 p.m. (ESPNU or ESPN3)
Eric Musselman, a former NBA head coach, replaces David Carter on the bench. Musselman will be looking to make a statement in his rivalry debut.
Jan. 27: Boise State, 7 or 8 p.m. (CBSSN)
The Rebels' lowest point of last season? On the night late coach Jerry Tarkanian was honored, the Broncos beat UNLV 53-48 at the Thomas & Mack.
Jan. 30: San Diego State, 5 p.m. (CBSSN)
This has been a one-sided rivalry lately, with the Aztecs going 6-0 the past two seasons. The two meetings in Las Vegas last season were decided by two and three points.
Feb. 2: at New Mexico, 5 p.m. (CBSSN)
Rice is 2-2 against the Lobos at The Pit after winning the past two. McCaw made four of the Rebels' 10 3-pointers in last season's victory.
Feb. 6: at Fresno State, 4 p.m.
Marvelle Harris, a senior guard for the Bulldogs, could be the best player in the conference. Fresno State, which returns five starters, could contend for the league title.
Feb. 10: San Jose State, 7 p.m.
After a 2-28 season in which they went 0-18 in the conference, the Spartans still are a joke. Rashad Muhammad, a Bishop Gorman product and their best player last season, transferred to Miami. The Rebels do not play at San Jose.
Feb. 13: Colorado State, 7 p.m. (ESPNU)
The Rebels have won four in a row against the Rams at the Thomas & Mack. In Colorado State's last series win here, the coaches were Lon Kruger and Tim Miles.
Feb. 16: at Air Force, 6:30 p.m. (CBSSN)
Rice is 2-2 on the road against the Falcons. Despite being picked ninth or 10th in the conference, Air Force is a lot tougher to beat in the altitude of Colorado Springs.
Feb. 20: UNR, TBA (CBSSN)
The Wolf Pack won regular-season games in Las Vegas the past two years. UNLV did get revenge by beating UNR 67-46 in the conference tournament in March.
Feb. 23: at Boise State, 8 p.m. (ESPNU)
In Rice's first four trips to Boise, the games went to overtime three times and the Broncos won twice. Boise State welcomes back senior forward Anthony Drmic, who missed most of last season with an ankle injury.
Feb. 27: Wyoming, TBA (ESPN2 or ESPN3)
Rice is 6-0 against the Cowboys at the Thomas & Mack. Wyoming returns one starter, senior guard Josh Adams, from its NCAA Tournament team.
March 5: at San Diego State, (7 p.m. CBSSN)
Will this game be for the conference title? The Aztecs are clear-cut favorites. The good news for the Rebels is they get a week to prepare for this finale.
Prediction: UNLV will be 22-9 (13-5 in the Mountain West) after the regular season.
— Contact reporter Matt Youmans at myoumans@reviewjournal.com or 702-387-2907. Follow him on Twitter: @mattyoumans247.