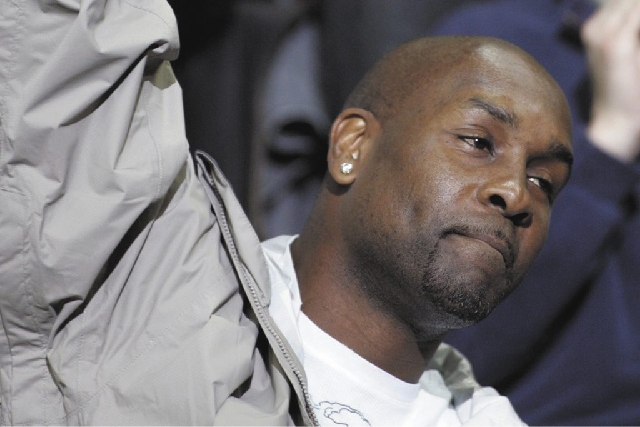 As Michael Jordan was wreaking offensive havoc in the NBA in the 1990s, there wasn't much attention being given to defensive-minded players, even though Jordan was a pretty fair defender.
But Gary Payton changed that. The point guard from Oakland, Calif., helped make defense chic again in the NBA, much the way Walt Frazier did in the late 1960s and early 1970s as a guard with the New York Knicks.
"The Glove," as Payton was nicknamed because of his defensive prowess, is a finalist for the Naismith Basketball Hall of Fame in his first time on the ballot.
Payton, age 44, who lives in Las Vegas, is one of 12 finalists, along with fellow Las Vegas residents Jerry Tarkanian and Spencer Haywood.
In 17 NBA seasons, 12½ with the Seattle SuperSonics, the former Oregon State All-American averaged 16.3 points and 6.7 assists.
His 2,445 steals rank fourth all time. He was an Olympic gold medalist in 1996 and 2000, a nine-time NBA All-Star, the 1996 NBA Defensive Player of the Year, a 10-time first-team All-Defensive team member and has a championship ring as a member of the 2006 Miami Heat.
Attempts to reach Payton were unsuccessful. But he told ESPN Los Angeles earlier this year that he is hopeful of being inducted.
"People always talk about first-ballot Hall of Famers and all that stuff, but it doesn't really make a difference," Payton told ESPN. "Once you get in there, you're a Hall of Famer.
"It doesn't matter if you get in on the first, second or third ballot. It's the same thing. It doesn't really matter to me how I get in. It's just a great honor to even be associated with the Hall of Fame and get in.
"If I eventually do make it, it will be a great honor, and I don't care if it's the first or second time because it's an honor for anyone to make the Hall of Fame."
George Karl, who coached Payton in Seattle and is currently the coach of the Denver Nuggets, said Payton deserves to be honored in Springfield, Mass.
"He's a winner more than he's a stat guy," Karl said Tuesday from Denver. "He just plays a winning brand of basketball, starting with defense. He became a good offensive player, but early in his career he was a poor shooter. He turned into a pretty decent shooter.
"He was wonderful for me. Once we got on the same page, it was fun to be a part of."
Payton is involved with Seattle's bid to return to the NBA. He is supporting prospective buyer Chris Hansen's attempt to purchase the Sacramento Kings and move the team to the Northwest.
He also has said if he were to be inducted into the Hall of Fame, he would go in as a SuperSonic.
"People need to understand that I'm not going to the Hall of Fame without having that Seattle jersey on. … That's where I made my career," Payton told ESPN.
Contact reporter Steve Carp at scarp@reviewjournal.com or 702-387-2913. Follow him on Twitter: @stevecarprj.