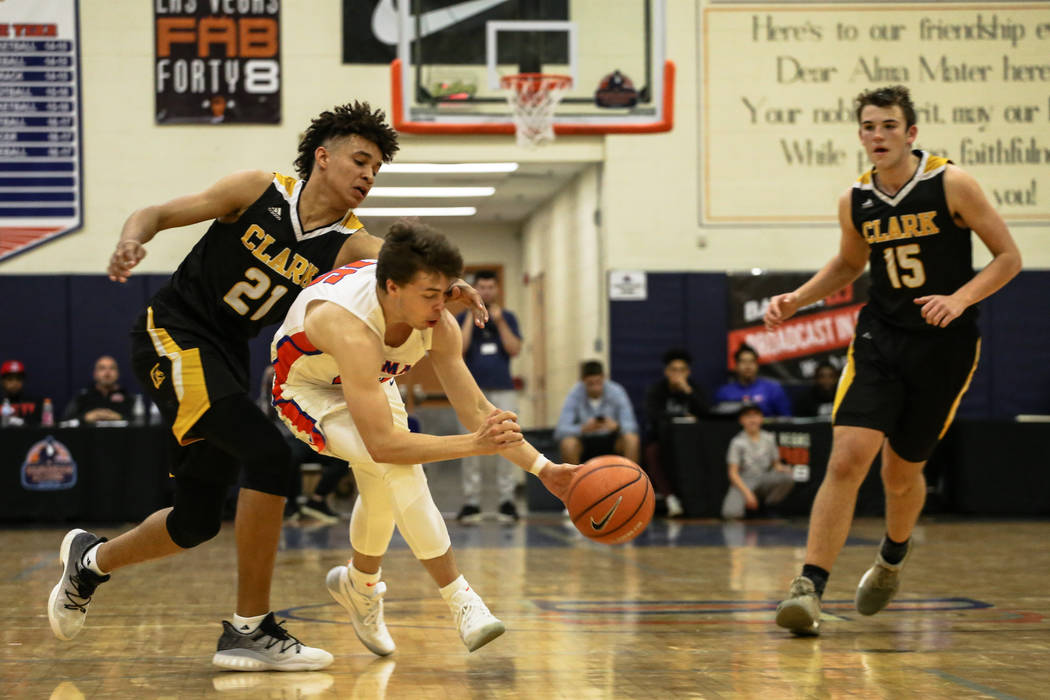 Here are this week's Review-Journal high school basketball rankings.
Class 4A Boys
1. Bishop Gorman (11-3, Last week 1) — The Gaels are still No. 1 after out-pacing Clark in the Beach Ball Classic in South Carolina.
2. Clark (11-3, LW 2) — The Chargers went 1-2 at the prestigious Beach Ball Classic last week.
3. Canyon Springs (10-1, LW 4) — The Pioneers claim the top spot among Sunrise Region teams for the first time this year.
4. Coronado (8-4, LW 3) — The Cougars drop a spot in the rankings after going 1-3 at a California tournament last week.
5. Faith Lutheran (12-1, LW 6) — The Crusaders have fewer losses than anyone in the Sunset Region.
Class 3A Boys
1. Cheyenne (6-6, LW 1) — Tuesday's game at Desert Pines could shake up next week's rankings.
2. Desert Pines (7-5, LW 2) — Outside of losing to eventual champion Las Vegas, the Jaguars were superb at the Las Vegas Prep Championship.
3. Chaparral (7-4, LW 3) — The Cowboys can make a statement Tuesday with a win at Sierra Vista.
4. Mojave (7-5, LW unranked) — The Rattlers enter the rankings, and play Class 4A Valley on Friday.
5. Boulder City (10-5, LW 5) — Not since 2012-13 have the Eagles have won more than 10 games.
Class 4A Girls
1. Centennial (13-2, Last week 1) — The Bulldogs rolled through the Las Vegas Holiday Classic in their own gym.
2. Spring Valley (13-2, LW 3) — The Grizzlies stunned Liberty to win the Gator Winter Classic at Green Valley.
3. Liberty (14-1, LW 2) — The Patriots suffered their first loss of the season by dropping the Gator Winter Classic title game to Spring Valley.
4. Desert Oasis (11-2, LW 4) — The Diamondbacks reached the championship of the Nike Interstate Shootout in Oregon last week.
5. Bishop Gorman (4-8, LW 5) — The Gaels continue their brutal schedule with two games in California on Friday and Saturday.
Class 3A Girls
1. Moapa Valley (14-3, LW 1) — The Pirate beat two Class 4A teams in the Gator Winter Classic last week.
2. Pahrump Valley (8-2, LW 2) — The Trojans return Monday for their first action since winning the Lady Bulldog Invitational on Dec. 16.
3. Cheyenne (5-4, LW 3) — The Desert Shields visit Desert Pines on Tuesday for their first league game of the year.
4. Boulder City (7-6, LW 4) — A big non-league contest awaits the Eagles when they go to Pahrump Valley on Monday.
5. Virgin Valley (7-8, LW 5) — The Bulldogs are off until going to Sky Pointe next Wednesday.
More preps: Follow all of our Nevada Preps coverage online at nevadapreps.com and @NevadaPreps on Twitter.