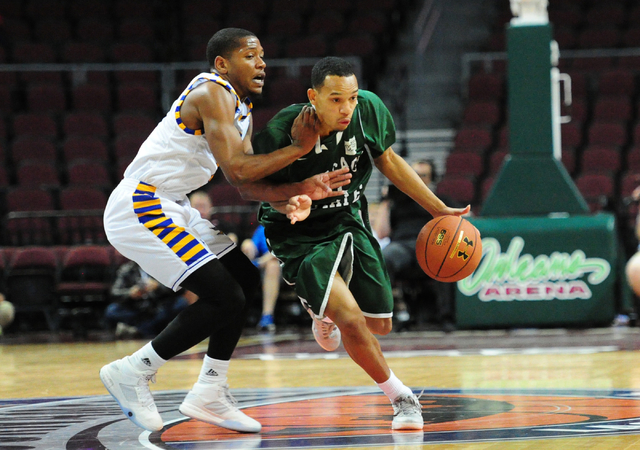 Utah Valley had multiple chances to steal a win and a spot in the Western Athletic Conference basketball tournament semifinals.
But because of Utah Valley's missed opportunities, Missouri-Kansas City took an 80-78 quarterfinal victory Thursday at Orleans Arena.
The No. 4 seed Wolverines clanked two 3-pointers in the final nine seconds. The No. 5 Kangaroos scored one point in the final 2:11.
Martez Harrison scored a game-high 24 points and recorded eight rebounds for the Kangaroos. Jaden Jackson led Utah Valley with 19 points.
UMKC will face top seed New Mexico State at 6 p.m. today.
■ Cal State Bakersfield 79, Chicago State 57 — No. 2 Cal State Bakersfield cruised into the semifinals after routing No. 7 Chicago State. Jaylin Airington and Aly Ahmed led the way with 16 points apiece for the Roadrunners. Chicago State won the rebound battle 45-35, but shot 31 percent from the field and committed 20 turnovers.
■ Seattle 75, Rio Grande Valley 52 — No. 3 Seattle shook off a slow start to defeat No. 6 Rio Grande Valley. Brendan Westendorf scored 23 and Jadon Cohee 19 for Seattle.