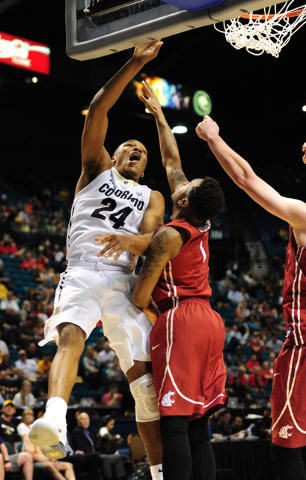 There's no disputing who the king of college basketball is in Los Angeles.
It's Southern California, and unless UCLA gets its act together soon, it could remain that way for a long time.
Not that the Trojans had to come to Las Vegas to prove their superiority. But since the Pacific 12 Conference requested their presence, they showed up at the MGM Grand Garden. Which is more than can be said for the Bruins, who basically wasted the league's money in falling to their crosstown rivals 95-71 before an announced crowd of 12,916 for Wednesday's opening round of the tournament.
USC (21-11) will face second-seeded Utah at 6:10 p.m. today. It was also the first time since 1954 that the Trojans beat the Bruins three times in a season.
"We played with great energy and played great defense," USC coach Andy Enfield said. "When we play like this, we can beat anyone on our schedule."
The Trojans probably will be playing basketball next week somewhere. And with their quickness, willingness to share the basketball and help each other on defense, they are entertaining to watch. They put six players in double figures, led by Bennie Boatwright's 19 points.
On Wednesday, they jumped all over UCLA, 11-0 in the first 2:15. The Bruins did themselves no favors. Slow-footed and lacking fire or intensity, they were dangerously close to being run out of the arena.
A brief energetic interlude got them within 16-12. But then Julian Jacobs, USC's junior guard from Desert Pines High School, was making plays and scoring all of his 11 points as the Trojans went into halftime ahead 48-29.
"We wanted to shrink the gaps and run people off the line," USC's Jordan McLaughlin said of his team's effective defensive scheme that limited UCLA to 38 percent shooting. "It was easy for us to feed off our defense and get our offense going."
The Bruins got as close as 15 midway through the second half only to see USC open it back up, 77-55, with 8:50 to go. It was symptomatic of the frustration that has been coach Steve Alford's third season in Westwood, as they crashed and burned for the final time to finish 15-17.
"It falls on me," Alford said. "I've done a poor job of making sure we develop and get better. If I'm a fan, I'm upset, too."
nOregon State 75, Arizona State 66 — The No. 6 Beavers (19-11) strengthened their case to be selected to the NCAA Tournament by avenging a loss to the Sun Devils on Jan. 28 and advancing to the quarterfinals to face No. 3 California at 8:40 p.m. Oregon State won without second-leading scorer Tres Tinkle, who was out with a foot injury, but it still had enough offense as Stephen Thompson Jr. had 13 points and Malcolm Duvivier 12. Arizona State (15-17) was led by Gerry Blakes with 20 points, and former UNLV forward Savon Goodman scored 14.
nColorado 80, Washington State 56 — George King scored 21 points, and the fifth-seeded Buffaloes clamped down defensively on the 12th-seeded Cougars to advance to the quarterfinals at 2:40 p.m. today against No. 4 Arizona.
The Buffaloes (22-10) went right after Washington State and led 30-16 14 minutes into the game. King was able to get free, and he was hitting from outside as well as inside the paint as his team built a 41-22 halftime lead.
The Cougars (9-22) could never get anything going offensively, and Colorado led by as many as 29 with 4:15 to play.
nWashington 91, Stanford 68 — The eighth-seeded Huskies (18-3) scored an early knockout, building a 20-3 lead in the first 5½ minutes and were up 55-22 at the half as Washington advanced to today's quarterfinals against top-seeded Oregon at 12:10 p.m.
Washington, which got 25 points from Dejounte Murray, led by as many as 29 early in the second half as the Cardinal (15-15) struggled at both ends of the floor. Stanford didn't get its first field goal until 11:14 remained in the opening half. The Cardinal's trio of Allens from Las Vegas — Rosco, Marcus and Malcolm — were a combined 10 of 30 from the floor.
Contact reporter Steve Carp at scarp@reviewjournal.com or 702-387-2913. Follow him on Twitter: @stevecarprj