Arizona at full strength for Pac-12 tournament in Las Vegas
Updated March 6, 2018 - 11:01 pm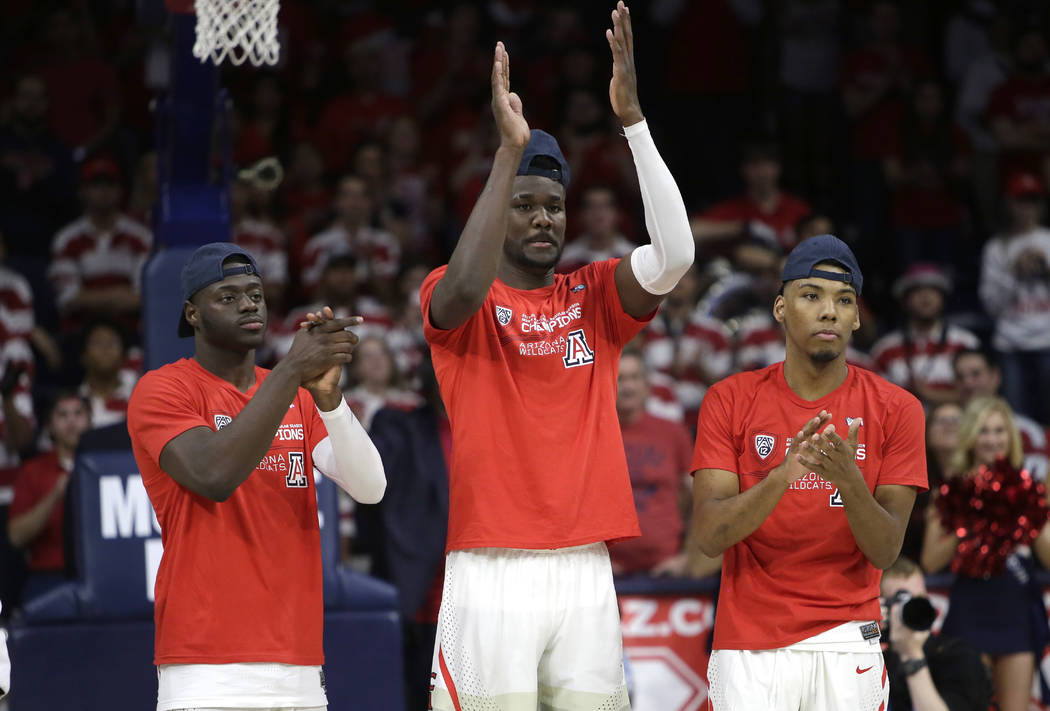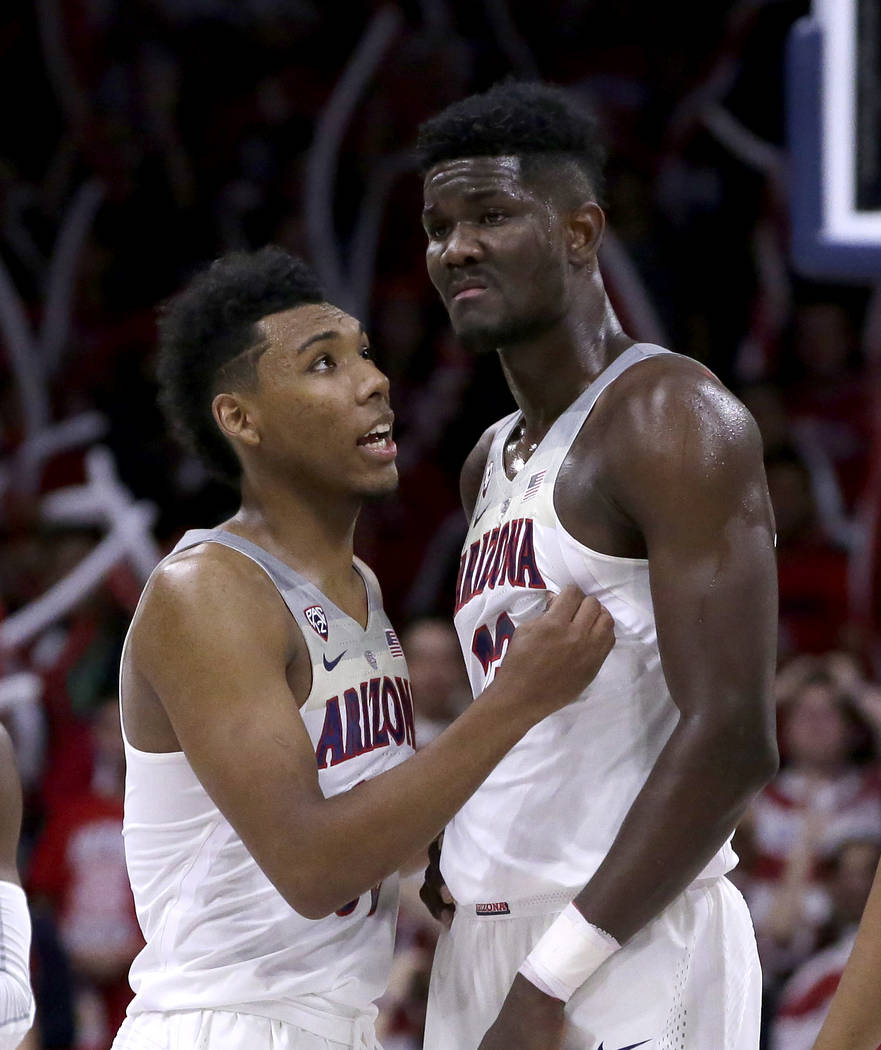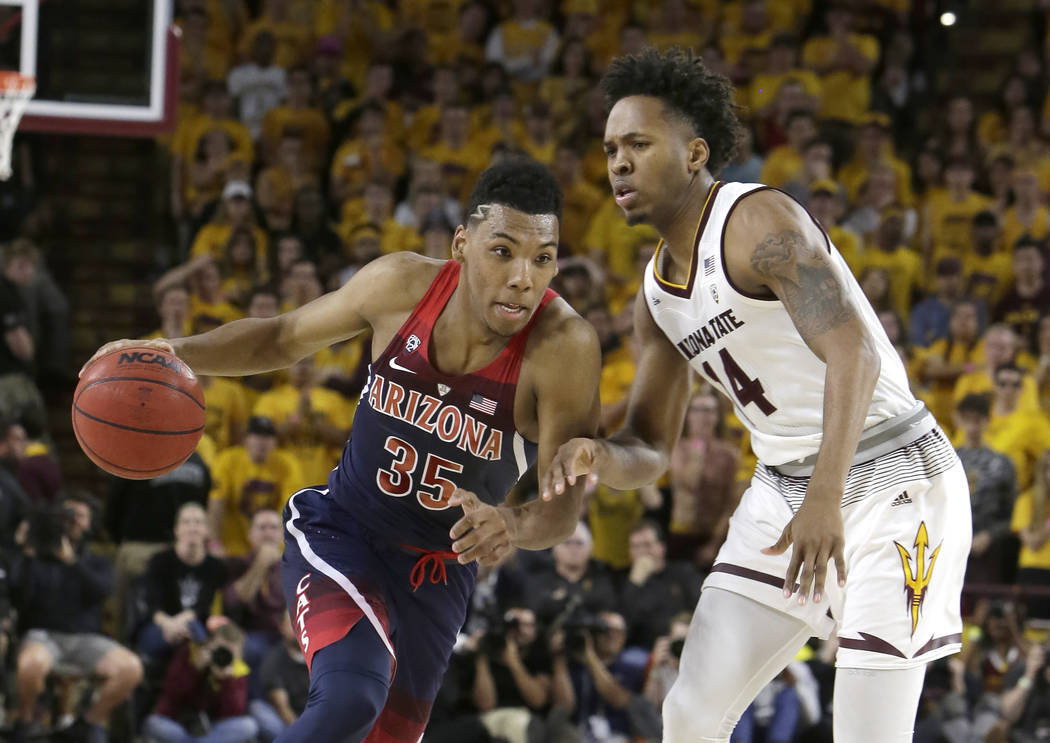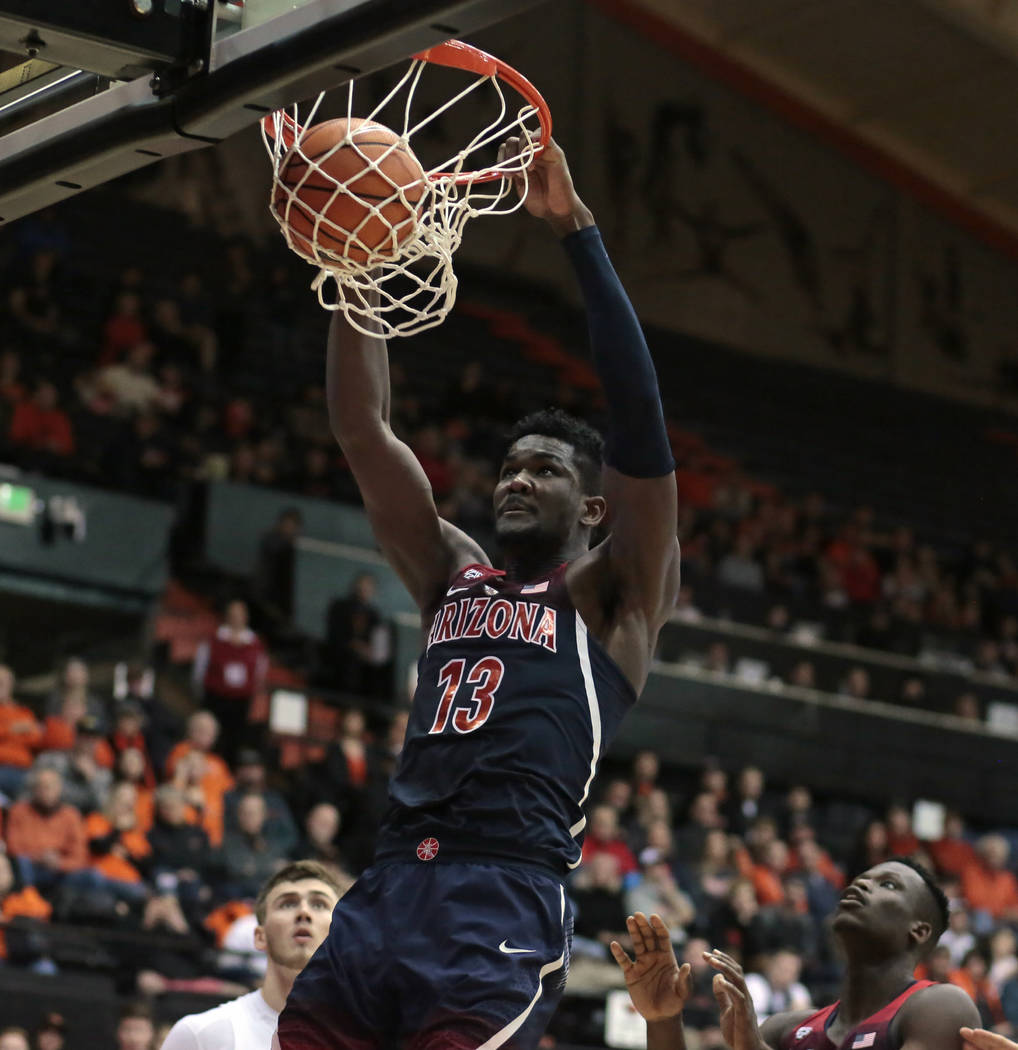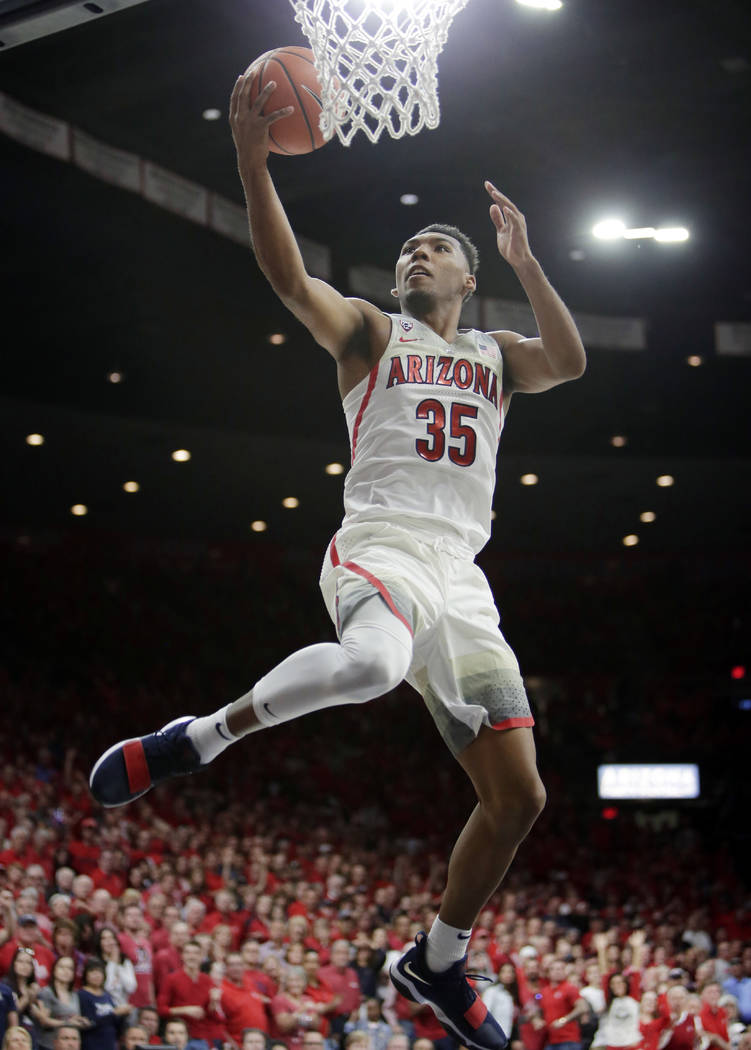 Not long ago, many predicted Arizona would be without coach Sean Miller and star players Deandre Ayton and Allonzo Trier for the Pac-12 basketball tournament at T-Mobile Arena.
All three are expected to participate for the Wildcats, the heavy favorites to repeat as tournament champions in Las Vegas. Arizona, the No. 1 seed, opens the tournament Thursday against the winner of Wednesday's Colorado-Arizona State first-round game.
Arizona, the back-to-back regular-season champion, won't come empty-handed. Ayton was named the Pac-12 Player of the Year and Freshman of the Year on Monday.
The 7-foot-1-inch star forward is the third freshman in the conference's history to win both individual awards, joining UCLA's Kevin Love in 2008 and California's Shareef Abdur-Rahim in 1996.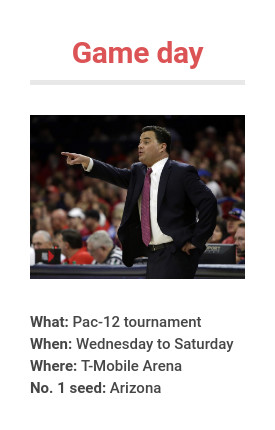 Ayton's playing status was in jeopardy last month when ESPN reported that an FBI wiretap intercepted conversations between Miller and ASM agent runner Christian Dawkins, a key figure in the FBI's investigation into charges of college basketball corruption. Miller allegedly discussed paying $100,000 to bring Ayton to Arizona.
Since the story broke, the university stood behind Miller and Ayton, as the coach returned to the bench and the projected No. 1 pick in the 2018 NBA draft dominated the final games of the regular season. Ayton recorded 26 points and 20 rebounds against California on Saturday. He's averaging 19.9 points and 11.4 rebounds.
Trier, a two-time Pac-12 first-team selection from Findlay Prep, returned from a performance-enhancing drug suspension last week. It was the second time he's had a drug test return positive.
Trier was ruled ineligible Feb. 22 after failing a drug screening he took in late January. Arizona immediately appealed the decision, and the guard missed two games.
Arizona (24-7, 14-4) is probably the only safe team in the conference as Selection Sunday nears for the NCAA Tournament. ESPN's Joe Lunardi has the Wildcats projected as a four seed in the West bracket.
Second-seeded Southern California (21-10, 12-6) and fourth-seeded UCLA (20-10, 11-7) are in Lunardi's "Last Four In" projections.
The Bruins gave the Wildcats one of their four league losses, an 82-74 victory Feb. 3. UCLA is led by junior guard Aaron Holiday.
USC has plenty of experience with Jordan McLaughlin and Chimezie Metu, a projected NBA first-round pick.
Arizona could have a tough test early if rival Arizona State defeats Colorado. The Sun Devils, who started the season 12-0, went down to the wire against the Wildcats in two losses.
Arizona is favored to win the tournament at plus 200 at the Westgate sports book, followed by USC (plus 400), UCLA (plus 450), Utah (plus 600), Oregon (plus 600) and Arizona State (plus 600).
Contact Gilbert Manzano at gmanzano@reviewjournal.com. Follow @GManzano24 on Twitter.
Pac-12 first-round games
Wednesday at T-Mobile Arena
No. 8 Colorado vs. No. 9 Arizona State, noon (Pac-12 Network)
No. 5 Stanford vs. No. 12 California, 2:41 p.m. (Pac-12 Network)
No. 7 Washington vs. No. 10 Oregon State, 6:10 p.m. (Pac-12 Network)
No. 6 Oregon vs. No. 11 Washington State, 8:41 p.m. (Pac-12 Network)
Top four seeds
No. 1 Arizona (24-7, 14-4)
No. 2 Southern California (21-10, 12-6)
No. 3 Utah (19-10, 11-7)
No. 4 UCLA (20-10, 11-7)