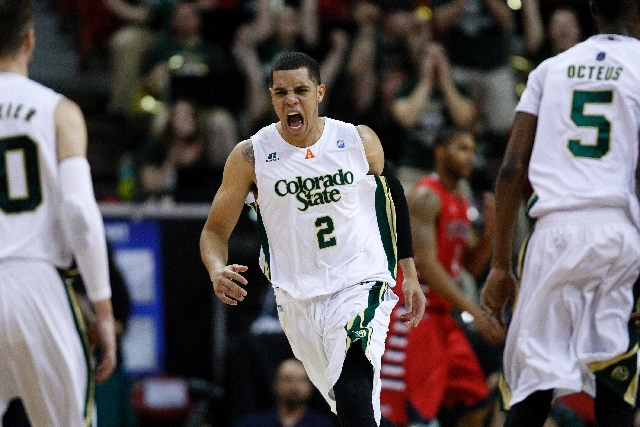 Prevailing wisdom holds that the experience of Colorado State's senior-dominated starting five could help carry the Rams into the second weekend of the NCAA Tournament.
But they could have departed the Mountain West tournament with a quarterfinal loss if not for the contributions of two young players off the bench.
Junior Gerson Santo scored 10 points in 11 minutes, and sophomore Daniel Bejarano, the league's sixth man of the year, had eight points and five rebounds and hit back-to-back 3-pointers midway through the second half, as second-seeded Colorado State held on for a 67-61 win over No. 7 Fresno State on Wednesday at the Thomas & Mack Center.
"They're the reason we won the game," said senior Wes Eikmeier, who overcame a rough shooting day to score 18 points by hitting 9 of 10 from the free-throw line. "Our team's been known all year for our experience and our seniors. We'd be going home if it wasn't for our younger guys. This is a team. We're all one unit. When we're all clicking, it's something good.
"Those younger guys, particularly Daniel and Gerson, really stepped up."
The Rams (25-7) needed all the help they could get. Senior guard Dorian Green missed the game with an injured right ankle. Senior center Colton Iverson, a first-team all-conference player, was frustrated by foul trouble and double teams. He was held without a field-goal attempt in the first half and to seven points in the game.
Senior forward Pierce Hornung made his only field-goal attempt and scored just four points.
Fresno State coach Rodney Terry said if he had been told before the game that all those things would happen, he would have been fairly confident in his team's chances.
"Give those guys off the bench a lot of credit," he said. "They came in and gave them a great lift."
The Bulldogs (11-19) led 29-26 at halftime, and the game essentially stayed within one possession in the first 10 minutes of the second half.
Colorado State finally got some separation on Bejarano's 3-pointers, which stretched the lead to 49-42 with 9:17 to play.
The Rams had made just 1 of 7 3-pointers to that point.
"That was huge," Eikmeier said. "It's a game of momentum, and he rose to the challenge and made some big plays. Daniel has been giving us a spark all year."
Fresno State, led by Tyler Johnson's 14 points, rallied late, but the Rams hit 25 of 37 from the free-throw line and made enough down the stretch to hold on and advance to play UNLV at 8:30 p.m. Friday.
Colorado State coach Larry Eustachy said Green's chances of missing the game are "99.9 percent."
"It's a little more than we thought," Eustachy said. "This tournament is extremely important, but obviously the NCAA Tournament is what we've worked for all year. If there's any doubt at all, he won't play."
Contact reporter Adam Hill at ahill@reviewjournal.com or 702-224-5509. Follow him on Twitter: @adamhilllvrj.